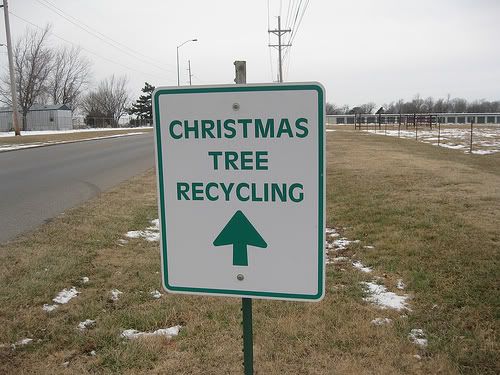 We've already covered the basics of Christmas tree recycling in the greater Los Angeles area. But for those with an affinity for marine life will be interested in what Riverside County Waste Management and California's Department of Fish and Game are working on.
To keep tree from ending up in even more landfills, they're using them to create natural protective habitats in area lakes to protect certain fish from larger, more predatory species. Trees taken to the Lamb Canyon and Badlands landfills will be used specifically to the Department of Fish and Game for this marine-based program.
As hard as it is to believe, the holiday chaos of 2011 is over. After bearing witness to everything from Black Friday pepper-spray attacks to Air Jordan riots, it won't be a very emotional goodbye.
Now is when we have to deal with the grim post-holiday realities: going back to work/school, reconciling weight gained from all of those Christmas cookies and of course, what to do with that big, glorious tree still perched in the center of the living room.
Thankfully, Southern California has made it easy for residents to dispose of that Douglas Fir responsibly, which means recycling.
Break out a handsaw and cut that sucker down to size and toss the pieces in the convenient green recycling bins around the city. You can even just leave the tree next to the bin, and it will be hauled away by the sanitation department. Just remember to remove all ornaments and decorations!