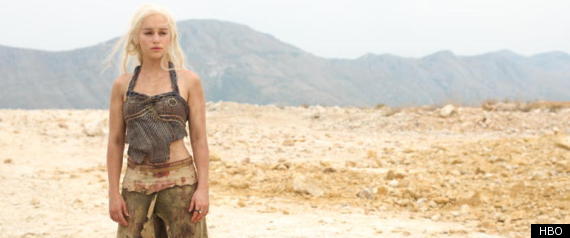 Looks like the hype worked as AMC secured its biggest audience ever for "Mad Men" with Sunday's premiere. It felt a little long to this viewer so I'm eager for the hour-long episodes. AMC is on track to pummel us with another 2-hour premiere, this time it's "The Killing" next Sunday at 8pm which is way too soon, making AMC look overeager to keep their momentum going.
Next Sunday is a veritable traffic jam of quality shows, from Fox's "Bob's Burgers" at 8:30pm, to the season premiere of HBO's "Game of Thrones," to Comedy Central's world premiere of "Jo Koy: Lights Out" at 10pm. Throw in Discovery's "Frozen Planet," Showtime's "Shameless" and "House of Lies," and PBS' "Great Expectations" and you have over 10 hours of "must-see" TV crammed into a 3 hour block. It's particularly frustrating to note that there is virtually no new programming on Saturday nights yet a deluge of it on Sundays. When will this programming trend change course?
In other TV news, it was announced that late night funny man Jimmy Kimmel will host the Emmys this year. I predict Kimmel will do a great job and will both be very funny as well as respectful of the medium. The shameful thing is that "Jimmy Kimmel Live" has never won an Emmy and has been lacking even from the nominating lists. They've got a consistently great writing team that have spawned mutliple bits that continue to rake in huge amounts of online traffic. What more does the TV academy want?
DVR This! Tonight: "Raising Hope" (Fox @ 8pm), "New Girl" (Fox @ 9pm), "Frontline" Murdoch's Scandals (PBS SoCal/KOCE @ 10pm), "Justified" (FX @ 10pm), "Chelsea Lately" with Ben Gleib, Sarah Colonna, Greg Fitzsimmons on roundtable, Jason Sudeikis on Letterman. Wednesday: "Bent" (NBC @ 9pm), "Happy Endings" (ABC @ 9:30pm), "Psych" (USA @ 10pm), "Ugly Americans" (Comedy Central @ 10:30pm), Adam Carolla and White Rabbits on Kimmel, Aziz Ansari and Ana Gasteyer on Fallon. Thursday: "Inside Comedy" Robin Williams & Jonathan Winters (Showtime @ 8pm), "Community" (NBC @ 8pm), "30 Rock" (NBC @ 8:30pm), "Touch" (Fox @ 9pm), "Chelsea Lately" with John Caparulo, Liz Carey and Josh Wolf on roundtable, Carson Daly and Kristen Schaal on Kimmel. Friday: "Real Time With Bill Maher" (HBO @ 8pm), "SoCal Connected" Show Me the Money: Sidewalks; Burger Binge (KCET @ 9pm), "Fringe" (Fox @ 9pm), "Billy Wilder Speaks" (TCM @ 9pm), Megan Mullally on Letterman. Saturday: "Being Human" (BBC America @ 9pm). Sunday: "The Killing" 2-hr Season Premiere (AMC @ 8pm), "Frozen Planet" (Discovery @ 8pm), "Bob's Burgers" (Fox @ 8:30pm), "Game of Thrones" Season Premiere (HBO @ 9pm), "Shameless" (Showtime @ 9pm), "Masterpiece Theatre" Great Expectations (PBS SoCal/KOCE @ 9pm), "Mad Men" (AMC @ 10pm), "Jo Koy: Lights Out" Premiere (Comedy Central @ 10pm), "House of Lies" (Showtime @ 10pm), "Californication" (Showtime @ 10:30pm). Monday: "Adventure Time" (Cartoon Network @ 7:30pm), Jennifer Love Hewitt on Fallon.
Releases: Just got the email that the complete 4th season of AMC's "Breaking Bad" will be released on disc on June 5th giving us all a chance to refamiliarize ourselves with the action before yet another round of ulcer-inducing drama takes over our lives.
Social Causes: A number of comedians, writers, and actors have signed up to spread the word about registering for bone marrow matching via @AbolishCancer's #CancersNoJoke campaign. It's pretty easy to register, they send you a kit and ask you to spread the word by using the #CancersNoJoke tag in your tweets.
Events: Comedian Chris D'Elia who currently stars on "Whitney" will be headlining at the Hollywood Improv on Saturday, he is very funny, I highly recommend the show.| Next Monday, April 2nd, Mary Lynn Rajskub hosts Mockery Mondays at the Hollywood Laugh Factory.
Other Media: "Arrested Development" & movie star Michael Cera guests on Marc Maron's WTFpod. | Dana Gould's most recent and hilarious podcast includes Eddie Pepitone, Matt Weinhold, and Ken Daly. | Check out the following take on "Mad Men" opening credits, this time starring President Obama who faces his foes and topics of the 2012 campaign: