Thomas Attila Lewis
Amy Poehler, Aubrey Plaza, and Aziz Ansari of NBC's "Parks and Recreation" at the 2012 Peabody Awards, Waldorf-Astoria Hotel, New York, May 21, 2012
The 2012 ceremony of the Peabody Awards was held this Monday at the Waldorf-Astoria Hotel in New York City. The awards are bestowed in 2011 so, technically, these are the 2011 awards, leave it up to a bunch of intellectuals to complicate things. We spoke with "Portlandia" co-creators Carrie Brownstein and Jonathan Krisel who gave huge props to KPCC in the above video.
In the videos below: we ask "Portlandia" co-creator/co-star Fred Armisen if he will be bringing one of his favorite bands, cult punkers No Means No, on the show next season; Nikolaj Coster-Waldau gave us some insight on his "Game of Thrones" character Jaime Lannister; Retta, Jim O'Heir, and Nick Offerman of "Parks and Recreation" give us some laughs; and Alex Trebek of "Jeopardy" strongly hints that he would like to be a corpse in a TV crime series.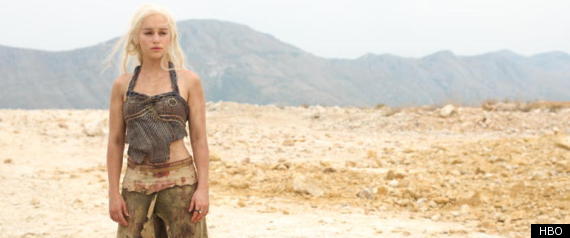 Looks like the hype worked as AMC secured its biggest audience ever for "Mad Men" with Sunday's premiere. It felt a little long to this viewer so I'm eager for the hour-long episodes. AMC is on track to pummel us with another 2-hour premiere, this time it's "The Killing" next Sunday at 8pm which is way too soon, making AMC look overeager to keep their momentum going.
Next Sunday is a veritable traffic jam of quality shows, from Fox's "Bob's Burgers" at 8:30pm, to the season premiere of HBO's "Game of Thrones," to Comedy Central's world premiere of "Jo Koy: Lights Out" at 10pm. Throw in Discovery's "Frozen Planet," Showtime's "Shameless" and "House of Lies," and PBS' "Great Expectations" and you have over 10 hours of "must-see" TV crammed into a 3 hour block. It's particularly frustrating to note that there is virtually no new programming on Saturday nights yet a deluge of it on Sundays. When will this programming trend change course?