EVENTS
Are You What You Do?
Thursday, August 25, 2011, 7:00pm - 8:30pm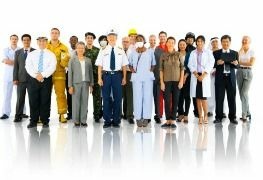 Asking "What do you do?" of someone you've just met isn't necessarily rude – in fact, it's widely considered common, among the first bits of information new acquaintances exchange. But what does it mean to ask about a person's job right after "What's your name?" or "Where are you from?"? Is there something particularly 'American' about binding occupation and identity? And in the face of discouraging trends in employment and job-satisfaction, might rethinking 'work' and its relationship to self, culture, and society bolster recovery all around?
This audience-inclusive, interactive discussion featured members of the public who responded to our "Are you what you do?" query as part of the Public Insight Network, as well as personal testimonials and impromptu artwork from audience members.
Moderator: Sharon McNary, KPCC's Public Insight journalist, uses tech-savvy, creative methods to tap the knowledge and experiences of the public to find compelling stories and sources for Southern California Public Radio's on-air, live and online content. Her work as a journalist has been informed by a range of work experience that includes computer programming and military- and Peace Corps service.
Panelists: Tobias Higbie is an Associate Professor of History at UCLA, and the Associate Director of the UCLA Institute for Research on Labor and Employment. Before coming to California in 2007, Higbie taught labor studies for trade unionists at the University of Illinois, and developed cultural and educational programs for schoolteachers and the public at the Newberry Library in Chicago. He is the author of the book Indispensable Outcasts: Hobo Workers and Community in the American Midwest, 1880-1930 (University of Illinois Press, 2003).
Rev. Peter Laarman is Executive Director of Progressive Christians Uniting, a contributing editor at Religion Dispatches, and a member of All Saints Church Pasadena, where he is helping to develop "Life and Livelihood", a community response to the jobs crisis. A graduate of Brown and Yale universities, Peter spent 15 years working as a communications specialist in the trade union movement before training for ordained ministry.
Rhacel Salazar Parrenas is a Professor of Sociology at the University of Southern California. She writes on issues of female labor and migration in economic globalization. She is the author or co-editor of seven books, including the soon-to-be-published Illicit Flirtations: Labor, Migration, and Sex Trafficking in Tokyo (Stanford, September 2011). 
---
---