EVENTS
"Oracle"
Saturday, April 29, 2017 - Sunday, September 3, 2017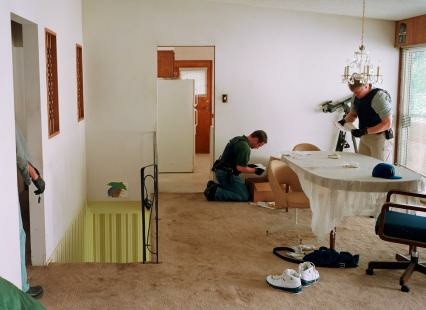 In an increasingly small world that spans politics, culture and commerce, The Broad will present an interpretation of the elusive globalizing forces at work in contemporary society in "Oracle," a free collection installation this spring that will fill the museum's first-floor galleries with more than 30 works from the Broad collection.
Opening April 29, 2017, the four-month installation will feature works by over 20 artists including El Anatsui, Mark Bradford, Peter Halley, William Kentridge, Julie Mehretu, Shirin Neshat, Albert Oehlen, Jeff Wall and Terry Winters, plus recent acquisitions by Ericka Beckman, Sterling Ruby, Oscar Murillo, Tauba Auerbach and Andreas Gursky. Four artworks in the installation will make their debut in Los Angeles, including one work completed by the artist this year. 
From everyday experiences to protest movements as monumental as the Arab Spring uprisings across the Middle East, to themes that probe systems of social control or examine global commerce, artworks in "Oracle" tackle the effects of organizational frameworks on global events and private individuals. Some works in the installation symbolize marketplace machinations, both official and unofficial, while others are meditations on games, surveillance, vast data sets, mathematical and biological patterns, and even the logic of art itself. Just under the surface of the works in "Oracle" is an air of anxiety, as if individuals' freedoms within these manmade phenomena are illusory or beyond reach. 
"'Globalization' is a term now in the forefront in politics and the media, but for decades, contemporary artists have represented it in their work, responding to and decoding its many forms. Oracle looks at how artists have anticipated the forces that have real consequences in our daily lives yet can be obscured from direct view." - Joanne Heyler, founding director of The Broad
Exhibition Info
April 29, 2017 - September 3, 2017
The Broad Museum
221 S Grand Ave
Los Angeles, CA 90012
About the sponsor:
The Broad makes its collection of contemporary art from the 1950s to the present accessible to the widest possible audience by presenting exhibitions and operating a lending program to art museums and galleries worldwide.
By actively building a dynamic collection that features in-depth representations of influential contemporary artists and by advancing education and engagement through exhibitions and diverse public programming, the museum enriches, provokes, inspires, and fosters appreciation of art of our time.
---
---