2020 KPCC Gala
Due to the COVID-19 pandemic, we have cancelled Southern California Public Radio's 20th anniversary gala planned for May 9th and instead will be holding a virtual fundraising event. The gala provides critical support for our journalists who are working around the clock to provide accurate, timely information that is essential to the public during this coronavirus outbreak.
We look forward to celebrating SCPR's milestone 20th anniversary and our honorees, the visionaries and founding board members of SCPR, in 2021 and thank our many sponsors for their continuing support during this crucial time. Our thanks also to legendary songwriter Randy Newman who wrote this special social distancing song for KPCC.
---
20th Anniversary Virtual Gala
WELCOME MESSAGES

From Ana Valdez, Board Chair and Herb Scannell, President & CEO

---
HONORING
Louise Bryson - Chair Emerita, J. Paul Getty Trust
Louise Henry Bryson is chair emerita of the J. Paul Getty Trust board of trustees. During a 34-year career in media, she was president of distribution for Lifetime Television and executive vice president and general manager of Lifetime Movie Networks. Before that, she was senior vice president at Fox Networks. She began her career as a writer and producer for public television. Bryson is a life trustee of SCPR and serves on the board of Huntington Memorial Hospital, the California Community Foundation, and former trustee of seven American Funds. She earned her MBA and MAT from Stanford University and her bachelor's degree from the University of Washington.
Gordon Crawford - SVP, Capital Research and Management Co. (retired)
Gordon ("Gordy") Crawford retired in 2012 after 41 years at the Capital Group, a global investment management company with $1.8 trillion under management. Today, he is active in the philanthropic world, currently serving as chairman of the US Olympic and Paralympic Foundation and as life trustee and past chairman of Southern California Public Radio. He is also past vice chairman of the Nature Conservancy and of the Paley Center for Media. Crawford, a native of Riverside and Old Greenwich, Connecticut, received his bachelor's degree from Wesleyan University and his MBA from the University of Virginia.
Bill Davis - President Emeritus, Southern California Public Radio
Bill Davis was the founding president of Southern California Public Radio, which he led for 18 years. Prior to his appointment, he was senior vice president for programming at National Public Radio (NPR) in Washington, DC, where he directed NPR's programming divisions. He previously served for a decade as general manager of WUNC-FM in Chapel Hill and managed WBFO-FM in Buffalo and KALX-FM in Berkeley. Davis earned his bachelor's degree from Occidental College, his master's from UC Berkeley's Graduate School of Journalism and his MBA from UNC-Chapel Hill.
Bill Kling - President Emeritus, American Public Media Group
Bill Kling is the founder and former president and CEO of Minnesota Public Radio and American Public Media, the largest operator of public radio stations in America. He was also a founding director of National Public Radio and founding CEO and president of Public Radio International. In addition, from his base in Minneapolis, he was a founding member of Southern California Public Radio. Kling is the recipient of the Corporation for Public Broadcasting's prestigious Edward R. Murrow Award and a fellow of the American Academy of Arts and Sciences. He holds a bachelor's degree from St. John's University, a master's degree from Boston University and two honorary doctorates.
Jarl Mohn - President Emeritus, National Public Radio
Jarl Mohn was president and CEO of National Public Radio from July 2014 to October 2019. He created E! Entertainment Television and served as its president and CEO for almost a decade. He was also executive vice president and general manager of MTV and VH1, as well as founding president and CEO of Liberty Digital. Mohn served on Southern California Public Radio's board of trustees for more than a decade including two years as chairman. In addition, he was on the boards of USC's Annenberg School for Communication and Journalism, the EW Scripps Company and Scripps Networks, XM Satellite Radio, Riot Games and CNET. He attended Temple University.
Ron Olson - Partner, Munger, Tolles & Olson
Ron Olson is a name partner of Munger, Tolles & Olson, a nationally prominent law firm whose practice involves a combination of litigation and corporate counseling. He also serves as a director of Berkshire Hathaway, Western Asset Trusts and Provivi, as well as of several nonprofits including the California Institute of Technology and ProPublica. Olson was founding chairman of Southern California Public Radio and was formerly a director of Edison International, City National Bank and The Washington Post Company. In addition, he was a trustee of the Mayo Clinic and of the RAND Corporation and a director of the Council on Foreign Relations.
Connie Rice - Civil Rights Lawyer
Connie Rice is founding co-director of Advancement Project, a multiracial civil rights organization fostering upward mobility in communities most impacted by economic and racial injustice. During the course of her distinguished legal career, she has won more than $10 billion in damages and policy changes to help redress police misconduct, race and sex discrimination and unfair public policy in transportation, probation and public housing. A former co-director of the NAACP Legal Defense & Educational Fund's Los Angeles office, Rice serves on the boards of the Public Policy Institute of California and Southern California Public Radio. She graduated from Harvard College and New York University School of Law.
Virgil Roberts - Managing Partner, Bobbitt & Roberts
Virgil Roberts is an entertainment industry attorney who has represented high-profile clients such as Usher, Kanye West and MTV. He previously served as president of Solar Records, one of the most successful African American-owned record companies of the 1980s. Roberts is chairman of the board of Broadway Federal Bank and a trustee of Southern California Public Radio, The James Irvine Foundation and many others. As former chairman of the Los Angeles Annenberg Metropolitan Project, he helped raise more than $120 million to reform public education in Los Angeles. He received his bachelor's degree from UCLA and his JD from Harvard.
Marilyn Sutton - Professor Emeritus, Cal State University, Dominguez Hills
Marilyn Sutton is an author, medieval scholar and leader in higher education policy and governance. She was vice chair and chair of the Commission for the Western Association of Schools and Colleges and served on the boards of Loyola Marymount University, Claremont Graduate University and Southern California Public Radio, where she continues as a life trustee. She is also currently a trustee of the UCI Foundation and on the advisory board of the Public Policy Institute Higher Education Center, an initiative she helped inaugurate with her husband, Tom. Sutton earned her bachelor's degree from the University of Toronto and her master's and PhD from Claremont Graduate University.
---
SCPR turns 20
By Bill Davis, President Emeritus
Read More
Hide Full Letter
Hindsight being 20/20 and with KPCC/LAist now established as one of the most innovative and successful local public media organizations in the country, it's easy to forget that, 20 years ago, KPCC was the least listened to NPR station in LA, on the brink of financial insolvency, and on the verge of losing its recognition and support from the Corporation for Public Broadcasting. And, for the most part, the civic and cultural leadership of Greater Los Angeles was either unaware or didn't care.
Against this bleak backdrop, a handful of civic leaders, led by founding Board Chair Ron Olson, put forth a dramatic vision for something more than just a public radio station. What the founding members of the SCPR Board envisioned was a "centering institution" — a place, both physical and virtual, where Angelenos could connect with one another across the boundaries of geography, gender, economic class, race, cultural background, educational attainment, etc.
The founding board's eclectic composition was consistent with this vision, comprising a diverse mix of impossible-to-pigeonhole leaders from civil rights litigators to investment bankers, from entertainment industry insiders to cultural outsiders. The board's mission statement called for programming that "strengthens the bonds that unite" Angelenos. This was emphatically not rah-rah civic boosterism. Rather, the board demanded that news coverage would "hold up an accurate mirror to the imperfect paradise that is Southern California."
At the time, Los Angeles was the only major American metropolis that did not have an NPR station that was committed to providing a 24/7/365 mix of local, national, and international news. A shibboleth among many civic and cultural leaders went "Angelenos don't care about local news." As KPCC launched its new all-news format, many scoffed. "Local news doesn't mean a damn thing to the average listener," said journalist Marc Cooper in a 2001 LA Times article. "When you tell me you're putting your focus on local news, I'll tell you you're from out of town."
In the face of this criticism, SCPR's founding board members held true to their vision. In the process, they attracted others to their cause. As the board grew, SCPR's vision of public service journalism and civic engagement continued to expand, becoming ever more inclusive and ever more generous.
The founding board members teamed up with Bill Kling, the legendary public radio impresario from Minnesota who had been present at the creation of both American Public Radio (subsequently re-named American Public Media) and National Public Radio, to provide strategic insight, operational expertise, and financial capital. Gordy Crawford succeeded Ron Olson as Board Chair, aggressively charting a strategy for rapid growth in both audience and revenue by dramatically increasing the organization's investment in local news coverage and civic engagement. Even in the middle of the so-called Great Recession of 2008-2010, SCPR continued to experience double-digit rates of growth in both listeners and listener support.
One result of all this growth was the need for a new facility. Under the leadership of both Gordy Crawford and Jarl Mohn, who succeeded Gordy as Board Chair, SCPR opened The Mohn Broadcast Center & Crawford Family Forum in 2010. Under Jarl's direction, the board adopted an even more ambitious strategy to expand and diversify SCPR's staff and audience, embrace multiple digital platforms to complement KPCC's legacy broadcast platform, and provide even more local coverage by launching Take Two and The Frame. SCPR's reputation for being an innovative national leader in public service journalism was one of the reasons why the NPR selected Jarl Mohn to be its President and CEO in 2014.
Looking back, it's easy to see that SCPR's founding board members were prescient—not just about the need for a "centering institution" in Los Angeles but also about the primacy and importance of local journalism. In the past 20 years, no metropolitan area in the country has witnessed the loss of more local journalists than LA. Against that devastating backdrop, the KPCC/LAist newsroom is now the region's second-largest—and the only one that has never had a paywall. In supporting this year's "Non-Gala," you help ensure that KPCC and LAist have the resources and capacity to report on all aspects of the COVID-19 crisis and the 2020 election. And, in so doing, you honor the spirit and the foresight of SCPR's founding board members—and all the subsequent and current board members who continue to ensure that SCPR more fully realizes the potential of its founding vision of public service journalism and civic engagement.
---
JT & FRIENDS
We are grateful for the support and friendship of John Tu, co-founder and president of Kingston Technology. Through John's spirit of philanthropy, he formed JT & Friends, a 50+ member band, to support gala fundraising efforts of non-profit organizations throughout Southern California. Since SCPR's inaugural gala in 2015, we have been honored to feature the musical talents of JT & Friends at our signature fundraising event. Thank you, John, for your kindness and generosity!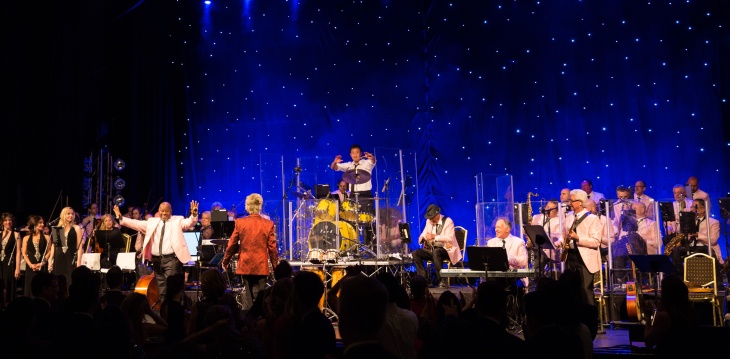 ---
GALA MUSIC PLAYLIST
While we are unable to celebrate our anniversary gala in-person with our supporters, we hope you will enjoy our LA-themed music playlist, curated by John Tu and JT & Friends, for our anniversary celebration.
---
2020 GALA CO-CHAIRS
Nancy Stark and Cathy Ward
---
GALA SPONSORS
CATALYST
John and Mary Tu
DIAMOND
John and Louise Bryson
Gordon and Dona Crawford
Molly Munger and Stephen English
Tom and Marilyn Sutton
PLATINUM
Tim and Sandy Armour
Esther S.M. Chui Chao
and Giant Panda Management
Lillian Lovelace
Alicia Miñana and Rob Lovelace
Ward Family Foundation
GOLD
Bob Adler
Melissa and Bob Alvarado
American Public Media Group
Brad and Ashley Barrett
California Community Foundation
Johnny Carson Foundation
Edison International
Blaine and Lynda Fetter
Heather and Paul Haaga
Larry and Janice Hoffmann
Winnie Kho and Christopher Testa
Lionsgate
Katie McGrath & J.J. Abrams
Wendy Munger and Leonard Gumport
PacRim
Nancy Stark and Stanley Iezman
Susan Steinhauser and Daniel Greenberg
Walt Disney Television
Ward Family Foundation
SILVER
The California Endowment
Capital Group
CARS, Inc.
Pasadena City College
James B. Pick and Rosalyn Laudati
Peter and Andria Strelow
Mary-Jane Wagle
---
For sponsorship information, please contact Lauren Tran at scprgala@scpr.org or 626.583.5176.