Archive for November 8th, 2019
Education
|
|
November 08 2019, 4:52 PM
Thousands of young artists and performers took part in the annual event that showcases the talents of students of all abilities.
Education
|
|
November 08 2019, 4:39 PM
Erika Torres is the new administrator. Until recently, she was an L.A. County official advising retiring administrator Thelma Melendez de Santa Ana
Local
|
|
November 08 2019, 4:08 PM
Construction work has dried up for Julio Osorio, 54. "The idea is to save a little money for the future, and you can't."
https://www.scpr.org/archive
|
|
November 08 2019, 7:21 AM
Proposition 187 won the vote in 1994. But the reaction to it was a victory for Latinos and progressives in California.
There were no blog entries published on this date.
Take Two®
AirTalk®
|
November 08 2019, 9:53 AM
The Southern California Association of governments voted this week in favor of a plan that pushes for more coastal housing instead of expanding communities inland.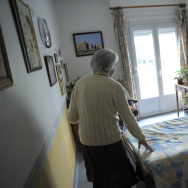 |
November 08 2019, 9:44 AM
Many Californians have struggled to find both housing and supportive care over the last few years. A lifeline to both has been steadily disappearing as a number of board-and-care homes are closing their doors.
FilmWeek®
|
November 08 2019, 9:10 AM
Larry Mantle and KPCC film critics Amy Nicholson, Tim Cogshell and Charles Solomon review this weekend's new movie releases.
FilmWeek Marquee