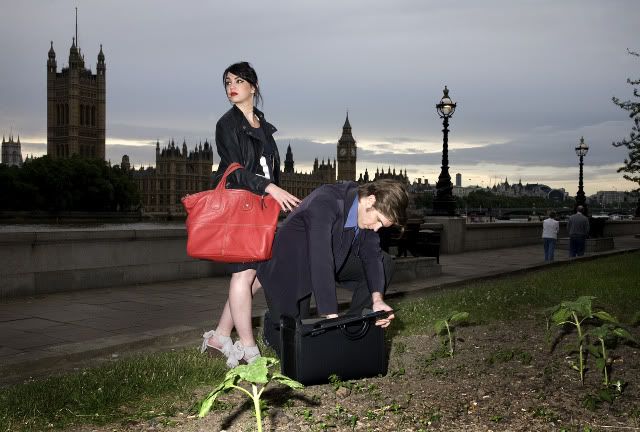 Environmental activists get a bad rap. Conveniently ignored until they've chained themselves to a centuries-old tree to avoid it being bulldozed to build yet another Enormo-Dome, those who spend their lives begging us to save our own are turning to new tactics.
A burgeoning cadre of rouge environmentalists has eschewed the tradition of passive aggressive action to adopt a much more modern and creatively insidious m.o. These "guerilla gardeners" make seed-bombing runs through ignored inner-city areas, planting greenery and more importantly food wherever soil can be sowed.
Canadian designer Vanessa Harden was inspired by this rising sub-cuture to create "The Subversive Gardener" project. Combining utilitarianism with flair of James Bond-styled ingenuity, Harden dreamed up an impressive collection of high-tech accessories for the aspiring (and stylish) stealth planter.
What looks like a stylish leather Hermes bag is actually a planter with a flower drop flap built into the bottom. It pairs perfectly with the men's attaché case, which is really an earth-tiller, complete with an auger hidden inside. There's also a fake camera that shoots seeds over a distance and men's shoes that deposit seeds while you walk.
All of this espionage inspired Harden to also create "seed pills", smaller, cleaner versions of much larger seed bombs made from clay and compost. Just whatever you do, don't mix them up with your vitamins.