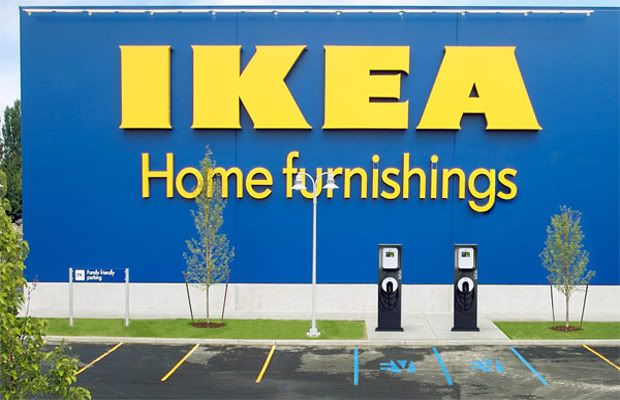 It's a love/hate relationship many of us have with Ikea. Sure, they have functional furniture and home accessories for reasonable prices, and a surprisingly delicious food court. But it's hard not to hate on their oft-remote locations, not to mention the infinite patience required to assemble "that damn night stand".
The fines Swedes behind Ikea are well aware of it all. Which is why they're going to such great lengths to offset the sizable carbon footprint their stores can create. After already doing so in Portland, OR and California cities San Diego and Carson, Ikea has upgraded their Costa Mesa location as the fourth in America to boost an EV charging station. While there is no timetable or locations yet determined, Ikea plans on upgrading another five of their stores in the western U.S. with EV stations.
It's part of the company's much larger plan of environmental consciousness. Over the past year, Ikea has expanded their American solar commitment to cover 75% of their stores, including the aforementioned Costa Mesa store and all locations in the southern United States. They even started shuttle services in some cities, and special home delivery for customers who reach their stores by public transportation.
While none of this make assembling that new night stand any easier, it will definitely help those who live in the vicinity of these Ikea stores literally breathe  a little easier.