Santa Ana-like turbo breezes are expected to batter the L.A. basin. The mightiest winds are expected Sunday night into Monday with gusts possibly exceeding 80 mph in some mountain areas.
The National Weather Service urges drivers to use caution on passes, canyons and freeways, especially high profile vehicles. The following major roadways could be affected through Monday:
Interstate 5 (through the Los Angeles County mountains)
Highways 14 and 138 (in the Antelope Valley)
Highways 101 and 154 (through southern Santa Barbara County)
118 and 210 freeways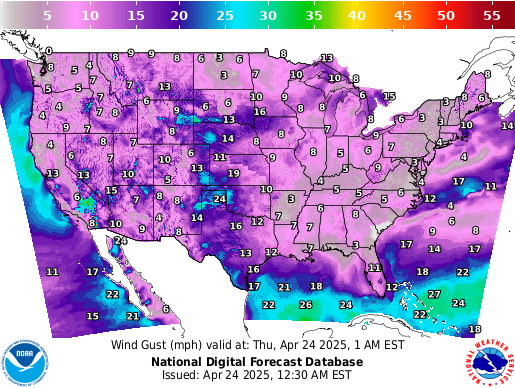 Southern California Edison says it's expecting power outages. The company is urging homeowners to be sure they have a battery-powered radio and flashlights handy. You can check outage locations and estimated repair times at their website.
With the wind comes an elevated fire risk, likely power outages, and possible property damage across the region. Dangerous sea conditions and a high risk of rip currents are also expected.
At a mountaintop weather station near Pyramid Lake, winds approached hurricane force Saturday morning at 67 miles an hour. Lancaster and vicinity are looking at 60 miles per hour gusts come Saturday afternoon. Reduced visibility is possible due to blowing sand and dust.
Area airports, including LAX, could also be affected by cross winds.
NWS has issued a number of alerts including a Hazardous Weather Outlook and Special Weather Statement for:
San Luis Obispo County: central coast, interior valleys, mountains
Santa Barbara County: central coast, south coast, mountains
Santa Ynez Valley
Cuyama Valley
Ventura County: coast, interior valleys, coastal valleys, mountains
Los Angeles County: coast, downtown Los Angeles, mountains
San Fernando Valley
San Gabriel Valley
Santa Monica Mountains: recreational area
Antelope Valley
Catalina Island
Santa Clarita Valley
For more information on the weekend wind, follow NSW's "laxnpwlox" updates.
This story was updated at 6:15 p..m. Sunday, April 7, 2013