News of Monday's horrific bombing at the finish line of the Boston Marathon broke rapidly and widely across mainstream media, on the Internet and in social media, and as in all such fluid situations, a lot of bad information was mixed in with the good. Here are the latest developments as of Wednesday morning.
As for the rest, KPCC deconstructs some of the worst rumors and speculation and tries to find the truth behind them.
1) 'False Flag' Attack
The rumor:  At the final Boston Police Department press conference on Monday, the first question for Gov. Deval Patrick asked if the bombings were a "false flag" attack. As the Atlantic Wire reports, "false flag" is a naval term. It's meant in this context as an attack orchestrated by the government to justify expanded powers and the stripping of civil liberties.
Perpetrated by: Radio host and InfoWars operator Alex Jones and his rabid band of conspiracy theorists, including wrestler "Bionic" Dan Bidondi, who asked the press conference question. Gawker clocks the time between bombings and the first "false flag" accusation at 30 minutes.
In reality: The question was given a one-word answer: "No."
2) Man On The Roof
The rumor: A photo taken by marathon spectator Dan Lampariello shows a man on a nearby roof after the bombing. Lampariello posted the photo on Twitter, a Frank Ocean parody sent it sailing and it's still gaining speed.
Who's that guy on the roof?? ???? #BostonMarathon #PrayforBoston twitter.com/Fraank_Oceaan/…

— Frank Ocean (@Fraank_Oceaan) April 15, 2013
In reality: While there is no evidence to suggest malevolence by the silhouetted individual, a number of fringe  outlets and reputable news organizations wrote about the photograph. 
"Interest in the mystery man has grown so great," notes Slate, that "during a press conference Tuesday morning, the FBI acknowledge that they were aware of it, although they declined to comment on the photo or any other images flagged by the public for investigators."
The FBI  is still requesting from the public any and all possible photographic evidence.
3) "Family Guy" Prediction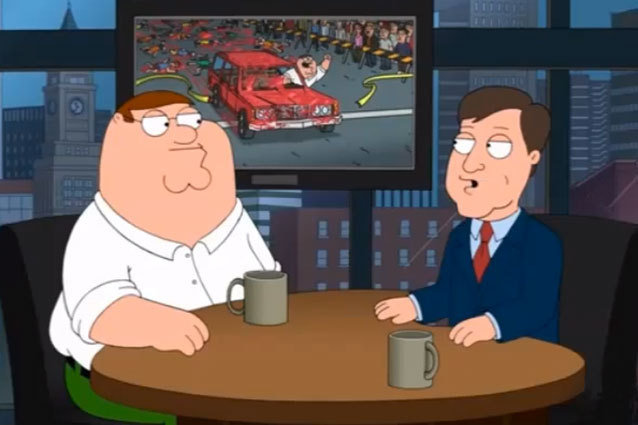 UPDATE - Apr. 17, 2013: The Associated Press reports that Fox has pulled from Fox.com and Hulu a recent episode of "Family Guy" which depicts mass deaths at the Boston Marathon. There are no immediate plans to broadcast it again. The episode, "Turban Cowboy," aired Mar. 17.  
The rumor: That a recent episode of the Fox animated series "Family Guy" predicted the Boston Marathon bombings.
In reality: In the episode, Peter Griffin befriends a terrorist who, unbeknownst to him, is plotting to blow up a bridge. When Peter dials a cellphone, explosions and screams are heard. In a flashback unrelated to the episode's central storyline, Peter is seen hitting runners with his car when asked by sports announcer Bob Costas about his performance at the Boston Marathon. An edited clip of those scenes have been cut together to suggest a plot relating to the Boston Marathon bombings. Seth MacFarlane denounced the video on Twitter, saying that the "clip currently circulating is abhorrent." 
Access Hollywood has additional details about the doctored clip:
The edited version of the clip — which made headlines Tuesday morning, begins with an animated version of NBC Sports' Bob Costas asking Peter Griffin how he won the Boston Marathon. Then, the clip cuts to Peter in a diner — dressed in a knee-length garment, fringed vest and hat. Peter then dials a number, and an explosion is heard. He tries the number again, thinking the phone is "busted" and another explosion goes off.
4) American Airlines Computer Glitch/Men Taken Off Plane
The rumor: American Airlines shut down because of cyberterrorism, hackers, government conspiracy and/or variations of a story connecting the ground stop to two men speaking Arabic said to be escorted off of a flight Tuesday at Boston's Logan Airport.
In reality: American Airlines flights across the country were grounded on Tuesday. The company cited a computer problem with its reservation system.  American asked the Federal Aviation Administration to halt its flights until 2 p.m. Pacific time. MyFoxBoston reported a thin story Tuesday morning about men being escorted off a plane, citing unnamed "sources." 
Sources told FOX 25 there was an American Airlines flight that was headed to Chicago. There were two men on that plane – not sitting next to each other – and speaking Arabic. There were some concerned marathoners on the flight so the plane was brought back to the gate and the two men were escorted off the plane.
5) Saudi National Under Guard at Boston Hospital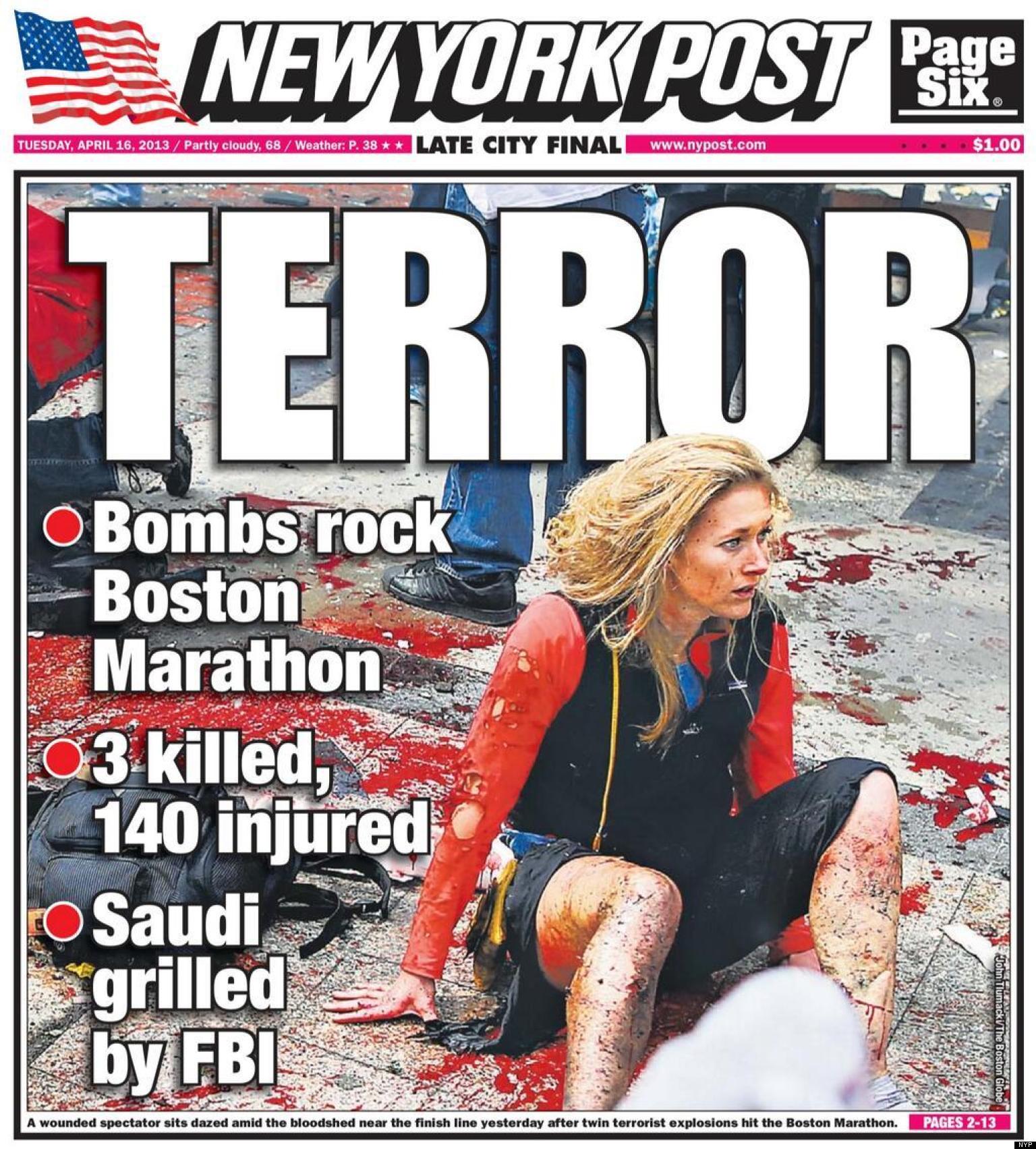 The rumor: The New York Post is being criticized Tuesday for its news coverage Monday, including the story with the headline, "Authorities ID person of interest as Saudi national in marathon bombings, under guard at Boston hospital."
In reality: As of Tuesday afternoon, no one is in custody, no one has been named as a suspect and no one is reported as under guard, reports the Boston Herald. There was a Saudi student injured by shrapnel, and a massive team of authorities searched his residence on Monday night. Items were removed from the apartment, and the man's roommate was questioned for hours.
... Officers from the FBI, ATF and Boston swarmed the fifth-floor apartment in Revere's Ocean Shores Tower in what residents said was a startling show of force just hours after the horrific Boston Marathon double bombing.

In addition to two Boston Police K-9 units and a bomb squad unit, Immigration and Customs Enforcement, as well as Homeland Security investigators and state police also assembled at the two buildings on Ocean Avenue in Revere.
Mohammed Hassan Bada, a 20-year-old from Saudi Arabia, said, "I signed some paper to let them in," and said police questioned him in Arabic, with a translator. "I was scared," he told the Herald.
(Read more in the New Yorker.)
6) JFK Library Explosion
The rumor: Boston Police Commissioner Edward F. Davis said during a press conference on Monday that a third incident had occurred at the JFK Library, and that authorities were treating it as a connected situation.
What happened next: By evening, authorities reported that JFK incident may not have been an explosion; rather, it appeared to be "fire-related."
In reality: The Boston Globe reports that a "mechanical fire" broke out in a heating and ventilation system at the library around the same time as the Marathon explosions, according to library officials. There was an orderly evacuation, and they don't anticipate much damage to the library's collections.
7) Sandy Hook Child Killed 
The rumor: That the 8-year-old who was killed was a young girl from Sandy Hook running the marathon for the victims and survivors of the massacre. 
The photos: Despite children not being permitted to run in the Boston Marathon, photos of a boy and a girl were widely circulated. The photo was of a girl at a different race last May, according to Snopes. There was also a photo of a boy running in the marathon. It also was not a photo of the victim.
In reality: The 8-year-old child killed was Martin Richard, who was watching the marathon. His mother and sister were also "grievously" injured in the explosions, reports CNN.
Denise Richard underwent surgery for an injury to her brain, and Martin's 6-year-old sister lost her leg, CNN affiliate WHDH reported. 
William Richard, the boy's father, released a statement on Tuesday:
"My dear son Martin has died from injuries sustained in the attack on Boston. ... My wife and daughter are both recovering from serious injuries. We thank our family and friends, those we know and those we have never met, for their thoughts and prayers. I ask that you continue to pray for my family as we remember Martin. We also ask for your patience and for privacy as we work to simultaneously grieve and recover. Thank you."
8) Wedding Proposal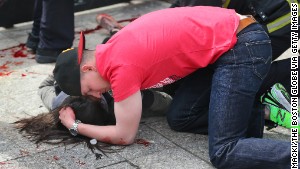 The rumor: A man planning to propose to his girlfriend at the finish line never gets the chance.
In reality: The Boston Globe photo is real, but the story is not, reports CNN.
"The man in the red shirt planned to propose to his girlfriend as he crossed the finish line of the Boston Marathon, but she passed away," it reads. "Most of us will never experience this amount of emotional pain."

The image is, in fact, real. It comes from the Boston Globe and was shared through Getty Images. But the agency's caption merely describes the scene as a man comforting an injured woman at the finish line.
9) Retweet to Donate
The rumor: Boston Marathon race organizers will donate money if you retweet their message.
In reality: It was a fake account. Posing as marathon organizers, @_BostonMarathon claimed that, "For every retweet we receive we will donate $1 to the #BostonMarathon victims #PrayForBoston." Twitter shut down the account.
10) BostonMarathonconspiracy.com
No rumor: Salon reports that "since conspiracy theories have already arisen surrounding the Boston Marathon bombing, one man in California is doing what he can to head them off by registering the domain name bostonmarathonconspiracy.com. If you visit the site, you get this message:"
I BOUGHT THIS DOMAIN TO KEEP SOME
CONSPIRACY THEORY KOOK FROM OWNING IT.

PLEASE KEEP THE VICTIMS OF THIS EVENT
AND THEIR FAMILIES IN YOUR THOUGHTS.
More from KPCC
Have you heard any rumors about the explosions at the Boston Marathon? Share them with us and we'll try to get to the bottom of them. You can post a comment below, tweet us @KPCC or post on our Facebook page.
This story has been updated.