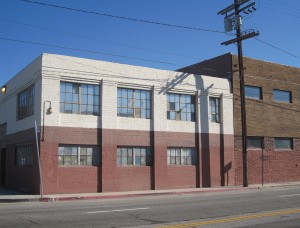 (LA County's Mental Health Courthouse, 1150 N. San Fernando Road, Los Angeles. Credit: Jon Regardie)
The power went out this morning at my house in Cypress Park, so of course it went out at the LA Superior Court's least likely courthouse, this ugly brick factory on San Fernando Road, near the LA Stripping and Finishing Center (which is not a charm school for Spearmint Rhino workers) and the Sungsam Korean Catholic Church.
From the news release:
LOS ANGELES – The Los Angeles Superior Court Mental Health Courthouse, 1150 N. San Fernando Road, Los Angeles, 90065, is closed today due to a power outage in the surrounding area. Courthouse business is expected to resume tomorrow. Court administrators were told electrical power should be restored by this evening, Monday. 

No power til tonite? Again? Cripes. Well, thats better than a week from now. Anyway, the notice about the power outage reminded me of a column by the executive editor of the LA Downtown News, Jon Regardie, an occasional Off-Ramp contributor, called Oy, the Jury, in which he outlines a disappointing experience in a totally appropriate setting.
... My bad attitude then got the payback it deserved. Our group of 35 was told that we weren't going to a courtroom in the building. Instead, we all had to drive to the L.A. County Mental Health Courthouse on San Fernando Road, just outside of Downtown. They warned us to grab lunch locally because there was no food, or anything, where we were going.
(Rabe: Not true. King Taco, La Morenita, and Lupita's are all within walking distance. I particularly recommend the eggs at Lupita's on Idell.)
... The case was fascinating. It concerned an articulate and intelligent but also clearly mentally ill man, whom I'll call David, trying to extricate himself from the oversight of his son, whom I'll call Benjamin. David proved literally incapable of keeping his mouth shut. He repeatedly interrupted the opposing attorney. He repeatedly interrupted his own attorney. He repeatedly interrupted the commissioner. He'd yell out "Perjury!" "Lie!" or "True!" at various moments. He asked several times if he could cross-examine a psychologist called to the stand. He referred to the commissioner and one attorney as "dear." 
You'll have to read the column for the stunning conclusion.