Off-Ramp contributor Marc Haefele reviews Canterbury and St. Albans: Treasures from Church and Cloister, which is at the Getty Center from Sep 30 - Feb 2.
900 years ago, if you were a European peasant or serf, you were almost certainly unable to read. But you were expected to be a good Christian anyway—which meant knowing the basic stories and scriptures and characters of the bible.
How did you manage?  Well, it has a lot to do with the art of the European Middle Ages—in fact, that was what most of the art of that time and place was for. As one early churchman put it, "The pictures are the poor man's bible." The stories that were preached every Sunday were draped across your vision in the hues of stained-glass portrayals in the windows that surrounded you in church.  It was said that "Each picture is a lesson to the viewer.'
Just how amazing many of these pictures were is demonstrated by a Getty show that combines two great and literally iconic works of the 12th century—a selection of stained glass windows from Canterbury Cathedral and the St. Albans psalter, a precious and singular illuminated parchment volume created 80 miles away at the Abbey of St. Albans.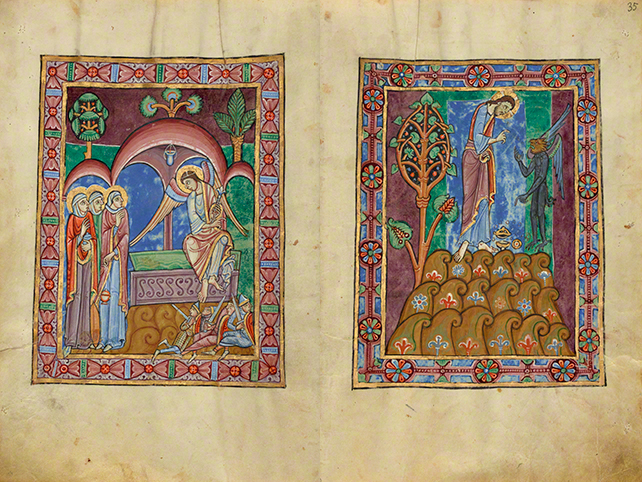 (The Maries at the Tomb and The Third Temptation of Christ, from St. Albans Psalter, about 1130, Alexis Master. Tempera and gold on parchment. Dombibliothek Hildesheim)
Most startling are the windows, installed in the wake of the canonization of St. Thomas a Becket.  There are six of them out of the surviving 43 panes of a series called the ancestors of Christ. A peasant who knew all of these figures would probably be more knowledgeable than most modern Christians, who might wonder just who was Jared, Peleg, or Thara?  (Jared was the father of Enoch, Peleg was a son of Heber. Thara, who ran an idol store, was the father of Abraham. Talk about anti-parental revolt!). Of the six on display, only Noah will be familiar to most of us.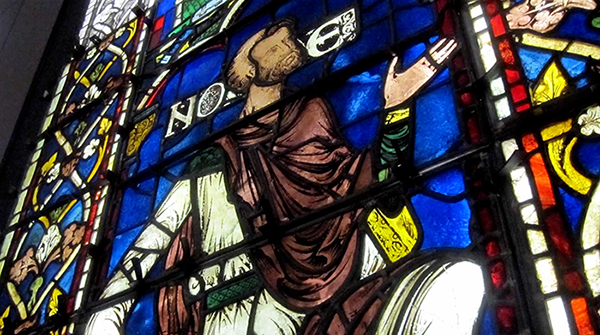 (Installation view of Noah, from the Ancestors of Christ Windows, Canterbury Cathedral, England, 1178-1180, colored glass and vitreous paint; lead came. Courtesy Dean and Chapter of Canterbury)
But what personalities they all are! Jared smiles hesitantly as raises a forefinger in some kind of admonishment, while his other hand clutches clothing that seems to overlay medieval garb with a Roman toga. Noah puts his foot on the bar rail and raises his left hand in an old salt's gesture of explanation as he tells us how he happened to embark on his long and crowded voyage.  Thara, with trim, sharp beard, looks like a wily shopkeeper telling a customer, sorry, there's no discount on these items. 
All this is accomplished by masterful brushwork—for this is painted stained glass. The greatest artist whose work is on display is known only as The Methuselah Master, for portraying a patriarch absent from this ensemble, as well as the figures of Jared and Lamech.  He and those he collaborated with on these late 12th century masterpieces had skills we don't generally associate with art of the Middle Ages. But these portraits were intended to tell a story, to leave an enduring impression on the viewer's imagination as he or she basked in the deeply filtered blue, red and green light they cast across the chancel.
The St. Alban's psalter is basically a manuscript of the complete Old Testament psalms, but the illustrations bear keys to the words. The capitals at the beginning of each psalm are jammed with figures illustrating the text, moving onto the page much like a classic Avant grade cartoon strip where the characters step out of the frames.  It's associated with one unusual and charismatic English Christian figure of the 1100s, Christina of Marykate, a holy woman with a considerable following.  Although created in England in a period slightly before the "Ancestor" windows, its usual home is a library in Hildesheim, Germany.  It was taken there during the Reformation, after its Catholic owners rescued it from possible destruction at the hands of fanatic British protestants.  But some of those reformers had already had their way with the book: names of certain prominent saints were scratched out, other names deleted.
Yet the whimsical-seeming and graceful art work largely survived—for this is very much a picture book. There are 40 full page painted illustrations, my favorite of which is of King David playing a medieval bass fiddle. Its separated pages will be on display in rotation, and they are as entertaining as they are inspiring.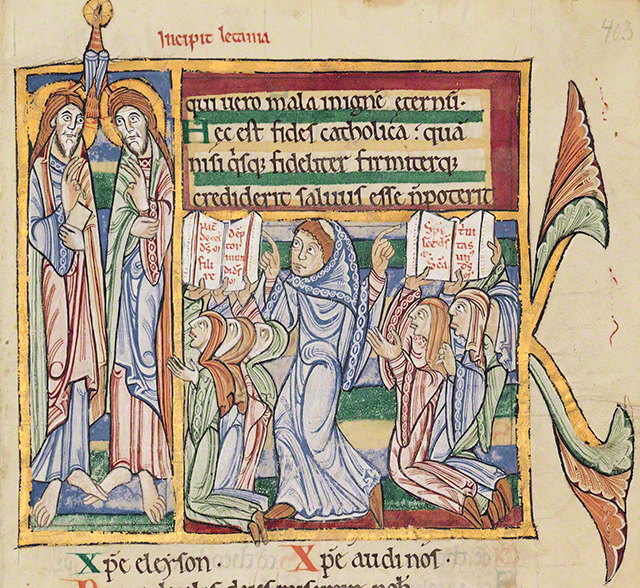 (Initial K, Litany: The Trinity with Monk and Nuns (detail), from St. Albans Psalter, about 1130. Tempera and gold on parchment. Dombibliothek Hildesheim)
And, along with those great tale-telling windows, those pages might very well help you to remember stories that learned long ago and thought you had forgotten.