EVENTS
Give Smart: Philanthropy that Gets Results
Wednesday, June 29, 2011, 8:30am - 9:30am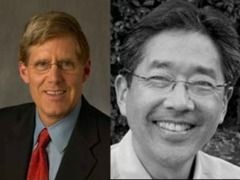 The Drucker Business Forum presents Tom Tierney in converstaion with John E. Kobara.
In 1999 Tom Tierney, co-founded the Bridgespan Group, an independent, nonprofit organization designed to provide professional services to philanthropists, foundations and other nonprofits. In 2003, he led the development of Bridgestar, an initiative of the Bridgespan Group dedicated to enhancing and increasing leadership talent for the nonprofit sector. Prior to Bridgespan, he was Bain & Co Chief Executive. He joined Bain & Company in 1980 following graduation from Harvard Business School. He was promoted to partner after three years and from 1987 to 1992 served as the managing director of Bain's San Francisco office. In 1992, he became Bain's chief executive. During the 1990s, under his leadership, Bain & Company grew its revenues six-fold, while significantly expanding its international operations.
A native of California, he received his B.A. in Economics from the University of California at Davis. He served as a field engineer for Bechtel International in North Africa before entering business school.
In Give Smart, Tierney pools his hands-on knowledge with philanthropy expert Joel L. Fleishman to create a much-needed primer for philanthropists and the nonprofit organizations.
Tom is a director of eBay, Incorporated and also serves on a number of nonprofit boards and advisory groups, including National Board of The Nature Conservancy, The Hoover Institution, and the Woods Hole Oceanographic Institution.
JOHN E. KOBARA is the chief operating officer responsible for all of the development, marketing, administrative, grant making, civic engagement and donor relations functions of the California Community Foundation. Prior to his appointment, he headed the foundation's external and donor relations department.
Kobara received the 2007 City of Angels award from Mayor Antonio Villaraigosa for his service on behalf of children and families. He was a Coro Fellow in Los Angeles and earned a bachelor's from UCLA, a master's in business administration from USC and a master's from Occidental College.

Breakfast: 7:45-8:30am
Forum: 8:30-9:30am followed by book signing
---
---