EVENTS
Who Will Be L.A.'s Next Mayor? AirTalk's 2013 Live Mayoral Debate (video)
Wednesday, February 6, 2013, 7:00pm - 8:30pm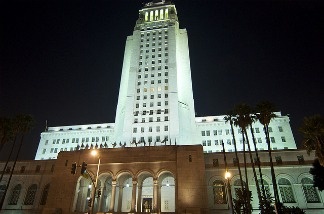 It's a long list. Start with the city budget, transportation, crime and safety – add in public health, education, energy and the environment. Not to mention potholes, lighted billboards, runaway production and our future NFL team.  What issues are most important to you?  What should L.A.'s next mayor put at the top of his or her to-do list?
On Wednesday, February 6 KPCC's Crawford Family Forum presented a live debate, hosted by Airtalk's Larry Mantle, between the five front-running candidates for Los Angeles' next mayor. City Councilmembers Eric Garcetti and Jan Perry; City Controller Wendy Greuel; former Assistant U.S. Attorney Kevin James; and former technology executive Emanuel Pleitez squared off in front of a live audience in our Crawford Family Forum.  
---
THE CANDIDATES:
Eric Garcetti, Los Angeles city councilmember

Garcetti is currently serving as the councilmember representing 10 neighborhoods in the 13th Council District. He was Los Angeles city council president from 2006 until 2012.  Garcetti is an avid photographer, jazz pianist and composer and is an officer in the U.S. Navy reserve. He lives in Silver Lake with his wife, Amy, and their one-year-old daughter.
www.ericgarcetti.com
www.facebook.com/ericgarcetti
@ericgarcetti
Wendy Greuel, Los Angeles City Controller
Wendy Greuel is Controller for the City of Los Angeles. Greuel is the taxpayer's watchdog, and she's conducted 70 audits that have uncovered over $160 million in waste, fraud, abuse and inefficiencies. A proud graduate of Los Angeles public schools and UCLA, Greuel started her career in Mayor Tom Bradley's office and helped start LA's BEST, a nationally recognized afterschool program. Wendy later worked in President Clinton's Administration at the Department of Housing and Urban Development and at DreamWorks Studios before being elected to the Los Angeles City Council in 2002. On the Council, Wendy worked to improve the city's transportation infrastructure and make L.A. more friendly to businesses.
 www.WendyGreuel.org
www.facebook.com/WendyGreuel
@Wendy_Greuel
Kevin James, Radio Broadcaster/Attorney 
Kevin James moved to Los Angeles over 25 years ago from Oklahoma to begin his legal career.  He has served as an Assistant U.S. Attorney, litigator at Gibson, Dunn & Crutcher, and entertainment lawyer.  While maintaining his legal practice, James has also contributed much of his time, talents, and resources to the community.   James joined the all-volunteer Board of Directors of AIDS Project Los Angeles where he served for six years as Board Vice-Chair and Co-Chair.  For the past 10 years James was also a local radio broadcaster.  Through his broadcasting career on 790 KABC and 870 KRLA, Kevin has broadened his scope of community involvement, covering the city in unrivaled detail and calling out corruption in L.A. City Hall.  
www.kevinjamesformayor.com
@James4Mayor 
Jan Perry, Los Angeles City Councilmember
Perry has represented the Ninth Council District at the City of Los Angeles since 2001. She served in council leadership as both Assistant Pro Tempore and President Pro Tempore. During her tenure Jan worked to revitalize Downtown Los Angeles, leading to the private investment of over $15 billion and the creation of over 90,000 new jobs making it the economic engine for the region. Jan secured $70 million for park and recreation facility improvements and worked with for and non-profit affordable housing developers to create over 4,000 units of affordable and supportive housing for families, seniors and the homeless. Jan worked with community stakeholders to achieve economic and environmental justice by improving land use decisions, replacing industrial uses in single family neighborhoods with family housing and open space, establishing new grocery stores and restoring and re-purposing historic assets like the Dunbar Hotel and Paul Williams 28th Street YMCA in South Los Angeles.
www.janperry.com
https://www.facebook.com/jancperry
info@janperry.com
@JanPerry
Emanuel Pleitez, Former Technology Executive
Pleitez has public, private, and non-profit sector experience, and was appointed to manage President Obamas Economic Recovery Advisory Board. Pleitez, an L.A. native, grew up on the eastside and currently lives in El Sereno with his wife, Rebecca.
www.pleitezforla.com
@PleitezforLA
---
---