EVENTS
The Graduates/Los Graduados (Part 1) - School or Street?
Thursday, September 19, 2013, 7:00pm - 9:00pm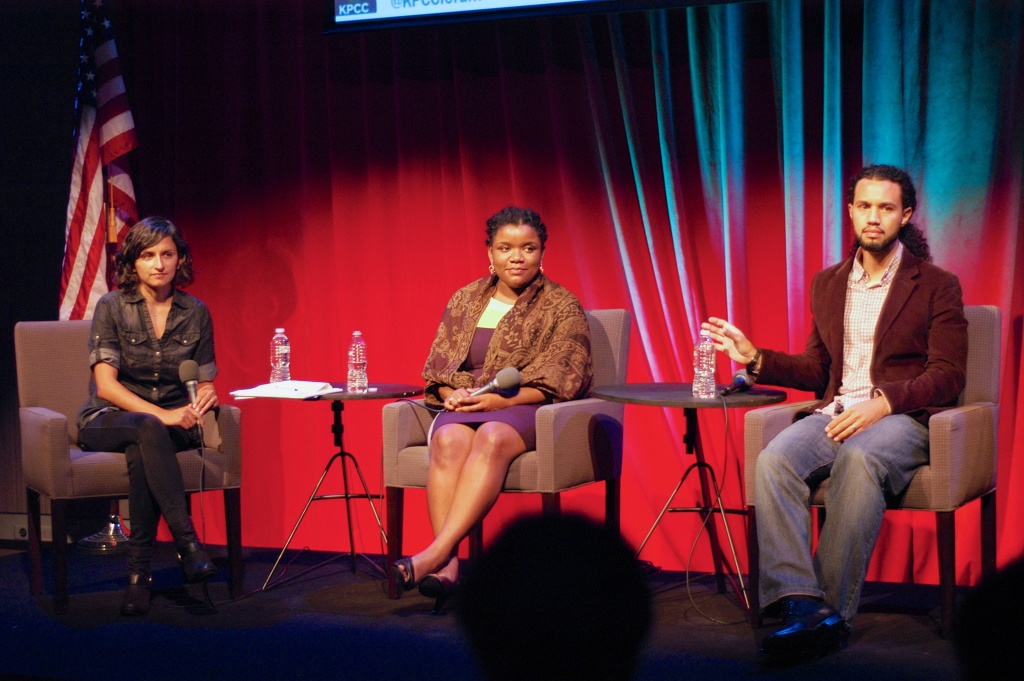 With one foot in San Diego's gangs and another on the road to college, Eduardo Corona's life is the quintessential story of a low-income high school student.
His story is one of six  featured in the documentary film 'The Graduates/Los Graduados,' which was screened Thursday night in KPCC's Crawford Family Forum as part of the Community Cinema series.
RELATED: Don't miss part two of this series. RSVP for The Graduates/Los Graduados (Part 2) - Drop-Out Parents? on October 17.
Corona's sister was the first to join a gang. Then his brother joined. Then, by default, he joined. This lifestyle eventually got him in trouble with the law.
But in facing a judge, he was given a chance: "You have one month to prove to me that you're this successful man here in this photo, not the kid that got arrested," the judge stated. 
Today, Corona is a student at San Diego State University studying psychology — thanks, in part, to a program called Reality Changers. Throughout the course of his studies, Corona switched majors to pursue what he calls his true passion: giving back to the program that saved his life.
Corona spoke about the film and his experience via webcam in the forum with KPCC's crime and safety reporter Rina Palta Thursday. Palta also moderated a conversation with two panelists about the factors affecting high school dropout rates.
Making mentorship relevant 
Without mentorship and support, education is an irrelevant part of students' lives, especially when surrounded by gangs and poverty, said Daniel Castillo, Urban Scholars/BMYA Program Manager for the Social Justice Learning Institute (@SJLI_CA).
Castillo, who was born and raised in Los Angeles, says his experience was similar to Corona's: He joined a gang in high school and was almost inducted into what he called the "adult-level." On the eve of his junior year, he said the older, adult gang members showed up to his school to "jump" him.
"I remembered how frightened I was, and one of my fellow (gang members) came up to me and said, 'are you ready, I think they're here to put you on,'" he recalled.
"My life struggles, my childhood prepared me for what I do now," he said, adding that he can relate to students he mentors. Mostly, he said, it's about taking the time to listen. 
"That's what we're all about: meeting students where they're at, help them jump over hurdles as they move on, and use that as empowerment to change the world around them," Castillo said. 
Jamecca Marshall, who is a Policy Manager for Urban Peace, Advancement Project California (@AP_UPAcademy), said Corona and Castillo are part of the solution. 
"To me it's simple," Marshall says. "It's the same that my parents and my grandparents had when they were growing up, and that's more caring adults."
Today's criminal justice system 
Whether in handcuffs or in front of a judge, a typical high school student who joins a gang — or ends up in trouble with the law — is often expected to be a repeat offender, said Corona. "It's the stereotype."
Marshall says that's the sad truth of today's criminal justice system, which doesn't ordinarily behave like the judge that offered Corona a second chance.
"For the vast majority of men of color, women of color, youth of color — that enter the system  that's not the case," she said. "Think of what could be the outcome of our kids if all judges looked at them as humans as potential youth with potential to be what Eduardo is and what he became."
And while statistics may show a decline in crime, Marshall said we have a judicial system that is out of touch with the communities it serves. 
"A lot of the issues that we see—high rates of recidivism, high rates of incarceration, youth arrest, negative health outcomes for men of color, young women—it happens in communities that are already traumatized," she said. 
With that lack of touch, communities grow distrustful of law enforcement and will sometimes let crimes, such as domestic violence, go unreported, she said. 
Is curriculum the problem? 
Annual standardized tests that determine a school's grade, better known as the Academic Performance Index (API), are not an effective way to promote student success, Marshall said. 
"A lot of the teaching to the test, a lot of the focus that we have on standardized tests are to the detriment of kids, especially in kids with cultural differences that are not really represented in a lot of the curriculum that we see," she said. 
Even when students do achieve good grades and aspire to go to college, few understand what it really means to go to college, financially and socially, she said. 
Corona says he understands the weight of keeping students motivated to go to college and stay in college. That's why Reality Changers has given millions of dollars to students through the form of scholarships; it also pays for tutoring to prepare students for college entrance exams such as the ACT and the SAT. 
"For our students, we just motivate them to keep going," he said. 
The documentary "The Graduates/Los Graduados" airs nationally on Oct. 28 and Nov. 4on local PBS stations. See schedule listings here.
MODERATOR: 
Rina Palta: KPCC crime and safety reporter, @KPCCrina911
GUESTS:
Eduardo Corona: San Diego State University (2014)  student, Reality Changers' director (College Town program) @RealityChangers

Daniel Castillo: Urban Scholars/BMYA Program Manager, Social Justice Learning Institute @SJLI_CA

Jamecca Marshall: Policy Manager for Urban Peace, Advancement Project California @AP_UPAcademy
@KPCCforum
@CommunityCinema
@PBSSoCal
#TheGraduates
With contributions by Luis Gomez. This event was produced by Elaine Cha.
---
---