EVENTS
Command and Control: Eric Schlosser on nuclear weapons and the illusion of safety
Monday, October 7, 2013, 7:00pm - 8:30pm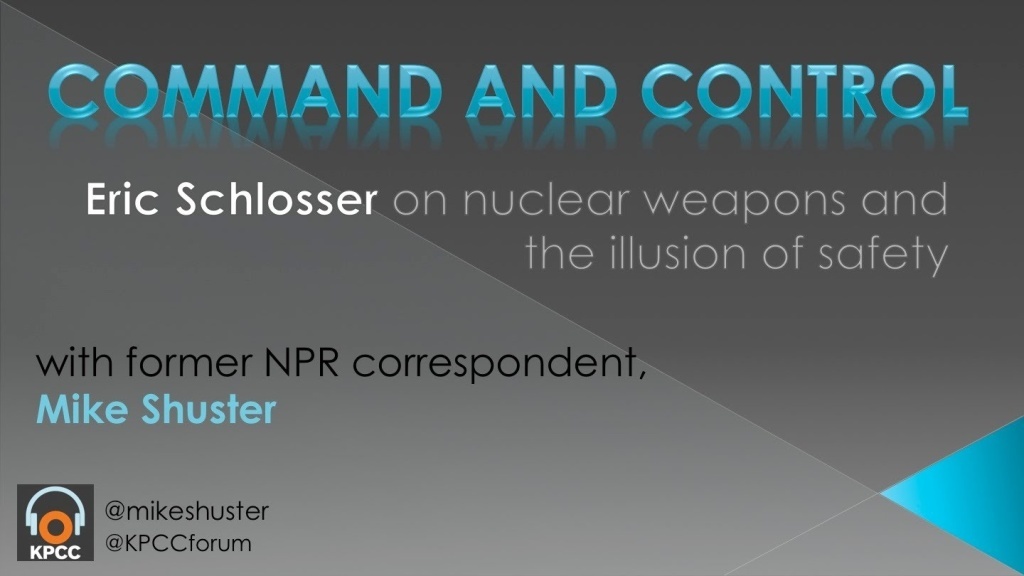 The smallest innocuous incident can trigger deadly results, investigative journalist Eric Schlosser told an engaged group of listeners at KPCC's Crawford Family Forum Monday, October 7.
While the Cold War and the nuclear arms race is over, Schlosser argues that nukes continue to pose a danger to humanity. The findings are part of a larger story supported by declassified military documents in his latest book, Command and Control: Nuclear Weapons, the Damascus Accident, and the Illusion of Safety. Schlosser sat down with former NPR foreign correspondent Mike Shuster at KPCC to discuss.
Schlosser said he began his work on Command and Control while writing his previous book Fast Food Nation — a story set near Colorado Springs, Colo., home of the North American Aerospace Defense Command, or NORAD. That was where Schlosser learned about an "incredible" accident at a missile silo in Damascus, Ark.
RELATED: Top US missile commander Michael Carey fired
Below, Schlosser describes a series of accidents (also described in his book) involving nuclear weapons on U.S. soil.
---
The Damascus Accident: "The Air Force had no idea what to do. Suddenly they were confronted with a situation that no one had ever thought of."
---
Four rubber seat cushions, burned and brought down a B-52 bomber—and almost set off a hydrogen bomb.
---
"Secrecy made the whole thing even more dangerous."
---
The origin of nuclear codes used to lock weapons, and how the military originally was against that idea. 
---
In the final scene of Stanley Kubrick's 'Dr. Strangelove', Major T.J. "King" Kong (played by rodeo performer Slim Pickens) mounts a hydrogen bomb down to hit the Soviet Union. That wasn't too far from the truth.
---
Shuster said critics of the hair-trigger alert system is obsolete and no longer needed. Schlosser explains the theory behind such an alert system, and why it still exists. The theory behind hair-trigger alert is 'we've gotta be able to launch them before they're destroyed.'
---
The danger of a nuclear accident persists because we face an aging nuclear weapon systems that can present all kinds of unanticipated problems.
---
The two NORAD accidents—the U.S. military's early warning system—that almost sent us to nuclear war: "The sensors are telling us that 220 Soviet missiles have been launched at the United States."
---
The threat of a nuclear war is much lower now than it was during the Cold War; the greatest risk for an all- out nuclear war exists between India and Pakistan.
---
GUESTS:
Eric Schlosser: author of The New York Times bestsellers Fast Food Nation and Reefer Madness. His work has appeared in The Atlantic Monthly, Rolling Stone, The New Yorker, Vanity Fair, and The Nation. He was also co-producer and the co-narrator of the award-winning documentary, Food, Inc., directed by Robert Kenner. His latest book is Command and Control: Nuclear Weapons, the Damascus Accident, and the Illusion of Safety.
Mike Shuster: former NPR correspondent.  For more than 30 years, most recently as the network's diplomatic correspondent, he covered Tehran to Islamabad, Berlin to Moscow, and was eye witness to some of the most significant events in recent history.
Join the conversation: Are we any safer from nuclear weapons now than we were in the 1960s or 1970s? Tweet us @KPCCforum
Take the poll:
---
---