EVENTS
Pacific Council on International Policy Members Weekend 2013
Friday, October 11, 2013 - Saturday, October 12, 2013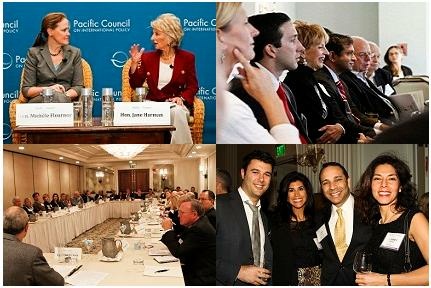 The annual two-day program includes 250+ leaders from throughout the western region and elsewhere in the United States, as well as from Canada, Mexico, Asia, and Europe.    You can join the council for its annual members weekend, featuring keynote interviews with General David Petraeus and Thomas E. Donilon, October 11th and 12th. 
Weekend discussions will include:
"China's grand strategy"
"Proxy War in Syria"
and "Rise of the machines: The future of Drone Warfare," to name a few.
Tickets and event info
October 11 - 12
Santa Monica, California
About the sponsor:
Powerful forces are transforming the world and the place of the United States in it. The economic and demographic center of gravity is moving west in North America; extremism is destabilizing international security; and the Cold War's nuclear non-proliferation regime is unraveling. International affairs are affected as much by business action as by government policy. Globalization is moving from low-cost production to innovation in emerging markets, exacerbating social dislocations and political backlashes. Rising demand for energy and control of resources is threatening not only the global economy but also the environment and international security.

The Mission of the Pacific Council on International Policy is to address these global transformations by giving more effective voice to West Coast perspectives on them.
---
---