EVENTS
68th Ojai Music Festival
Thursday, June 12, 2014 - Sunday, June 15, 2014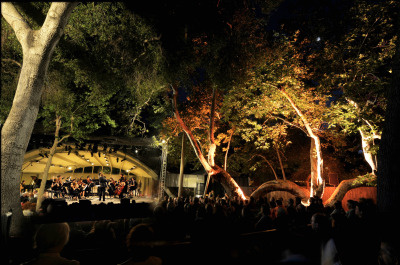 The 68th Ojai Music Festival is slated for June 12-15, 2014 presenting an innovative program that fully reflects both the Festival's ideals and the inventive musical mind of Music Director Jeremy Denk. A highlight of the Festival is the anticipated world premiere of a commissioned opera conceived by Mr. Denk, "The Classical Style," based on the award-winning book by legendary American pianist and scholar Charles Rosen. With libretto by newly named MacArthur Fellow Mr. Denk and music by Pulitzer Prize-winning composer Steven Stucky, the comic opera will be premiered at the Ojai Music Festival on June 13, 2014.
Joining Mr. Denk will be artistic collaborators, who share the same passion for music, including conductor Robert Spano, orchestral collective The Knights, jazz pianist and composer Uri Caine, the string quartet Brooklyn Rider, as well as vibrant solo performers, violinist Jennifer Frautschi and singer Storm Large.
While music by Beethoven, Mozart, and Haydn will set the framework for The Classical Style, the Festival will also feature works by Leos Janáček, Charles Ives, Morton Feldman, György Ligeti, and Kurt Weill, plus works by fast-rising composers, Timo Andres and Andrew Norman. For detailed programming visit www.OjaiFestival.org.
Festival passes are available for the 2014 Festival concerts and may be purchased online at OjaiFestival.org or by calling 805-646-2053. 2014 Ojai Music Festival series passes range from $110 to $730 for reserved seating and lawn series passes start at $55. Single passes will be available in spring 2014.
Directions to Ojai, as well as information about lodging, concierge services for visitors and other Ojai activities, are also available on the Ojai web site.
Event Info
June 12-15, 2014
Description from the sponsor:
From its founding in 1947, the Ojai Music Festival has created a place for groundbreaking musical experiences, bringing together innovative artists and curious audiences in an intimate, idyllic setting 80 miles northwest of Los Angeles. The Festival presents broad-ranging programs in unusual ways, giving patrons a fresh perspective on the works they hear. The four-day festival is a complete immersion experience with main concerts, free community events, symposia, film screenings, and gatherings. Considered a highlight of the summer season, Ojai has remained a leader in the classical music landscape.
The Ojai Music Festival attracts the world's greatest musical artists. Through its unique structure of the Artistic Director appointing an annual Music Director, Ojai has presented a "who's who" of music including: Aaron Copland, Igor Stravinsky, Olivier Messiaen, Michael Tilson Thomas, Kent Nagano, Pierre Boulez, John Adams, Esa-Pekka Salonen, Robert Spano, Pierre-Laurent Aimard, David Robertson, eighth blackbird, George Benjamin, Dawn Upshaw, Leif Ove Andsnes, Mark Morris, and Jeremy Denk.
---
---