EVENTS
E = mc2: How Einstein's theory of relativity changed everything
Wednesday, July 22, 2015, 7:00pm - 8:30pm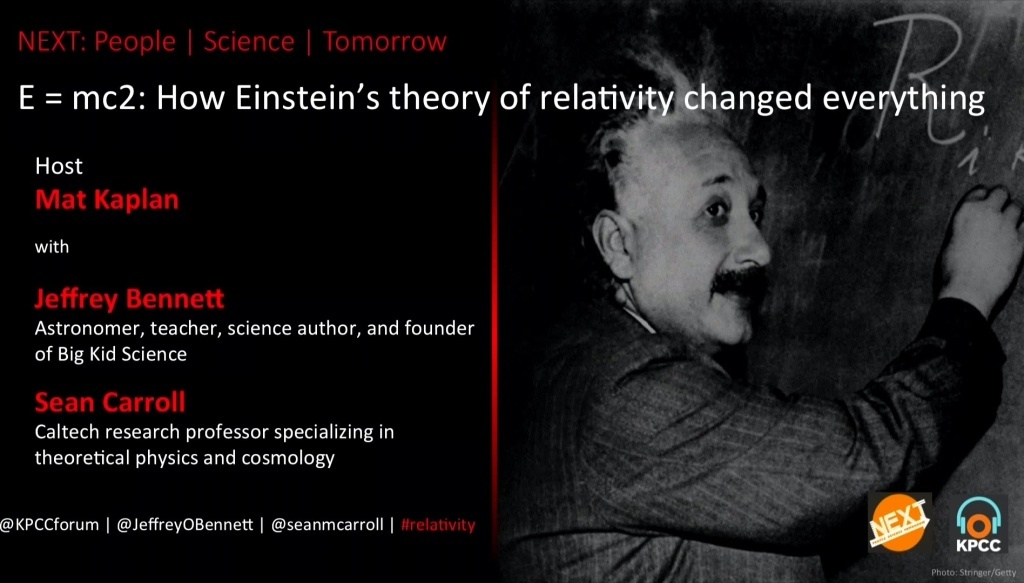 "Maybe I'm being naive, but I think if we understood relativity we'd be nicer to each other." —Jeffrey Bennett, astronomer, teacher and science author
Relativity.  It's nearly as famous as the physicist who rocked the world when he revealed it, first with the special theory in 1905, and then with his General Theory of Relativity published November 25, 1915.  On Wednesday, July 22, the Crawford Family Forum celebrated the most famous equation of all time, E = mc2, with Mat Kaplan of NEXT: People | Science | Tomorrow, and Jeffrey Bennett and Sean Carroll, leading scientists and teachers who have made Einstein's discovery a focus of their work.
They discussed how Albert Einstein's equations did not only change our view of the cosmos — human understanding of space, time, and gravity — but also changed our daily lives, including modern electronics, nuclear power, and your GPS navigation.
"Relativity shows what we're capable of as a species when we put our minds to things that are constructive and not destructive," said Bennett at the event.
Kaplan and his panelists expounded upon how importance of relativity is easy for adults to understand. They said it should be part of every child's education, but that it currently is not. "Understanding relativity is doable," said Bennett, "but we don't teach kids, or adults, how to do it unless they're science majors."
But is this theory really so easy for adults? Were you taught the significance of E=mc2 as a child? A high schooler? A college student? Can you grasp its concepts?
Take our quick five-question quiz on the barebones of relativity and see how you fare :
Want a visual explanation of E=mc2? We love this comic guide to understanding relativity.
---
Host:
Mat Kaplan
Panelists:
--Jeffrey Bennett, astronomer, teacher and science author, is the creator of the award-winning series of Max Science Adventure books for children, and is the founder of Big Kid Science.  Jeff has also written What is Relativity for the general public, and The Cosmic Perspective, an  introductory astronomy textbook series. Jeff's "Relativity Tour" is crisscrossing the nation in a year-long celebration of general relativity's 100th anniversary.
--Sean Carroll is a Caltech research professor specializing in theoretical physics and cosmology. He is the author of The Particle at the End of the Universe and From Eternity to Here: The Quest for the Ultimate Theory of Time. He also wrote the graduate textbook Spacetime and Geometry: An Introduction to General Relativity. Sean has been awarded a Guggenheim Fellowship, the Andrew Gemant Award from the American Institute of Physics, and the Royal Society Winton Prize for Science Books. 
---
"NEXT: People | Science | Tomorrow "-- the Crawford Family Forum series on the convergence of science, technology and society.
---
---