EVENTS
CaltechLive! Presents Blood/Sugar
Saturday, November 21, 2020, 7:00pm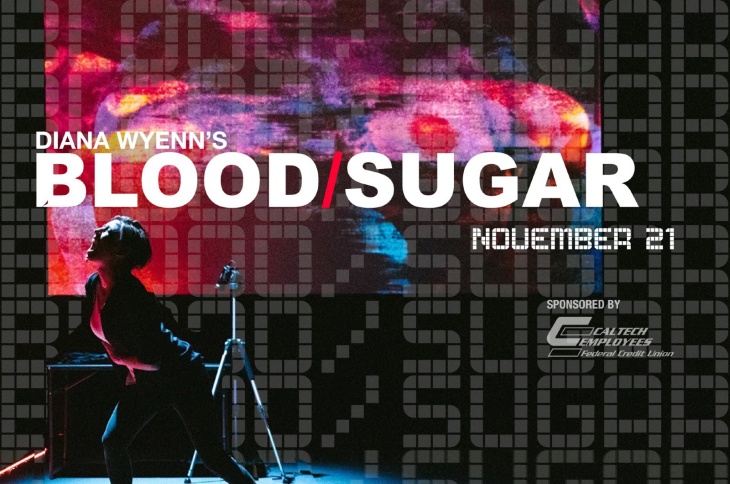 Blood/Sugar uses multimedia effects, original movement, and Wyenn's physical surroundings to create a vivid account of the life-sustaining self-care that diabetes currently demands from one out of every 10 American adults.
CaltechLive! is proud to present creator, director, and performer Diana Wyenn in Blood/Sugar. At the intersection of public health and performance, this solo show focuses on Wyenn's life as a diabetic.
The acclaimed production masterfully weaves sobering statistics, historical perspective, and Shakespearean texts into a personal narrative about living with a chronic illness. Originally conceived for the stage, Blood/Sugar was brilliantly reworked by Wyenn due to her increased risk for contracting COVID-19 .
It is now broadcast live from her home, adding an intensely personal dimension to this can't-miss tour de force. The performance is immediately followed by a conversation among Wyenn, the audience, and local diabetes educators and nutritionists, to be announced.
Performance Info and Tickets
Saturday, November 21, at 7 p.m. 
Caltech Online Event
$10 Early Bird tickets* are available until November 1
(pricing goes up to $20 on November 2) 
A unique URL will be sent to ticket holders an hour prior to the performance.
*One ticket = one connection per household
Ticket holders will be emailed a link to view the production a few hours prior to the performance.
About the sponsor:
For more than 50 years, Caltech Public Programming has welcomed world-class artists, renowned scientists, and esteemed speakers to campus, striving to make the arts and sciences accessible, entertaining, and inspiring through a variety of lectures, events, and performances. Part of the department's Signature Lecture Series, the Watson Lectures have offered a deep-dive into the groundbreaking research and scientific breakthroughs at Caltech and JPL since 1922. 
---
---