In a city where traveling from the Eastside to the Westside feels more like an intimidating task than a plausible excursion, transportation remedies are always top of mind. Imagine: Designs and inventions that look cool while liberating you from crowded freeways, bustling airports and grimy buses. Apparently it's all possible. 
Inventions of the Past 
With the A + D Museum's latest exhibit "Never Built: Los Angeles," Angelenos' brains are churning with what could have been. 
Here's a look at some peculiar ideas of the past. 
If LAX were under the dome ... traveling would be lot brighter. 
(Photo: Courtesy of LAX Flight Path Learning Center) 
Probably not the best place to be in an earthquake, but definitely a sleek design for its time. Pereira & Luckman's 1952 proposal for LAX would have united L.A.'s ad-hoc mid century airport under one giant glass dome. And apparently, there were also discussions of it being situated on an island off Santa Monica, according to Gizmodo. 
While this design never came to life, it looks like LAX's new Bradley International Terminal is paying a tribute with its Great Hall. 
If buses could fly ... it'd be frightening. 
(Photo: Model of helicopter with passenger-carrying pod is inspected by Ann Orbeck on April 3, 1965. | Los Angeles Times photographic archive, UCLA Library) 
As if the noise of helicopters isn't enough — the flying buses proposal was unveiled in April of 1965. The idea was to transport "pods" of about 60 passengers from downtown L.A. to LAX in approximately nine minutes using jet-powered helicopters. 
If helicopters landed on Union Station ... it'd be the worst. 
(Photo: A 1958 plan for Union Station. | USC Libraries / Los Angeles Examiner Collection)
In 1959, the city recommended expanding Union Station to accommodate buses, rapid transit and helicopters, reports KCET's Nathan Masters.  L.A.'s Department of Airports hoped to build a terminal at Union Station that would handle up to 30 percent of passengers through the airport. Ultimately though, the plan couldn't pass the city council. "While simple practicality may have eventually done in the idea, noise was one of the main objections brought against the metroport," writes Eric Richardson on blogdowntown. 
If Walt Disney created a city-wide monorail ... life would be easier. 
(Photo: Flickr/LimeBye)
Walt Disney's invention at Disneyland in Anaheim was the first daily operating monorail in the United States and Western Hemisphere. When millions of TV viewers saw it on Disney's Sunday show in 1959, they were convinced of its future in transit, according to monorail.org. Nevertheless, while it's been used in other parts of the country to alleviate traffic, the idea hasn't been implemented here. 
If there were parks like this in the valley ... it'd be pretty awesome.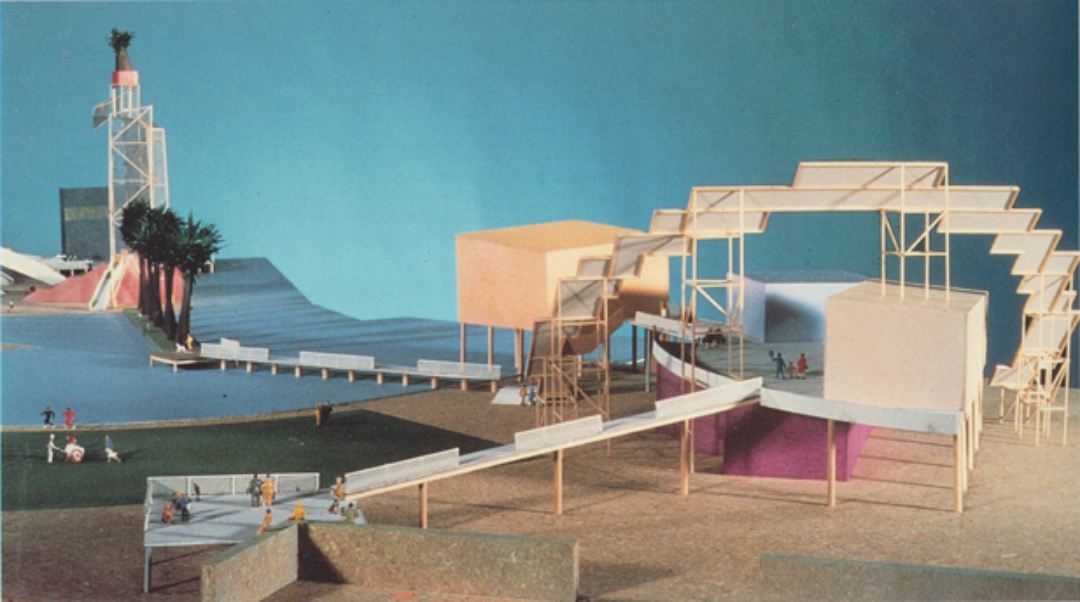 (Photo: Courtesy of Sam Lubell and the A+D Architecture and Design Museum)
Solar panels, gigantic fruit, amphitheaters and a man-made lake. That was the idea behind Frank Gehry's 1978 proposal for an arts park in San Fernando Valley. Included in the design was a tower topped with a "giant pineapple," reports Architizer. 
Inventions of the Future 
When inventor extraordinaire Elon Musk announced last week that he'd fork out his own money for the creation of a Hyperloop, travelers rejoiced at the idea of traveling from L.A. to San Francisco in just 30 minutes. Yet as one of the most novel — and expensive — ideas to come about in the last decade, chances of it coming to pass are slim.
Here's a list of other ingenuities that could happen sooner than later. 
If there were electric skateboards ... hills would be less painful. 
Skateboarders ollie-ing down Venice Beach could be in for a righteous boost. Former Jet Propulsion Laboratory employee Sanjay Dastoor has cooked up an electric skateboard made out of remote control airplanes with a motor the size of an apple. The best part: It can jet you up the Hollywood Hills at 20 miles per hour.  
If you could zip-line through the city ... that would be fun. 
Zip-lining isn't just for those who live and breathe safari adventures. Downtown L.A. could benefit from a couple of cable lines situated several feet above our traffic-choked roads. This is the vision behind a pedestrian-friendly "system that overpasses obstacles like traffic" proposed by Bulgarian architect Martin Angelov. 
If we could ride treadmobiles to work ... everyone would be in shape. 
Forget the gym. Plug in your headphones, put on your running shoes and ride this treadmobile to your desired destination. 
If there were E-Bikes ... you'd always have a charge. 
(Photo: Yuji Fujimura/Coroflot) 
Move over bicycles, e-bikes are making a breakthrough. New York-based Yuji Fujimura built a special foldable bike that "charges all kinds of technological gadgets, interacting with them via the built-in screen," writes Evelo.com. 
What transportation ideas and designs would you like to see in L.A.? Share with us in the comments section.