The first major downpour of Los Angeles's anticipated El Niño rain arrived Tuesday, flooding the Sepulveda Basin and causing the closure of several roads, the Los Angeles Fire Department announced on its website and Facebook page.
Road closures | Flash flood warnings | El Niño prep tips
Tuesday's rain allowed L.A. County Public Works to capture 400 million gallons of water:
The El Niño-driven storm is shifting out of the L.A. area to the east, the Associated Press reported:
The National Weather Service says that between three-quarters and 3 inches of rain have been recorded in parts of Southern California on Tuesday.

In Ventura County, firefighters responded to a call for someone screaming in a wash. When they arrived, fire Capt. Mike Lindbery says a woman believed to be homeless had already been rescued by other homeless people who dispersed immediately afterward.

In Los Angeles, city firefighters rescued a German shepherd who became separated from its owner and got caught in a wash.

In San Diego County, firefighters pulled a body from a creek in the city of Santee. But they say the man clearly had been decomposing for at least a week and that his death was unrelated to the weather.

Another storm is set to roll into the area on Wednesday.
— The Associated Press
Road closures 
L.A.'s Department of Public Works has a map up displaying closures around the county. Note that it displays closures unrelated to today's downpour as well. 
Sepulveda closures
Roads around the Sepulveda Basin were shut down at around 10:10 a.m. in three points: 
1) Burbank & 405
2) Burbank & Hayvenhurst
3) Woodley & Victory 
Be careful. Flooding snagged at least one car in waist-high water, ABC7 reported, and the L.A. Fire Department reported a person was caught in a wash in the Tujunga- Sunland area. 
https://twitter.com/abc7weather/status/684451796396281856
210 Freeway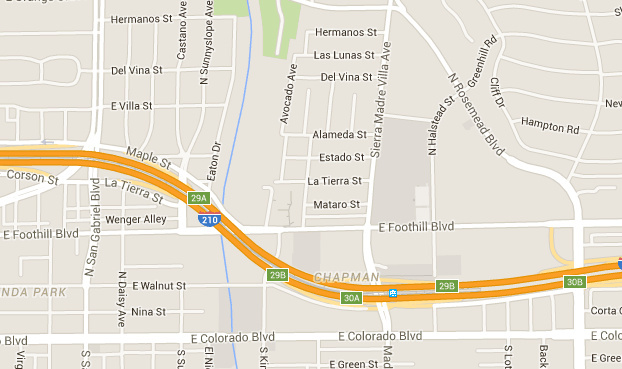 The California Highway Patrol reported five lanes were closed on the westbound 210 Freeway due to a jackknifed big rig.
Flash flood warnings
Flash flood alerts were issued in areas throughout Southern California, and residents of a mobile home park in Santa Clarita were asked to voluntarily evacuate their homes, according to the Los Angeles County Public Works Department. L.A. County Public Works spokesman Kerjon Lee said residents live near the the site of the Calgrove Fire that burned along the Interstate 5 in June. 
A flash flood watch was set to remain in place through late Wednesday night for recent burn areas.
The National Weather Service had previously issued flash flood warnings that have since expired for the Colby, Cabin and Williams burn areas.
NWS also specified that the Azusa and Glendora foothills and Highway 39 may experience flooding.
In Glendora, Sierra Madre Avenue was reopened, according to the California Highway Patrol, after being closed between Yucca Ridge Road and Barranca Avenue due to flooding, mud and debris.
https://www.facebook.com/GlendoraPD/videos/vb.348610578546520/982192591854979/?type=2&theater
Some of the mudflow made its way into a home.
"We're asking people to stay out of Colby Fire impact area, which is north of Sierra Madre, until the rain passes," Shawna Celello with Glendora PD told KPCC. "We have crews coming in and out trying to make things clean."
Celello said people can monitor the situation on Glendora PD's social media pages and website.  
The National Weather Service in San Diego issued a flash flood warning for northeastern Orange County until 4 p.m. Tuesday, specifically in the Silverado Canyon Area and the 2014 Silverado Fire burn scar.
Anyone in or immediately downstream from burn areas was advised by the NWS to take precautions to protect themselves and their property, including leaving the area if possible or sheltering in place and moving to the highest location in the home to hopefully avoid fast-moving water and debris.