The rains are back, albeit briefly. While this "Godzilla El Niño" has been relatively dry, past El Niños have soaked the Southland. Here's a look back at the strongest and most significant El Niños of the last 80 years.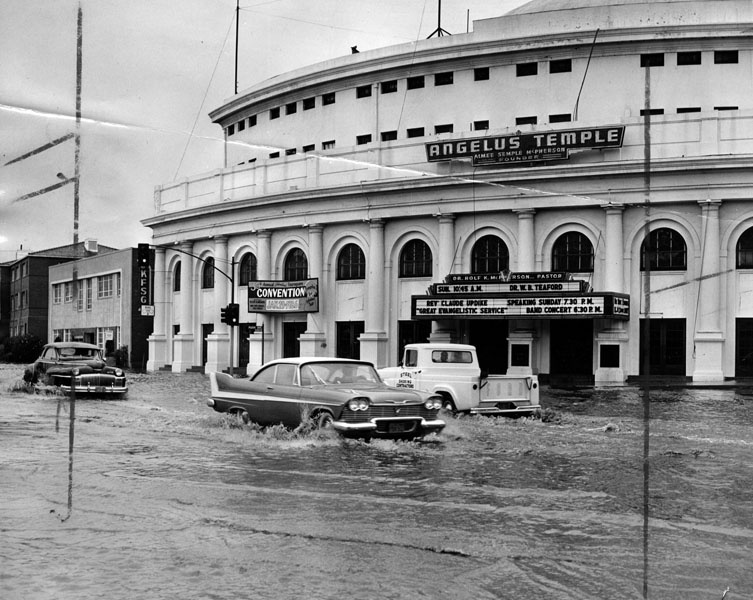 1938 - The rain began unremarkably on the night of Sunday, February 27. But it kept raining. And pouring. For five straight days. Hillsides, saturated with 11 inches of rain, rushed toward the swelling Los Angeles River. Eight-square miles of Venice were flooded. A massive hunk of the Lankershim Bridge collapsed and was washed away. Train tracks were swamped. Phone lines were knocked out. When all was said and done, 144 people died in the disaster. As the Los Angeles Times points out, it was L.A.'s first major flood since the population boom of the 1920s.
1957-58 - This was the year scientists made a major breakthrough in understanding El Niño. It only happened because of the International Geophysical Year of 1957−1958, a massive effort by scientists from 67 countries to survey various phenomena. Back then, "El Niños in Peru were still thought to be a local quirk," Bay Nature explains. UCLA meteorologist Jacob Bjerknes and his cohort shared their data with other scientists and were surprised to learn that the telltale current of warm water extended thousands of miles into the Pacific Ocean. That helped Bjerknes develop his hypothesis about the connections between trade wind circulation, tropical rains and ocean water.
1965-66 - This was a strange El Niño. Although it was a strong one, it brought a period of merely average rainfall to Southern California and less rain than average in other parts of the state. This winter also marked the release of "California Dreamin," the Mamas and the Papa's tune about a singer yearning to escape his grey and gloomy locale for the sunshine and warmth of the Golden State. It eventually tied for the No. 1 record of 1966. Fitting or not? You be the judge.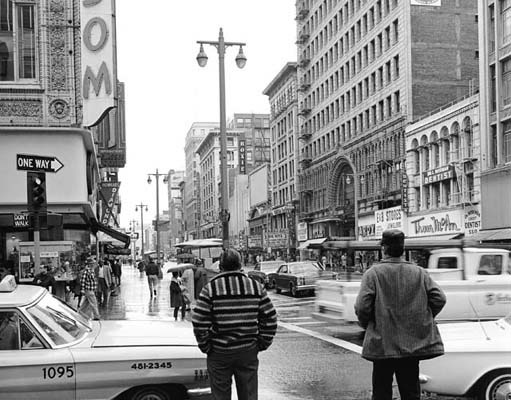 1972-73 - Labeled a Super El Niño (along with the events of  1982-83 and 1997-98), this one is most famous for its devastation of Peru's anchovy fishing industry, which took years to recover. In Southern California, that meant 6.45 more inches of rainfall than normal, according to Los Angeles Almanac.
1982-83 - This is the El Niño that snuck in like a lamb and roared out like a lion, leaving havoc in its wake. The weather phenomenon wasn't a blip on the radar of most Californians when the state was hit with severe storms during the winter of 1982-83. Even meteorologists weren't talking much about it. Why? There were a few reasons, as the Washington Post explains. The eruption of a volcano in Mexico obscured then-new satellite views and little attention was paid to measurements that mark the early stages of an El Niño. After this, 70 buoys that report sea-surface and underwater temperatures (as well as other data) were moored in the Pacific Ocean to measure signs that help predict El Niños.
1997-98 - By the 1990s, the culture had hit full "Niñomania," according to the LA Times. Weather hounds got their fill with this season of freak weather. A twister ripped through downtown. Winds reached near-hurricane speeds. 18-foot high waves destroyed a 400-foot section of the Santa Monica pier. And there was rain, tons of it. If you lived in Southern California at the time, you probably remember the flooded roads, freeways and creeks that were common during one of the most severe El Niños in modern memory. 
Click on the slideshow above to see more historic photos.
Do you remember of the rains of 1982, 1998 or any other major El Niño year? Share your photos with us on Facebook, Twitter or Instagram. You can also email pics to Elina Shatkin at eshatkin@scpr.org. And text us the word rain at 323.924.6509 to be a part of our weather coverage.