First came "Carmageddon," then the "Slow Jam." Now Southern Californians face the next big freeway closure, and it's being called "Coronageddon."
The shutdown will close 6 miles of the 91 Freeway in Corona starting at 9 p.m. Friday and ending 4 a.m. Monday. It will affect the stretch between the 71 Freeway and Interstate 15 in both directions.
"The farthest you can stay away from this area will be the best," warned Eliza Perez at the Riverside County Transportation Commission. "Although the 71 and the I-15 will be open, it will experience three- to four-hour delays, anticipated."
Traveling there anyway? Metrolink will offer a two-for-one promotion to encourage commuters to take the train instead. Available on Feb. 20 and 21, a rider with a ticket can bring another passenger for free.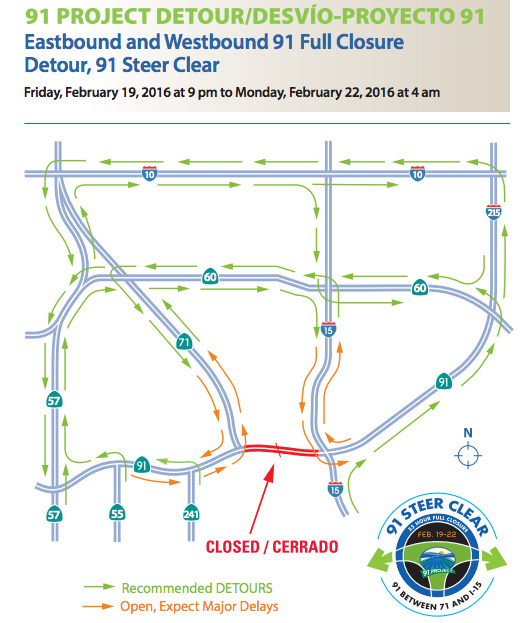 If you must drive, authorities suggest the 57, 60 and I-10 as alternate routes. They promise to post any updates on the project's Facebook and Twitter accounts. Travelers could also call 1-877-770-9191. (If it's music you need for the long ride, find our "Slow Jamz" playlist here.)
Why is this happening?
The 55-hour closure will let crews demolish the west side of the Maple Street Bridge over the 91, install support beams for a new ramp bridge and pave the new eastbound 91 alignment near the I-15.
Those are all part of the $1.4 billion "91 Project," headed by the Riverside County Transportation Commission. Construction to alleviate traffic on the heavily traveled freeway between Orange County and Riverside County began in 2014. The plan is to add regular lanes and tolled express lanes and connectors and to improve current roadways in the area.
Officials say that 280,000 vehicles travel the 91 each day on average, and that number is expected to rise by another 140,000 by 2035.
More construction is slated in the coming months after this weekend. New lanes are anticipated to open in 2017.