It's a scene like any other all over Los Angeles on any given night: A dozen or so aspiring actors lie about the stage in a small theater, focusing on their breathing as their coach instructs them on projecting their voices.
But Grupo de Teatro Sinergia at the Frida Kahlo Theater near downtown L.A. isn't your typical acting workshop. It's held in Spanish, and the aspiring actors are almost exclusively immigrants.
Some have long dreamed of acting. Some acted a little back home, but gave it up long before they moved north. Others were bitten by the acting bug after they landed in Los Angeles.
Manuel Santiago, an immigrant from the state of Oaxaca in Southern Mexico, got his first taste of show biz while working as a janitor at a local television studio.
"I had never acted, never, never," Santiago said in Spanish at a workshop Tuesday evening. "It was when I came here that I got the inspiration...seeing the TV stars, and the soap opera stars. That's how I got the inspiration to act."
Actor-director and playwright Rubén Amavizca-Murúa runs the workshops for the nonprofit theater group. A handful of small theater groups in L.A. offer acting workshops to the Latino community, including for youth, but few do so in Spanish.
Amavizca-Murúa said many of his aspiring actors tend to be older immigrants, people who are working  and taking care of their families. Some put in long work hours in restaurants, construction or landscaping before attending the evening classes.
"These people are artists. They just never had that opportunity [to act]," Amavizca-Murúa said. "For different reasons, you postpone your dreams."
Most of the time, they set aside acting because of family reasons and to meet basic needs, he said. "You cannot express yourself artistically if you are hungry."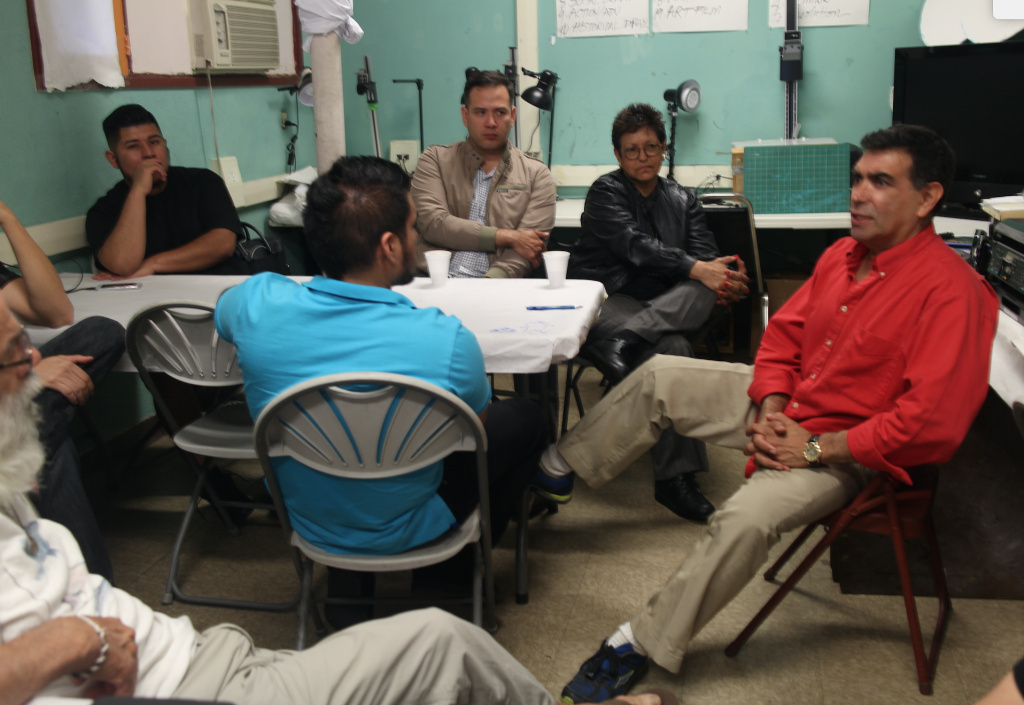 Araceli Calderon dreamed of acting in the theater as a girl while growing up in Mexico City. She participated in a couple of plays in her teens, but life set in.
Calderon worked at a bank in Mexico, then headed north 20 years ago. She eventually got a good job in Los Angeles, working at an airport ticket counter.
"One day I woke up, and I said, 'What are you doing? Why didn't you follow your dream, which was acting?'" Calderon said.
She searched online and came across the Teatro Sinergia workshops. Now at 57, she's decided to give acting another try. At the workshop, she labored at projecting her voice as part of an onstage exercise.
"It doesn't matter what they say about you if someone doesn't like it," Calderon said of her performances. "It doesn't matter. I learn to be a kid again, to express myself the way I want."
Calderon recently auditioned for a commercial and she's waiting for a callback. Some alumni of the workshops have gone on to work professionally in commercials and other productions, Amavizca-Murúa said.
The actors pay a small fee for the workshops, about $12 per class. They participate in the theater's productions that focus on themes relevant to Latin American life. One production that opens this Friday, "Historias de Futbol," is a collection of short sketches about soccer fanaticism.
One of the stars of the soccer production is Gabriel Cruz, a native of Veracruz, Mexico, who performed in school plays when he was a kid.
"I acted until I was about 13, in different school plays," said Cruz, 47. "Then, I got married, and the theater ended."
Cruz worked in Mexico as a farmworker and came to the U.S. in 2001. He is now a day laborer, doing construction, painting or gardening, and taking whatever other work he can land. He often waits for jobs outside Home Depot and other home-improvement stores.
A few years ago, a friend got him back into acting. Cruz said it transforms him.
"I love acting because when I come here, I feel liberated of all the stress I feel when I'm out there at the stores, looking for work," Cruz said. "Coming into this theater, I become a different person. I am an actor."