Twin fires that broke out in the foothills of the Angeles National Forest on Monday afternoon grew overnight and are threatening to converge, prompting officials to unify their firefighting efforts against them. Firefighters have been hampered by extremely dry and rocky terrain, sporadic wind gusts and thin staffing, as crews also work to fight wildfires in nearby San Diego and Santa Barbara counties.
Meanwhile, residents of Monrovia and Bradbury were asked to prepare to evacuate, and those who were evacuated Monday were warned it could be some time before they're allowed back in their homes. 
This post is no longer being updated. See Wednesday's story for updates.
Evacuations & closures | Air quality
Updates 
Monrovia, Duarte residents prepare to evacuate
On Tuesday afternoon, residents of Monrovia and Duarte were keeping an eye on the fire burning in their backyards.
"One moment you see it, and looks like it's kind of contained, not coming over the ridge, but then all of a sudden you see flare-ups," said Monrovia resident Cynthia Uribe. "That is scary — it's very scary."
Uribe had already transported important documents, photos and videos to her son's house in Fontana. She had a bag of clothing packed and waiting near the door. She was also preparing chicken salad, just in case she and her husband had to leave at a moment's notice.
Duarte resident Christine Golding was also ready. Her family's car was packed with a few days worth of essentials; they got the dogs, cat and guinea pigs ready to leave, too.
Golding stepped outside onto her lawn every half hour or so throughout the day to check on the fire. She says her kids are a little nervous, but she and her husband are calmer, adding, "We've lived here for over 10 years; it's not something that we don't expect during the summer, to watch for brush fires."
Martin Tanner, meanwhile, prepared his elderly parents' house for the threat of fire. On Monday night he, along with three siblings and some nephews, hosed down the roof and the oak trees in the yard.
"We're just camping out overnight to make sure there weren't any embers that light up any of the oak trees," Tanner said.
— Rebecca Plevin/KPCC
Update 3:20 p.m.: Explosive fuel, preserving wilderness hamper firefighting efforts 
The San Gabriel Complex Fire is burning terrain above Duarte, and Bradbury has no known record of previous fires, so the decades-old living and dead plants have formed a super-rich fuel that is making the fire difficult to control.
Incident Commander Michael Wakoski, a battalion chief for the San Bernardino County Fire Department, says a top priority — after firefighter safety — is to to keep the fire away from homes. The fire started Monday as two separate fires — the Fish Fire above Duarte, and the Reservoir Fire, which began between the Morris and San Gabriel dams east of Highway 39.
In some respects it's like any other big wildfire in California. It's consuming chaparral, putting gigantic clouds of smoke into the sky and dropping ash throughout the region. The hot and windy environment and steep slopes make the fire difficult to reach and dangerous to fight.
But there are some key differences adding to the difficulty of this fire.
The portion of the fire that began as the Fish Fire has no history of burning, Wakoski said. When chaparral doesn't burn for decades, it becomes explosive and burns faster, hotter and is more difficult to control, he said.
"One of our top priorities is structure defense," Wakoski said. "Because of the communities that lie below the fire and with the fire history on the western flank, our biggest worry is the fire moving in a western or northwestern direction."
A wind change could send the fire closer to the homes in the foothills above Duarte, Bradbury or Monrovia, he said.
"Since the 1900s, since they've been doing fire history, there's never been a fire through there," Wakoski said. "There is a lot of dead fuels within the fuels."
The Reservoir Fire portion has burned within the past 10 years, so it's moving more slowly than the Fish Fire.
Firefighters also face unusual restrictions trying to fight the fire as it moves into the San Gabriel Wilderness, an area within the Angeles National Forest that was set aside to preserve the wilderness character.
"They try to leave only footprints, they don't use mechanized equipment in the wilderness and we may or may not use fire retardant in the wilderness," Wakoski said.
Bulldozers, chainsaws and other mechanized equipment isn't allowed in the wilderness area, which means that if a tree needs to come down, it's chopped by hand with an axe or by firefighters using a two-person crosscut saw. Helicopter landing spots also have to be pre-approved.
— Sharon McNary/ KPCC
Update 9:21 a.m.: Fire expands, constituting major disaster, FEMA says
The Reservoir Fire nearly doubled overnight while the Fish Fire remained at 3,000 acres burned. Authorities have declared that the combined incident will now be referred to as the San Gabriel Complex Fire.
Firefighters were short on equipment and people Tuesday because so many resources had already been pulled up north to attack the Sherpa Fire, but they expected help to arrive Tuesday, according to L.A. County Fire Chief John Tripp.
Chief Mike Wakoski, the incident commander, said there were 610 firefighters on scene, and they're still waiting on reinforcements.
Local efforts could get a boost, though. On Monday night, FEMA granted a request for assistance on the Fish Fire from state officials.
In a statement Tuesday, FEMA noted that the fire threatens enough destruction to constitute a major disaster.
A fire management assistance grant could provide funding for up to 75 percent of eligible firefighting costs, including expenses for field camps, equipment, tools, materials and mobilization, according to FEMA.
The fire also threatens 220 KV power transmission lines and a 2.5-million water storage and distribution tank, FEMA said.
One of the fires started when a vehicle rolled off Highway 39, falling hundreds of feet and killing one person, authorities said at a press conference.
Fire crews made good progress working on the east side of the Fish Fire above Duarte overnight, but the west flank toward Monrovia and Bradbury is vulnerable, Tripp said during a press conference.
Evacuations & closures
The fire had been advancing north but overnight crept south toward homes. At 4 a.m., winds picked up and pushed the fire even closer to homes, prompting warnings to Bradbury and Monrovia residents, Tripp said.
People in those communities are advised to be ready to evacuate on short notice. 
"Have your medications, important documents and any supplies if we need to evacuate you," L.A. County Sheriff Commander David Halm said.
The current weather forecast calls for a shift in winds at around 3 p.m. this afternoon, and given the potential threat from the San Gabriel Complex Fire, officials in Monrovia asking residents in the northeast section of the city to be prepared, Monrovia Deputy City Manager Lauren Vasquez said.
Vasquez said should evacuations be required, the city has a two-phase plan.
The first phase includes all residents living east of Norumbega Drive, where it runs parallel to the Sawpit Wash, and north of Greystone Avenue.
The second phase includes all residents living east of Myrtle Avenue and north of Greystone Avenue, and east of Shamrock and north of Foothill.
You can find more information on preparing to evacuate here. 
People who live in the 770 Duarte homes that have been evacuated, north of Royal Oaks Drive between Encanto Parkway and Mount Olive Drive, will not be permitted to return for a while. Firefighters first need to inspect conditions in the nearby hills where the Fish Fire was burning to make sure the fire is out in those areas. 
Duarte residents have been offered use of the Duarte Community Center at 1610 Huntington Drive as an evacuation center for themselves and small animals. Large animals were being cared for at Pomona Fairplex at Gate 12. About 168 horses had already been relocated there.
Jon Myers with Red Cross said that about 30 displaced residents stayed the night at the shelter set up in Duarte. He said there are cots, food and drinks donated by local vendors and health services for people that need medical attention.
"We do this — it's unfortunately routine for us at this point. Whenever there is an evacuation need, the Red Cross steps in and provides that shelter," Myers told KPCC.
Duarte City Councilwoman Liz Reilly, who lives in Fish Canyon, was among those who went to the evacuation center. She told Take Two she had to leave her house with her daughter and two dogs Monday afternoon. Her daughter and the dogs headed to a pet-friendly hotel.
"The fires were so close that you could almost reach out and touch them," she said. "The reason I actually left was because the smoke was really getting to my eyes and I was having trouble breathing. So I thought it was really time to go."
Reilly said it was difficult to decide what she valued and what to take. She said she planned to create a list of those things whenever she returns home.
Until then, she and the others at the evacuation center play games like Scrabble and wait.
Only one shelter meets the needs of the San Gabriel Complex Fire, but the Red Cross is ready to expand services as needed, according to Myers.
Tripp chided individual residents who set their own timetables and triggers for evacuating their neighborhoods. Such individuals tend to wait too long to leave and add to the danger to themselves and firefighters when they clog the outgoing roads as fire equipment is rolling in, he said.
Halm reassured residents that 80 sheriff's deputies will be patrolling evacuated areas to prevent burglaries of vacated homes, and drones have been barred from flying over the area.
About 69 homes had been evacuated from the sparsely occupied territory around the Reservoir Fire. Those areas include Camp Williams, Burro Canyon and Crystal Lake. Roads in the area were also closed, including Glendale Mountain Road and Glendale Ridge Road around Mount Baldy Road.
Duarte's transit system is taking detours today due to the fire, according to the city's Facebook page.
Air quality
Unhealthy air quality has been declared in L.A. County, especially in areas near San Gabriel. The L.A. County Department of Public Health recommended avoiding unnecessary outdoor activity if you see or smell smoke in your area. The agency also recommended keeping windows and doors closed and instead using recirculating air conditioning to keep homes cool. 
The South Coast Air Quality Management District meanwhile expanded its smoke advisory from Monday, adding the West San Gabriel Valley area, Banning Pass and Coachella Valley.
The United States Forest Service created an animated map — which you can see below — that shows where smoke from the fire could travel.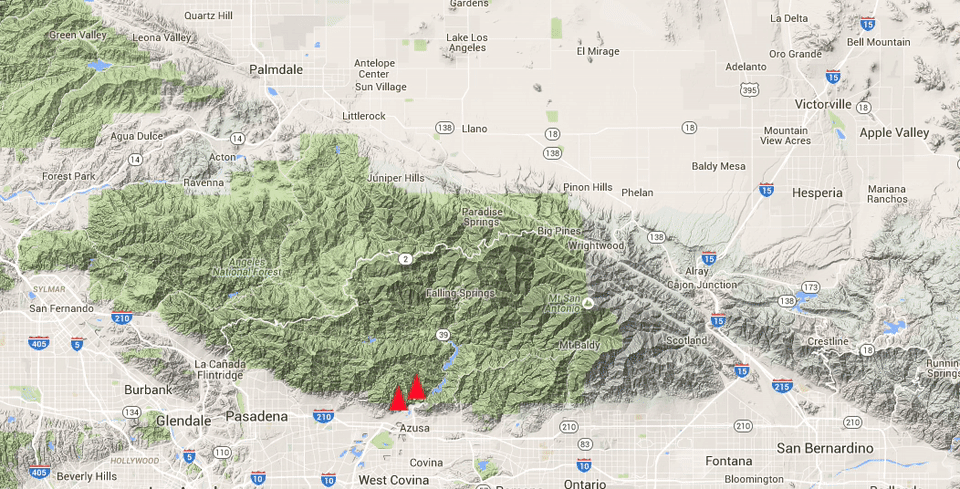 The loop starts at 5 p.m. Monday and ends at 3 p.m. Thursday. The forest service model incorporates information about fires, fuel loadings, consumption, emissions, plume height and smoke trajectory, but it is only a projection.
You can find updates on air quality for the region here. 
This story has been updated.
Correction: An earlier version of this story incorrectly identified the agency that created the animated map projecting where smoke from the San Gabriel Complex Fire could travel. An earlier version of this story also misidentified Incident Commander Michael Wakoski. KPCC regrets the errors.