Summer is in full swing — that means blooming flowers, outdoor concerts and... mud? Here's to some real fun in the sun. 
---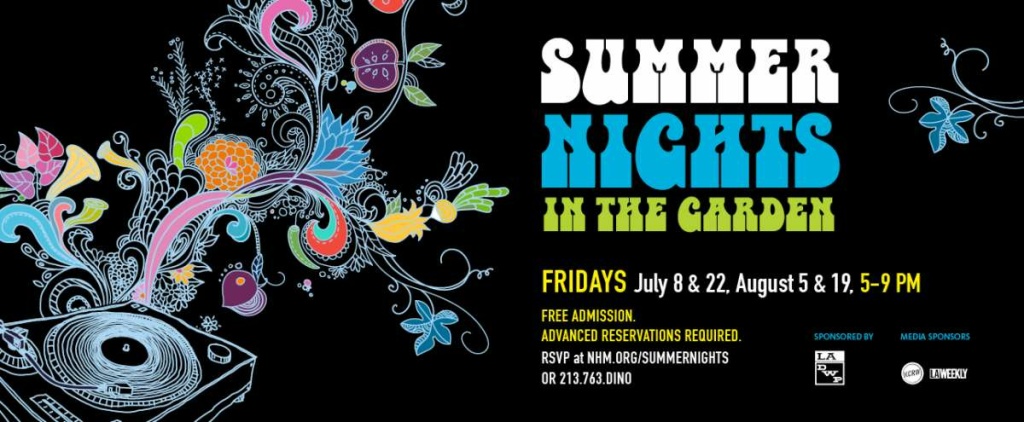 Enjoy an evening of live music, macrame, coloring, animal presentations and 1920s garden party shows at the Natural History Museum. There will also be food trucks and nature-inspired cocktails. Pro tip: Some of the activities will require free first-come-first-serve tickets — check out the schedule for a rundown. 
When: Friday, July 8, 5-9 p.m.
Where: Natural History Museum | MAP
Price: Free, reservations required | RSVP
---
https://twitter.com/LAFoodFest/status/750391150268198912
Gather with chefs from around the globe for an evening of delectable treats. Pay the big bucks for a chef meal in the Rose Garden or entry to all-inclusive "Golden Hour," or fork out just $15 and pay as you go for the day. No matter what you like to eat or what you like to pay for it, there's something for you. Pro tip: Don't forget to wear your stretchy pants. 
When: Friday, July 8 - Sunday, July 10 | Event Schedule 
Where: Exposition Park | MAP 
Price: Tickets start at $15 | Get Tickets
---
https://twitter.com/PSDowntownLA/status/751067051016368134
You can sample salsa — but you should only try it if you like the spicier things in life. Just like tacos, salsa is a staple in the City of Angels, and you can have your fill while live salsa music sets the mood. Admission to the salsa tasting area is free of charge, but tickets are required to sample salsas. Pro tip: Driving and parking might be a hassle, especially on a Saturday. Thank the public transportation gods that the Metro Red and Purple lines have a stop at Pershing Square. 
When: Saturday, July 9 - Sunday, July 10
Where: Pershing Square, DTLA | MAP 
Price: Free admission
---
There's really no excuse to not pick one of these up. No green thumb needed — succulents are extremely low maintenance and look good anywhere, from a barren coffee table to a front yard. Plus, they're drought friendly. (We're pretty big succulent fans, in case you couldn't tell.) Pro tip: We're not the only ones, and free things go fast, so make sure you get there early. 
When: Saturday, July 9, 8 a.m.-4 p.m.
Where: OC Succulents, Irvine | MAP 
Price: Free
---
https://www.instagram.com/p/8t7kECvBsi/?tagged=longbeachartwalk
Take a stroll and peruse paintings, sculptures, photography and random crafts. Everybody is free to enter their artwork, so you might just discover the next big thing. Or you can create your own masterpiece at the craft booth and find that you've made the next "Starry Night." Pro tip: Parking is available in nearby structures and lots for about $7-$15 for the day, in case you can't score a free spot on the street.
When: Saturday, July 9, 4 p.m.-10 p.m.
Where: East Villiage Art District | MAP
Price: Free
---
https://www.instagram.com/p/BGmfwKBodKB/?tagged=lotusfestival&hl=en
The lotus flowers are in bloom and it's time to celebrate. Enjoy food, music and arts and crafts with a pretty amazing L.A. skyline backdrop. Pro tip: It makes for some premium Instagram-worthy material. 
When: Saturday, July 9, 12-9 p.m. - Sunday, July 10, 12-8 p.m. 
Where: Echo Park Lake | MAP 
Price: Free admission
---
You don't have to travel all the way to Paris to lock your love on a bridge. For a fun and free summer activity, grab your significant other, BFF or just head over on your own to the Atwater Love Lock Bridge with a lock in hand. Pro tip: Make your promise, but hold onto the key — keep the river clean by throwing a flower in as a symbol, instead of the tradition of the key. 
When: Always open
Where: West end of Sunnynook Drive, L.A. | MAP
Price: Free
---
It's hard to ignore the grandeur of L.A.'s transportation hub, even if you're in a rush to get to work. This is your chance to actually enjoy it, on a guided tour led by Metro art docents. Explore random murals and architectural landmarks throughout the station, including spaces that aren't generally open to the public like the historic ticketing hall. The tour also expands into the Metro headquarters building. Reservations are not required.
When: Sunday, July 10, 10:30 a.m.-12:30 p.m.
Where: Union Station | MAP 
Price: Free
---
If you never made mud pies during the summer, you missed out on some serious childhood fun. Kids (we won't judge if adults join in) can make adobe bricks, construct a mini-adobe home and examine soil-dwelling creatures. And it wouldn't be complete without a mud relay race! Pro tip: There will be "clean" alternate activities — but we suggest you bring a change of clothes, just in case.
When: Sunday, July 10, 12:30-4:30 p.m. 
Where: Rancho Los Cerritos | MAP
Price: Ticket are $5 for kids under 12, $7 for adults
---
What'd we miss? Let us know on Twitter
@kellie_gal
,
@lizmoonyoz
or
@LeoHasACat
.