Law enforcement agencies around Southern California own and operate military-style robots—but few have policies on when and how to use them, including on whether the machines can be used to kill. 
While the use of a robot to kill Dallas shooter Micah Johnson was reportedly unprecedented, the technology is commonplace at police departments. Department of Defense records show 194 robots and related parts have been transferred to California cops, and are in active inventory. More than a dozen agencies in L.A. County have received them directly from the U.S. military. 
KPCC asked the four agencies with the most military-supplied robots for their policies. Police departments in Bell Gardens, West Covina, and Monterey Park said they had no policies. A spokesperson for the L.A. County Sheriff's Department said whether to use robots and how is determined by whoever's in command at a particular incident. 
There's no question, however, that the robots are being used more and more often. 
'An extremely valuable tool'
Generally, robots at law enforcement agencies are used to gather intelligence in dangerous situations. Nicole Nishida of the L.A. County Sheriff's Department said that the agency "deploys robots on a regular basis", including for bomb response, suspicious items calls and searches for armed suspects.
At a demonstration in the garage below the West Covina Police Department, the department's PackBot extended its arm five feet in the air, flexed its gripping claw, and zipped along at five miles an hour.
The 25-pound robot travels on tracks, similar to a tank, with two flippers for extra mobility. It's capable of climbing stairs and turning itself around if it falls on its back. At the push of a button, the robot can change position.
All the while, police can keep track of the view from the robot's two cameras on a laptop.
"Its really simple: it's our eyes inside of a location. That puts us outside of a location a few hundred feet away without jeopardizing our safety," said Sgt. Brian Daniels, who heads up the robotics unit. He called the PackBot "an extremely valuable tool."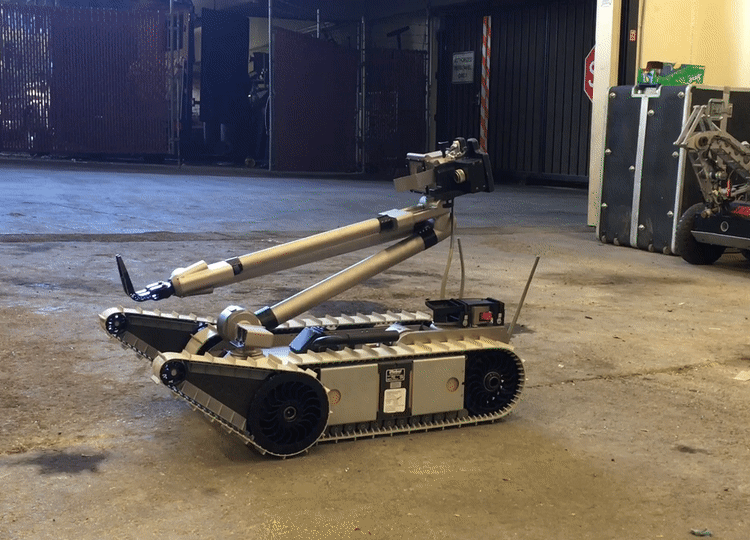 He said the robots are typically deployed every two to three months, depending on circumstances. They're for "high-risk" calls, involving warrants, the SWAT team or barricaded suspects.
Behind Daniels were three more robots in plain view, including a more tank-like ANDROS unit, manufactured by the same company as the robot in Dallas. West Covina police toss "throw bots" with small cameras into a cars or houses, to get visuals of what's inside.
Not all military units arrived at California in working order. West Covina is testing out its ten PackBots, but only has one battery for the units. In Monterey Park, Captain Eugene Harris said that his department plans to take apart five non-working units to create one or two functional ones.
The robots are transferred from the military to the agencies through a program known as 1033. The program gained attention after images from Ferguson, Missouri showed cops using military-style gear, and sparked debates about police militarizaiton.
Arthur Holland Michel, of the Center for the Study of the Drone, said that many law enforcement robots were designed with Iraq and Afghanistan in mind. They allowed troops to take care of roadside bombs without putting themselves in the way.
"These systems were literally a lifesaver," Holland Michel said.
As the wars ground down and technology evolved, the military had less use for some of those robots, Holland Michel added. And they began flowing to local law enforcement.
Other departments have acquired robots through means other than the military giveaway, Holland Michel said. That includes the Los Angeles Police Department, whose online inventory lists multiple models of robots.
An LAPD spokesperson said that the department has policies on robot use at specific divisions, but didn't produce those policies in response to KPCC's inquiry.
Need for guidelines
With robots more and more common in law enforcement, it's unclear how departments intend to use them in the long run said Peter Kraska, who studies police militarization at Eastern Kentucky University.
"You get the robot, you let it sit around, you dream up scenarios you might be able to use it. And then, once things go wrong, people start writing policies for it," Kraska said. He urged government officials and law enforcement leaders to write policies before problems arise.
He said there's a need for clarity precisely because robots can go into dangerous situations that require human judgment.
"You've created a tremendous distance, a technological distance from the people involved in that situation, only increasing the potential for tragedies and disasters."
He said smart guidelines "absolutely make a big difference."
Ryan Calo, who teaches robotics law at the University of Washington, agreed.
"Robots raise special concerns in society," Calo said, pointing to movie depictions of autonomous killer robots and their use in war zones. Law enforcement agencies need to take steps to ensure the public that robots are being used appropriately, he said.
He said the frequent use of robots to kill would go beyond what the country is ready for. "I just cannot imagine in our society right now, that we would tolerate robots that were routinely armed."
Robots transferred from the military to Southern California law enforcement
| Agency | Robots received from 1033 program | Acquisition value (in dollars) | Descirption |
| --- | --- | --- | --- |
| Los Angeles County Sheriff Dept | 22 | 904,864 | Robot, Explosive Ordnance Disposal (18); MK3MOD0 (4) |
| Covina PD | 18 | 1,693,248 | Packbot 510 With Fastac Remotely Controlled Vehicle (12); Unmanned Vehicle (4); Robot,Explosive Ordnance Disposal (2) |
| West Covina PD | 12 | 1,129,100 | Packbot 510 With Fastac Remotely Controlled Vehicle (10); MK3MOD0 (2) |
| Bell Gardens PD | 6 | 60,000 | Robot, Explosive Ordnance Disposal (6) |
| Monterey Park PD | 5 | 50,000 | Robot, Explosive Ordnance Disposal (5) |
| Ventura County Sheriff Dept | 5 | 96,664 | Robot, Explosive Ordnance Disposal (5) |
| DHS/ICE Long Beach | 3 | 184,638 | Robot, Explosive Ordnance Disposal (3) |
| Orange County Sheriff Dept | 2 | 189,550 | Robot, Explosive Ordnance Disposal (1); MK3MOD0 (1) |
| El Camino College PD | 1 | 56,664 | Robot, Explosive Ordnance Disposal (1) |
| Hemet PD | 1 | 10,000 | Robot, Explosive Ordnance Disposal (1) |
| Pasadena PD | 1 | 10,000 | Robot, Explosive Ordnance Disposal (1) |
| Westminster PD | 1 | 10,000 | Robot, Explosive Ordnance Disposal (1) |
| Anaheim PD | 1 | 10,000 | Robot, Explosive Ordnance Disposal (1) |
| Los Angeles World Airport PD | 1 | 10,000 | Robot, Explosive Ordnance Disposal (1) |
Sources: Defense Logistics Agency, Center for the Study of the Drone