Think of it as "Chopped" for the armed forces. Sixty of the military's best chefs are competing in Las Vegas Saturday at an all-day cook-off. 
Navy officer Brittany Davidson from Port Huaneme is among them. The first-timer is competing on a team with three other officers from Ventura and San Diego, representing Southern California in the 13th Military Culinary Competition.
"They gave us a set list of things that we'll have available but they keep telling us that there's going to be a mystery basket, so that's what we're worried about right now," she tells KPCC.
Aside from glory — and proving that mess hall chow doesn't need to be bland or bad — each member of the winning team receives $500.
Designated by the Navy as a culinary specialist — the armed forces term for "chef" — Davidson says one of her major challenge will be scaling down recipes. She usually cooks for hundreds even thousands of people but for the Military Culinary Competition, she has to impress a panel of three judges. 
Davidson joined the military in 2011, hoping to become a computer technician. Instead, she ended up at the armed forces culinary school in Fort Lee, Virginia where she learned the basics: frying chicken, baking cookies, etc.
A tour on the USS Boxer, stationed in San Diego, honed her skills. As a baking specialist, she was in charge of making cakes and pastries and baking bread from scratch. "The hardest part was doing it for so many people," Davidson says. "I went from cooking for myself to cooking for about 3,000 people."
Especially at sea, she also faces the challenge of cooking with limited resources. She relies on armed forces recipe cards, which are standardized throughout the military. They're scaled to 100 portions and can be multiplied as needed.
"I will generally cook in batches of 500 to 600 at a time. We make what we need then continue to cook throughout the meal to make sure everybody gets fresh and good food," Davidson says.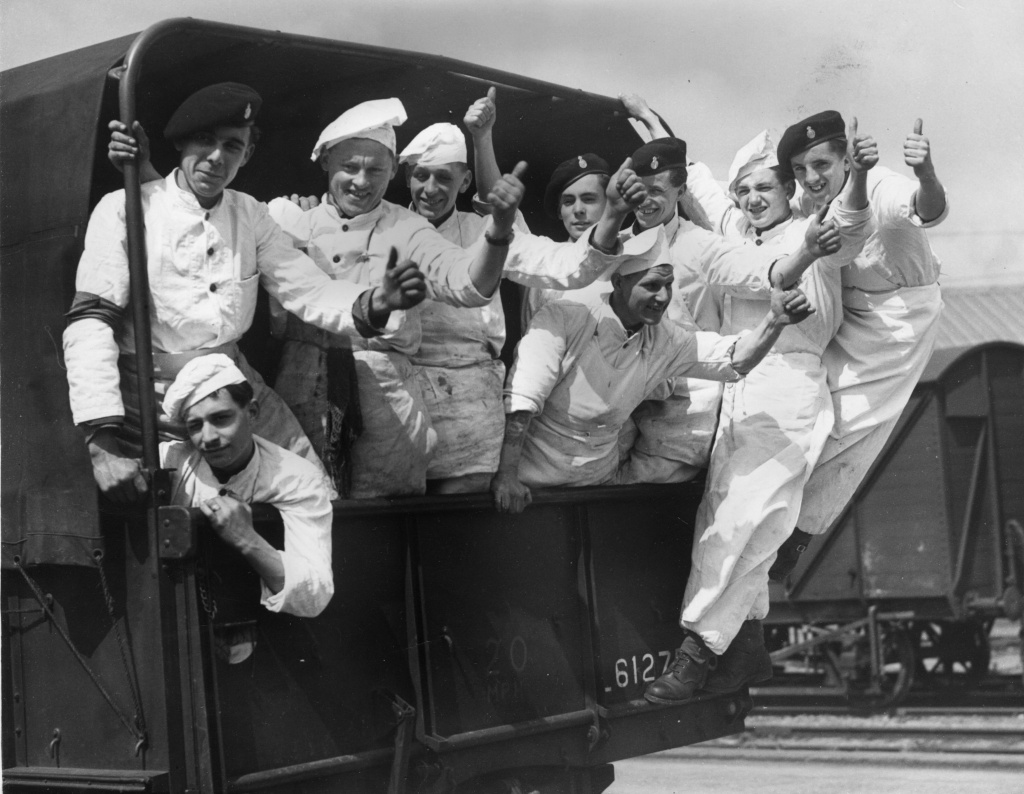 The most popular dishes are mac and cheese and pizza. She also insures healthy options — a salad bar, soups a vegetarian choice — are available.
"We try to make it work as best we can. The fastest thing we run out of, especially with Marines on board, is milk," she says. Aside from six-gallon jugs of regular milk, the ship carries ultra high temperature milk ("It sounds terrible but it's not as bad as it sounds") that has been tempered for long term storage and, as a last resort, powdered milk.
For holidays like Thanksgiving, the kitchen crew will break out the turkey and extend the meal hours. They'll make all the traditional dishes: candied sweet potatoes, stuffing, gravy, etc. Sometimes, they'll even make them from scratch, using red skinned potatoes instead of the powdered variety.
Davidson, who says she fell in love with her job after she studied baking, might whip up her signature dish: a lemon chiffon cake with raspberry filling.
And if she gets the right ingredients in her "mystery box," she just might make a Snickerdoodle pie at this weekend's military cook-off.