Voters across Southern California head to the polls today to decide — depending on where they live — local mayorships, city council races and measures covering issues as diverse as marijuana regulation and homelessness.
Polls open at 7 a.m. and close at 8 p.m. To find your polling location in Los Angeles County, look at your sample ballot pamphlet (which should have arrived already by mail) or go online. 
Voting was expected to be light in this off-year election in contrast to last November's polling.
On Tuesday morning in Pasadena, poll worker David Bayha told KPCC that turnout in the presidential election was huge: "We had lines snaking around the corner by this time." And this round? "I brought something to read. But I hope we have people coming out, I'm sure there will be," he said.
Pasadena voter Macaria Flores said voting in this election was important to her.
"Since I was a child, my parents instilled in me the notion of voting, and even though it's a busy travel day for me at work, I made sure I came to vote for the one thing on the ballot today."
That thing is Measure H, a quarter cent sales tax to fund homeless services. "Homelessness is a big issue especially in Los Angeles and in Pasadena," she said.
Turnout for these local elections has been historically low.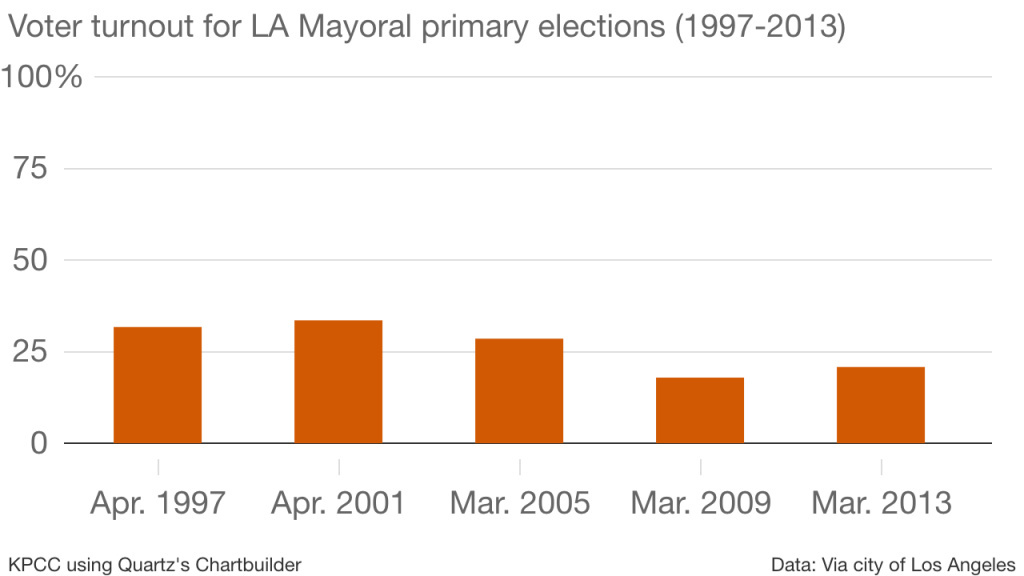 There's plenty on the ballot that's worth the attention of voters. The countywide sales tax measure, Measure H, aims to pump about $35o million into funding to address homelessness.
On the ballot for residents of the city of Los Angeles are measures to regulate marijuana (Measures M and N), curb development (Measure S), and change harbor department leases (Measure P).
In addition, 10 candidates are looking to try to force Los Angeles Mayor Eric Garcetti into a runoff.
There are eight Los Angeles City Council races on the ballot. Incumbents Gil Cedillo in District 1 and Paul Koretz in District 5 are facing well-funded challenges.
If you care about local policies and the way the city spends its money, Los Angeles City Clerk Holly Wolcott says the election is worth your attention.
"Quite honestly a lot of the things that affect citizens in the city of Los Angeles, the decisions are made at the local level," Wolcott said.
Outside the Ramona Community Center polling place in Highland Park, a campaign volunteeer talked about a candidate's support for new bike lanes on streets like Figueroa. Voter Mario Aguilar was a receptive audience.
"You kind of got me on the bike thing, because I ride bikes in the neighborhood," he said. But Aguilar also said he does his own research.
"I woke up this morning and said, 'Well, I don't know about this prop.' So I did a little research before I came out," he said. "And then when you have people here willing to give information, even if they are quote unquote, campaigning for a particular issue, it's all about knowing the facts."
Aguilar said he checked news coverage in the UCLA Daily Bruin and on the site Ballotpedia, which offers nonpartisan information on candidates and issues.
If you're voting by mail, all ballots need to be postmarked by today to count. One first-class stamp will get yours to election officials. You can also skip the lines and drop off mail ballots at polling locations.
Los Angeles County residents who haven't yet registered to vote can do so in person at the Norwalk County headquarters. After registering, those voters can cast a provisional ballot that will be counted once eligibility is verified.
If you need last-minute help, visit our Voter Game Plan page. To get a personalized look at your ballot and research candidates and measures, go to our voter's guide and type in your zip code.
This story has been updated.