Outside political groups have already spent more on this year's Los Angeles Unified School District board campaign than has ever been spent on a board election before.
Independent expenditure groups — most with ties to either L.A.'s teachers union, United Teachers Los Angeles, or the political arm of the California Charter Schools Association — spent a primary-record $5.5 million on ads, staffing phone-banks and canvassers in hopes of swaying the races for three seats.
And Tuesday's results mean the campaign isn't even over yet. In two of the three races, no candidate won a majority of votes, meaning the top two vote-getters will face off in a May 16 runoff — an election that's likely to push the spending from charter school groups and labor unions even higher.
"I think this is going to be a dog fight," said Raphael Sonenshein, executive director of the Pat Brown Institute for Public Affairs at California State University, Los Angeles. "I'm getting out of the prediction business ever since election day in November, but I would say more money is going to come in, I would imagine."
The narrative of charter groups and teachers unions battling over school board seats has gotten so familiar in L.A. — Sonenshein likens the decades-long, protracted back-and-forth to the medieval War of the Roses — that it's easy to forget why the battle exists, and why it matters to families.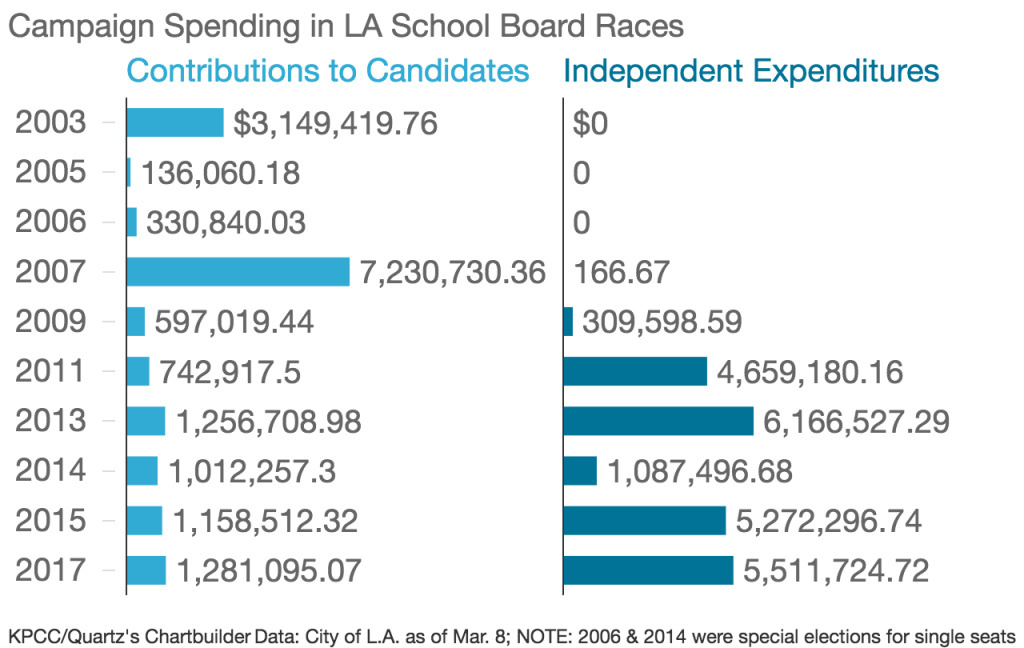 For the uninitiated in this debate, let's back up: Charter schools receive public funding like any other public schools. They're unlike traditional district-run schools in that they are run by an outside group — most often, a nonprofit organization — which hires teachers and recruits students. There are more than 220 independent charter schools operating in L.A. Unified.
To open, charter schools need the permission of an "authorizer," which holds the school accountable for its academic performance and monitors its finances. In Los Angeles, most often, that authorizer is the L.A. Unified board. To remain open, charters must go before the board every few years for renewals.
And here's where the importance of the school board's makeup becomes critical.
L.A. Unified board members have approved most charter school applications and renewals with few public questions in recent years. But the board's infrequent decisions to deny a bid for a new charter or to reject an existing charter's renewal request have caused friction.
As Joshua Pechthalt, president of the state's second-largest teachers union, the California Federation of Teachers, put it, the state's charter school advocates "don't want any constraints placed on the opening of charter schools."
But skeptical board members can serve as a check on charter school growth.
Here's an example: In late 2015, a document leaked from the Eli and Edythe Broad Foundation outlined plans for a massive expansion of L.A. Unified's charter school sector.
But, in January 2016 the school board passed a resolution denouncing the plan. In February, current board President Steve Zimmer told KPCC he was scrutinizing charter applications more than he was before. (The foundation downplayed the leaked document's importance, and it has  since shifted its strategy.)
That extra scrutiny hasn't necessarily resulted in an uptick in denials for charter petitions.
Zimmer — who has the endorsement of United Teachers Los Angeles, which spent more than $1 million on his behalf — has said that he supports expanding school choice and that his voting record shows he's supported many charter schools over his eight-year tenure.
Compare Zimmer's stance, though, to that of Nick Melvoin, his challenger in the May 16 runoff for the board's District 4 seat.
Melvoin, who has the endorsement of the California Charter Schools Association's political affiliate, points out there are, according to the association's estimates, roughly 40,000 students on charter school waitlists. 
"That shows an indictment of the status quo that the district is not meeting the needs of kids and families," Melvoin said at a recent candidate forum.
"I don't think we should be saying, 'More charter schools, less charter schools,'" Melvoin said. "We should be saying, 'Let's make sure we're meeting the needs of every kid.' The reason I'm running for the LAUSD board is to help improve the district so we are meeting their needs, and charters are one part of that solution. Until we have no families on waitlists, I support that option."
Melvoin is not only speaking of expanding charter options, but of expanding in-district choice programs like magnet and pilot schools as well.
Still, it's easy to see charter advocates' attraction to Melvoin's position. Pro-charter groups spent $556,000 in outside money to support him and another $1.5 million to oppose Zimmer in the primary.
But remember, the board's job isn't just to decide which charter schools get to open — it decides which ones remain open.
During a contentious, raucous meeting last October, the board denied renewals to five charter schools — including two campuses from the Celerity Educational Group, the charter school network whose offices were raided by the FBI last month. While the reason for the raid is still unclear, board members denied the renewal based on concerns that district staff raised about the charter's governance.
"The real issue we should be raising is oversight of charter schools and making sure that there's good accountability on charter schools," said Pedro Noguera, a professor at UCLA's Graduate School of Education and Information Sciences. "I don't know if that issue has gotten the attention that it needs and deserves."
Zimmer has said he opposes what he sees as charter school advocates' push for "deregulation" of L.A. Unified's charter school sector.
Sympathetic board members could help charter schools in ways that go beyond charter petitions, renewals and oversight.
For instance, L.A. Unified officials are currently creating a "unified enrollment system" — that is, a "one-stop shop" that takes the balkanized and scattershot systems for applying to the district's many school choice programs and consolidates it into a single online application.
As of the latest update to the board, the one-stop shop would include every choice option — from magnets to open enrollment to gifted education — except for charter schools.
"And yet we have, what, 16 percent [of L.A. Unified students] in charter schools? To pretend they aren't part of the program is ludicrous," said Katie Braude, the executive director of SpeakUp, an advocacy group that's backing Melvoin. (The organization doesn't advocate solely for charter schools, she said; many of the group's parent members send their kids to non-charter schools as well.)
Would a board made up of more charter association-endorsed members be more likely to push for charters' inclusion in the system?
Also, charter school operators often find themselves in desperate need for facilities — they don't receive the same public funding sources as districts do to build or buy school buildings — and so they often rely on a state law entitling them to operate in school district-owned buildings for modest fees.
The process of determining which campuses should host these "co-locations" is often contentious. While the final co-location decisions are technically out of board members' hands, the board may eventually have to act to changes to a process that's prompted litigation and sowed confusion.
By the same token, teachers unions have a lot at stake in the election outcome beyond charter schools.
"It might be, given how much the union invested" in the race, UCLA's Noguera said, "that there's a concern some candidates who are running would be less pro-union and what that would mean for the future of the district."
After all, the teachers union, UTLA, has been a fierce critic of charter school expansion.
The union represents more than 35,000 teachers and health workers in a district that has faced criticism for, detractors say, failing to cut staff at the same pace enrollment has declined in recent years.
"Once you're in the position of serving on the board," Noguera said, "it becomes more difficult to focus on a single issue like charter schools."
Candidates have expressed frustration at the dominance of the charter-versus-union narrative in the election.
In the race for the board's District 6 seat, Kelly Gonez, who has the charter school association's endorsement, has said she hopes to be able to work with union leaders if elected to the board.
She advanced to a May 16 runoff against Imelda Padilla, who has UTLA's endorsement. Padilla has criticized the charter association for being reflexively opposed to union rights, but said charter schools in her district show that coexistence and cooperation with L.A. Unified is possible.
Yet the campaign finance numbers show the dominance of two political titans in the race: UTLA's political affiliates spent at least $1.6 million in outside money on the race; pro-charter groups spent nearly $3.4 million.
And about two-fifths of that money went to oppose candidates the other side had endorsed.