Enter the bustling hallways at Hemet High School and you're met with the loud chatter of students rushing to class and the bright red banners of sports teams. But on the wall by a classroom, there's a somber reminder of a different tradition: six portraits of young men – all graduates – who died while in military service, five of them in Iraq or Afghanistan.
"This whole environment is a big family," said Gabriel Valenzuela, 17, a junior at the school. "So it's like losing a family member when one of those people go."
Hemet High lost more former students to the Iraq and Afghanistan wars than any other high school in southern California, according to a tally by the Los Angeles Times. 
Valenzuela is a cadet in the school's ROTC program. He joined in his freshman year, and he wants to enlist in the Air Force after completing his studies.
Valenzuela was born in Hemet, which is about 30 miles southeast of Riverside. His grandfather was a Marine and two of his uncles served in the Army. When his father, who served in the Navy, returned from fighting in Somalia, he said, his family came together to support him as they dealt with his post-traumatic stress.
"Yeah, it kind of worries me," he said, adding that his mother was initially opposed to his decision to enlist. "But if that were to happen to me, of course I would go out there and do the best I could."
As of this month, 6,627 U.S. service members have been killed in Iraq and Afghanistan and 52,046 have been wounded, according to the Pentagon. Yet less than 1 percent of Americans make up the all-volunteer active-duty military, putting the strain of service and deployment on a tiny sliver of the population.
Military service is not uncommon in Hemet, a city of 83,000 surrounded by farm fields and long stretches of desert. It's also home to many veterans. According to the U.S. Census, 6,924 veterans live there. Banners honoring Hemet veterans line the city's main street, wedged between fast food shops and an old town that dates back to the late 1800s.
"There's not a whole lot of opportunities for advancement," said Angela Valentine, a 29-year Air Force veteran who runs the school's ROTC program. "So a lot of the kids here and a lot of the families here are advocates of the military because they understand that that is a way to somewhat of a better life."
Valentine said she spends most of her time teaching academics and discipline and encouraging her cadets to pursue college. She estimates that about 30 percent of them end up joining the military, either straight out of high school or after college.
With Afghanistan now the longest-running war in U.S. history, many of her young cadets have lived with the conflict their entire lives – the uncertainty forming a backdrop to their adolescent and now teenage years.
Students often come to her with concerns about the risks of military service, said Valentine.
"It's tough to talk about because some of the kids here, many of the kids here have family members who were in the military," said Valentine. "Some of their family members didn't come back, so they kind of understand what it means for that to happen."
Still that doesn't deter many students from signing up.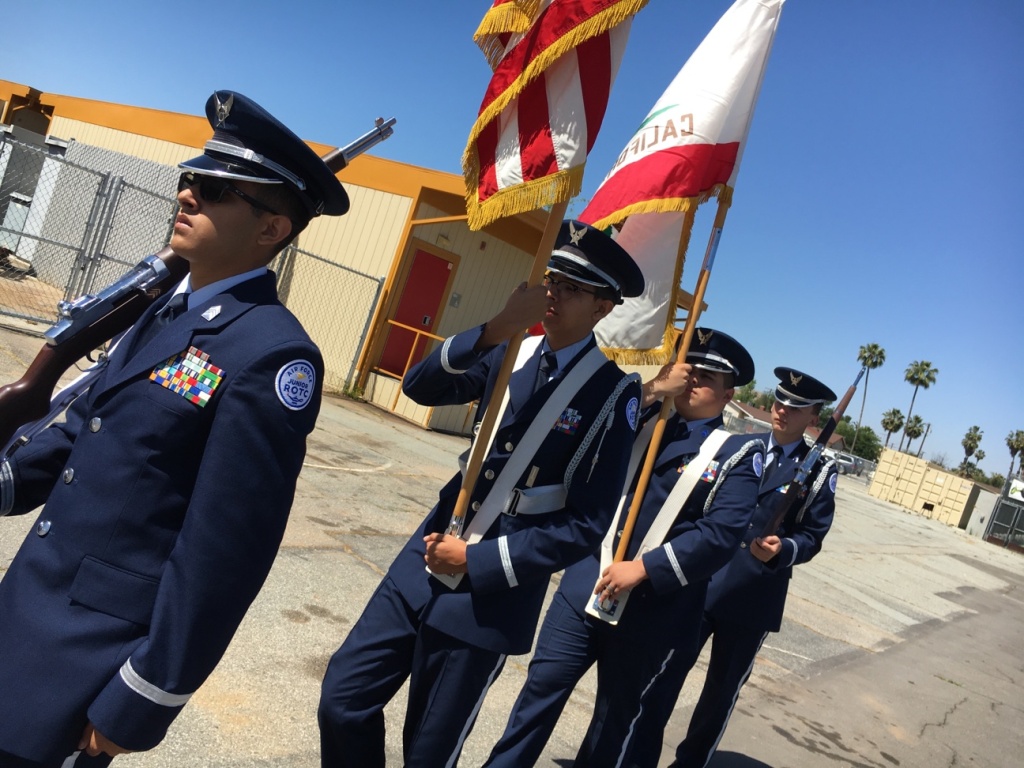 Tyrell Slayton, an 18-year-old ROTC cadet, knows the family of one of those pictured on the plaque in the school hallway well. Michael Estrella was killed while serving as a Marine in Iraq in 2006, just three years after graduating from Hemet. His younger brother is a good friend of Slayton's, and the two often talk about the older brother's sacrifice.
"There's not a day that goes by when he's not thankful for what his brother's done," Slayton said of the younger Estrella brother.
Slayton said he plans to join the Air Force after college, but seeing fallen soldiers so close to home does make him consider his decision carefully.
"The other week, I was just thinking, do I really want to do the military, do I want to possibly risk my life? he said. "But I mean, if it means protecting someone I love and the country that I love, I would do it."
Slayton will lead a team of cadets at the Riverside National Cemetery on Memorial Day to honor those killed in service.
On a recent morning, Slayton and his fellow cadets wore crisp uniforms as they drilled for the upcoming ceremony, clasping the American flag and marching across the hot asphalt of the basketball court. During a break, 18-year-old senior Angel Sanchez walked by in regular clothes. He spent all four years in Hemet High's ROTC program and said he's already signed his contract to join the Marines.
"It's something I've always looked up to," he said, adding that his older brother also joined the Army after he graduated. He'll head off to Camp Pendleton for basic training next month, but first he reflected on this week's holiday.
"It's a day to honor the people that made the ultimate sacrifice for their country and for the people that they love and that's probably the greatest honor you could have," he said.