In 2009, NASA's Jet Propulsion Laboratory built a space telescope with the mission to find planets outside of our own solar system. Eight years later, it's done just that.
Since its launch, the Kepler Space Telescope has discovered more than 4,000 new possible planets, including some that share similarities with Earth.
This week, scientists gathered at NASA's Ames Research Center in Mountain View to celebrate a milestone: The original Kepler mission's final cache of data has been organized and made available to the public.
The cache includes 219 new planet candidates, 10 of which are near-Earth size and orbiting in their star's habitable zone – the distance from a star where liquid water can form on a rocky surface.
Watch the planet-hunting telescope's original launch:
https://www.youtube.com/watch?v=A1pKRoUk-A4
The original Kepler mission's latest discoveries were released alongside a comprehensive catalog of candidate exoplanets discovered during the telescope's four-year mission, which ended in 2014 after a mechanical malfunction. The mission's final tally includes 4,034 planet candidates identified by Kepler.
Of those, 2,335 have been verified as exoplanets. More than 30 near-Earth-size, habitable-zone candidates have been verified.
NASA spent the last three years organizing trillions of data points collected by Kepler in order to make them available to the public and the greater scientific community to use, according to Susan Thompson, a Kepler research scientist. The catalog's release also marks the beginning of the end for the mission she's worked on for nearly a decade, she told KPCC.
"It's so different where we are now than when Kepler started," she said. "We didn't know if terrestrial planets were out there to go to. We assumed they were there, but now we have a bunch of them, and we can see them."
She hopes by making the data public, NASA can encourage future generations to continue searching for more exoplanets, she said. 
Kepler's original mission focused on a particular cluster of stars. By continuously monitoring light emitted from each star, scientists could observe dips in the amount of light. The dips in light likely signal a planet passing in front, a phenomenon called a transit.
Listen to NASA scientists discuss their hopes for the original Kepler mission back in 2009:
Kepler's secondary mission, K2, was launched after the original mission ended. And it's still going on. 
K2's primary goal remains the same as its predecessor: discover exoplanets in star systems other than our own. But it does so by observing at least eight times as much space as the original mission did, according to Dr. Charles Beichman, executive director of Caltech and NASA's ExoPlanet Science Institute. 
The mission's expanded view captures a more diverse collection of astronomical objects, from distant star clusters to planets such as the TRAPPIST-1 system of seven Earth-size planets, closer to home, he said.
"We lost the ability to monitor this one group of stars," he said. "But that actually had great advantages because it turns out it gave [Kepler] the ability to traverse all interesting new kinds of objects," he said. 
Here's an illustration of the difference between Kepler's original mission and K2: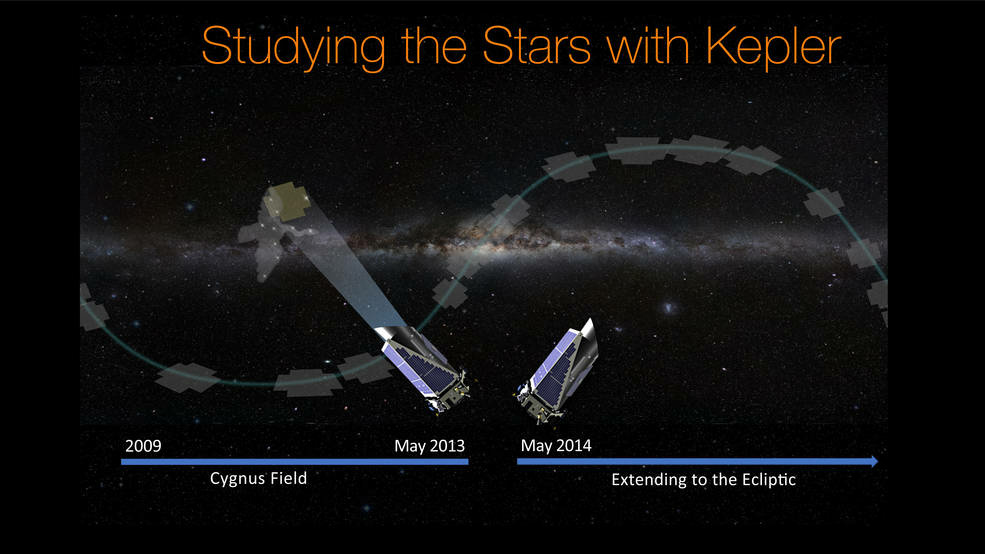 A look at the timeline of NASA's past and future planet-hunting missions: 
The secondary mission will continue looking at more than 100,000 stars throughout the Milky Way galaxy until the telescope's fuel runs out in about a year and a half, Beichman told KPCC. 
Once the fuel hits empty, it will spin in space forever, he said. But it may not be alone. NASA's already building bigger, more powerful telescopes for the next generation of planet-hunting, he said.