A crowd gathered at LAPD Headquarters in downtown Los Angeles Saturday night to protest the violence that erupted in Charlottesville, Virginia earlier that day.
Three people were killed and dozens were injured in the wake of what is believed to be the largest white supremacist gathering in a decade.
The unrest followed Charlottesville's decision to remove a statue of confederate general Robert E. Lee.
Ivy Quicho  is with Af3irm, a group that helped organize the L.A. rally.
"There were a number of different issues that were raised because we all see that these different oppressions root from the violence that occurred in Charlottesville, which is frankly white supremacy, misogyny, racism, ableism," she tells KPCC.
Quicho said no other rallies are planned at this point. 
Another protestor, who spoke with our media partner NBC4, says she attended the University of Virginia located in Charlottesville.: "It's really painful to know that the place that I went and I spent four really formidable years, and four years that I really loved, are entertaining people who support hate."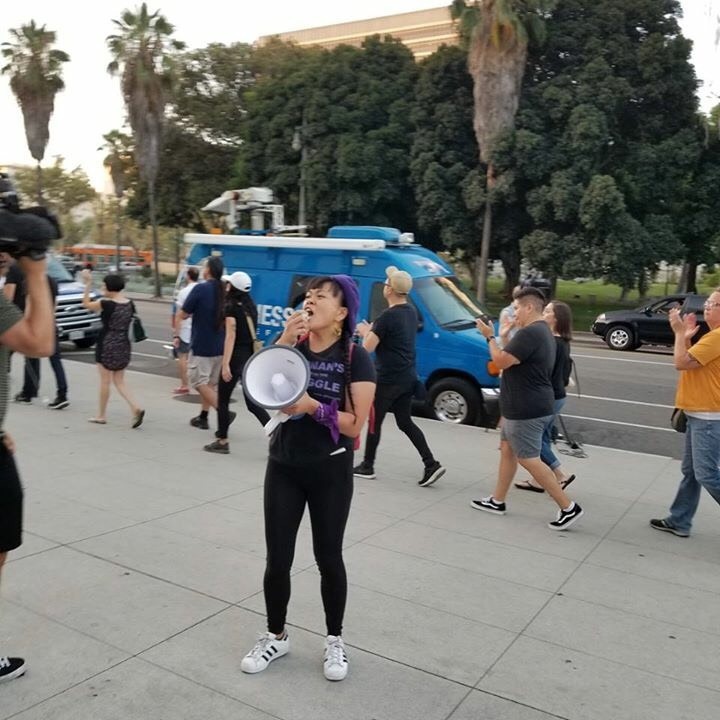 Congressman Lou Correa, who represents the 46th congressional district covering Anaheim and Santa Ana, called on the House Homeland Security Committee to investigate domestic terrorism linked to white.
"Our country has a homegrown terrorism problem we refuse to address. That ends now. We must hold hearings and finally address that terrorism inflicted by white supremacy extremists is destroying our country," he said in a statement.
​
A larger protest was held in Oakland where people also marched to decry racism in the wake of the violence in Charlottesville.
In Oakland, hundreds of protesters gathered Saturday night to hear speakers and then marched peacefully downtown, chanting and waving signs and banners. Some of the protesters blocked Interstate 580 before being dispersed, The San Francisco Chronicle reported.
One of the downtown marchers carried a hand-crafted sign reading, "Call it what it is. White supremacy."
The hastily arranged gathering was a response to events earlier Saturday in Charlottesville, Virginia. A car plowed into a crowd that was peacefully protesting a white nationalist rally, killing one person and injuring 19.
Authorities say the driver of the car, 20-year-old James Alex Fields Jr. of Ohio, was charged with second-degree murder.
Candlelight vigils were held in San Francisco and El Cajon in San Diego County.