Marc Haefele reviews "E. Charlton Fortune: The Colorful Spirit," at the Pasadena Museum of California Art until January 7.
The Pasadena Museum of California Art has long distinguished itself by unearthing wonderful California painters. Now it's brought us E. Charlton Fortune, a long-lived and eclectic painter with an implausibly diverse breadth of experience, style, and interest.
E. Charlton Fortune – the E is for Euphemia - was born in Sausalito in 1885. She studied in Europe, New York, and San Francisco. She settled in Monterey and then Carmel, where she died in 1969. Fortune's gender-neutral name and her strong colors, bold lines, and rugged execution led critics to call her "masculine" 90 years ago, when that word was a synonym for wonderful. 
But nowadays, we might call her work "rugged" or "tough" or just plain powerful. Or "bursting forth with energy." At first glance at this 80-piece show, curated by the Crocker Museum's Scott A. Shields, you're struck by the key differences between her and other California coastal impressionists. 
Still time to see LACMA's Chagall show, which Marc reviewed for Take Two
While her contemporaries usually focus on the water, Fortune's Monterey landscapes tend to under-emphasize the mighty blue Bay; to focus on the surrounding territory: the apple orchards; the esplanade along the shore, where people gather and gossip; the serried townscape of the old city, roughly shaped and colored. She returned to this scene often, but each time she treated it differently.
Take "The Hatton Ranch," where she lays dark brownish shadow strakes among the fields of sunshine.
There is a Steinbeckian seriousness here. This isn't a holiday land: it's a somber place where dark, even tragic, things can happen.
Fortune's own fortune was good and bad. She was born with a cleft palate that she thought barred her from marriage. Her early work was all lost in the San Francisco Earthquake, along with her family home. But her family had money, and she had a loving mother who nurtured her. And her work was popular. As one Monterey critic put it, she "was focused, determined, highly trained, and, ultimately, one of America's great impressionists."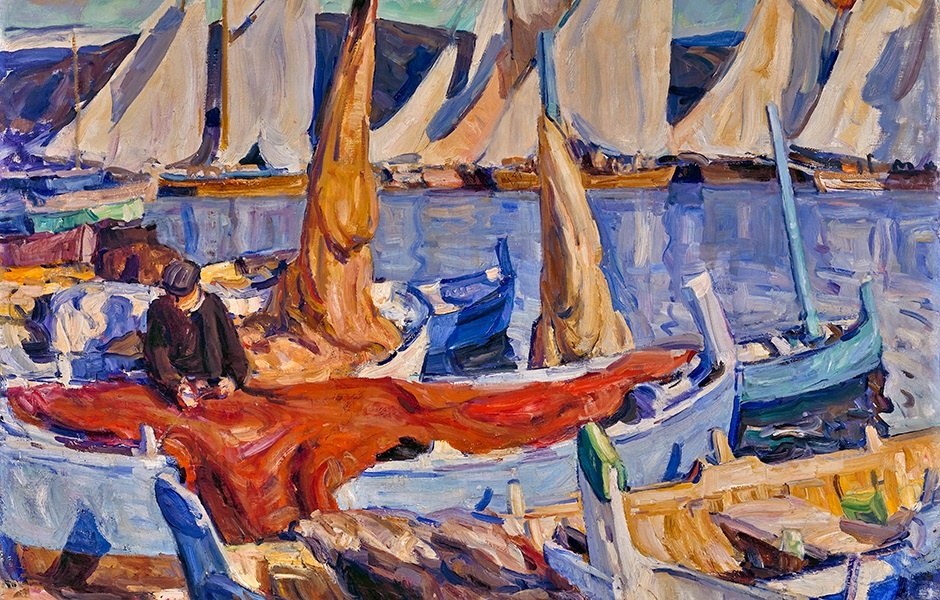 Yet some of her most affecting work was done overseas: her Scottish landscapes, St. Tropez marinescapes (above), and in particular her Cornwall paintings -- filled with clouds of rising gulls -- are among her most exultant and liberated pictures. Joy replaces foreboding.It was as if the life that seemed so deeply contained in her earlier work suddenly burst forth.
Not much later, she utterly changed her artistic goal to focus on the religious experience — much of this work is also on display at the PMCA's cyclopedic show, which even includes her bicycle and paint box.