This story was last updated at 1:30 p.m. PDT
Authorities say the man responsible for Tuesday's deadly truck attack in Manhattan planned the attack for weeks, and left behind a note in his rental truck declaring his support for the Islamic State.
John Miller, deputy commissioner of the NYPD, said the letter was written in Arabic and said that ISIS will "endure forever." He said investigators are still working to reconstruction the suspect's actions over the last few weeks as he prepared for the attack.
New York Gov. Andrew Cuomo described the incident as a "classic case of a radicalization of a domestic jihadist who associated with ISIS," telling CBS on Wednesday that "the best evidence we have is that he was a 'lone wolf.'"
Police are asking anyone with videos or photos of the attack, which they are identifying as a terrorist act, to share them with the FBI.
In the attack, a truck struck pedestrians and bicyclists on a riverfront bike path, then crashed into a school bus. Eleven people were wounded in the attack, including students on the bus. Eight people died.
After crashing his truck, the driver emerged holding "imitation firearms," including a paint gun, and was shot by a police officer. Knives were also found in the vehicle, Miller says.
Five Argentine visitors to New York, friends celebrating the 30th anniversary of their graduation, were among the dead. A Belgian tourist was also killed, according to Belgian officials.
The suspect, Sayfullo Saipov, was shot in the stomach and taken into custody; he's currently hospitalized and receiving medical treatment.
He has been interviewed by law enforcement, but officials would not provide details about what he said.
Leslie Danoff, who lives near the site of the attack and could see bodies on the ground from her window, told NPR she was grateful that first responders were on the scene quickly.
"We have so many schools around this area," she said. "And it was shortly after 3 [p.m.]. It could have been worse if the police hadn't responded as quickly as they did."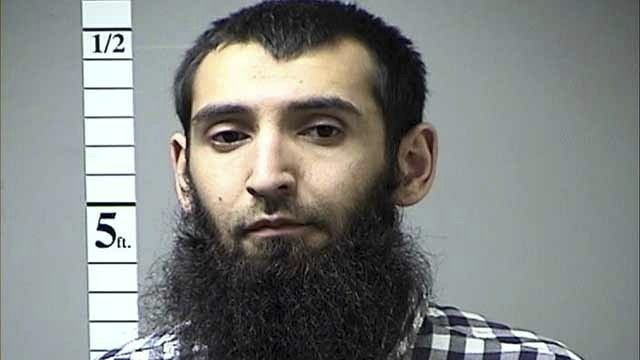 Saipov, 29, was an immigrant from Uzbekistan who had lived in Florida, Ohio and New Jersey and worked as a commercial truck driver and an Uber driver, Hansi Lo Wang reports. An official in Brooklyn tells NPR that Saipov was a green card holder.
Uber confirms that Saipov passed their background check, and says they have not identified any security concerns from his time as an Uber driver. "We have reached out to law enforcement to provide our full assistance," a spokesperson told NPR.
Authorities say Saipov carried out the attack with a vehicle he rented from Home Depot.
The Associated Press reports that investigators worked overnight, shutting down a stretch of highway in Manhattan and also focusing on "a New Jersey home and a van in a parking lot at a New Jersey Home Depot store."
Meanwhile, the city's residents appear to be following Cuomo's earlier advice to "be New Yorkers and live your life." Officials said there was no sign of a larger plot, and with that, the city's Halloween festivities continued as planned.
Security measures in the city are being enhanced, officials say.
Saipov moved to the U.S. in 2010 from Uzbekistan, a former Soviet state in Central Asia.
Acquaintances described him to The New York Times, The Cincinnati Enquirer and The New York Post as quiet, hardworking and friendly, and expressed surprise over the attack. "He did not seem like a terrorist," one fellow Uzbek immigrant told the Times. "He was really calm," another told the Enquirer. "He is [a] very good guy," a friend told the Post, which described the man as shocked to hear about the attack.
But an Ohio truck driver named Mirrakhmat Muminov told the AP that Saipov "seemed to harbor radical views and saw his work life spiraling down."
"Muminov says Saipov lost his insurance on his truck because of a few traffic tickets," the AP reports. "He says companies stopped hiring Saipov, so he left for New Jersey."
Muminov told NPR's Martin Kaste that Saipov didn't seem to be very religious when he arrived in the United States, but that he became more religious over time — praying more and going to the mosque more often.
Muminov described Saipov as "a little aggressive" and said he seemed depressed and "unhappy to be alive."
NPR's Russell Lewis spoke to Carlos Batista, a former neighbor of Saipov's, near Saipov's home in Paterson, N.J.
Batista said Saipov had been parking a Home Depot truck in the neighborhood for three weeks. "I guess he would bring it back and rent another one, maybe from another place, but they'll always be the same model," he said.
"And wouldn't use them for anything," Batista said. "Not construction. Nothing — like, you know he was always clean. He'll leave clean. He'll come back clean."
Batista said Saipov had been riding around with two other men. "Every time I saw him he was with the same two guys," Batista said.
Miller, the NYPD deputy commissioner, says that Saipov was not personally the subject of an NYPD or FBI investigation — but had "links" to people who have been investigated.
On Wednesday, Uzbek President Shavkat Mirziyoyev sent a condolence letter to President Trump and volunteered his country's resources to assist with the investigation, according to multiple wire reports.
The comment was notable, the AP reports, calling Uzbekistan "one of the most closed off post-Soviet republics" and reporting that before now, the country "officially never commented or acknowledged any security incidents abroad involving Uzbek nationals."
On Tuesday, after the attack, President Trump tweeted that he ordered Homeland Security to "step up our already Extreme Vetting Program"
Dan Byman, of Georgetown University and the Brookings Institution, tells NPR that the administration's currently proposed changes to the immigration system — so-called "extreme vetting" — would "probably not" have prevented this attack.
Saipov "came from an area that wasn't on the list of top countries of concern," Byman says.
"The proposals don't call for constant monitoring once someone is in the country," he says. "It seems like this individual became much more radical relatively recently. So the ideas on the table don't seem particularly relevant to this attack."
Trump tweeted more criticism of the immigration system on Wednesday morning, stating that the suspect entered through the "diversity visa" program, which offers a lottery for countries with historically low rates of immigration to the U.S.
Saipov arrived in the U.S. on a valid diversity immigrant visa, the Department of Homeland Security has confirmed.
In his tweet, Trump specifically targeted Senate minority leader Chuck Schumer (D-N.Y.) for criticism, identifying the lottery as Schumer's idea.
The facts are more complicated, as NPR's Brian Naylor reports:
"Schumer, then a member of the House, was a sponsor of the original program, part of an immigration bill that was approved on a bipartisan basis in 1990.

"It was signed into law by Republican President George H.W. Bush.

"In 2013, as a U.S. senator, Schumer actually proposed ending diversity visas as part of efforts by the so-called "Gang of 8," aimed at a broader immigration overhaul. ... The Gang of 8 measure died in the House because of GOP-led opposition."
The Washington Post reports that the connection between Schumer, the green card lottery program and Saipov was widely reported on right-wing media. The Post notes that the program has been debated for years, with opponents raising concerns over national security risks and the possibility of fraud.
This story has been updated.