Hate crimes in Los Angeles County tied to white nationalist ideology spiked 67 percent last year, rising from 63 to 105 incidents, according to a new report released Thursday.
Most of the crimes involved vandalism, including swastikas and hate symbols in graffiti but other incidents involved acts of intimidation and violence. 
The L.A. County Commission on Human Relations' latest compilation of hate crime reports show the overall number of incidents in 2016 remained on par with the previous year.  In 2016, there were 482 documented hate crime victims in the county, one fewer than the previous year. 
But there was a shift in who was most targeted and the motivations of those responsible for the incidents, according to the report.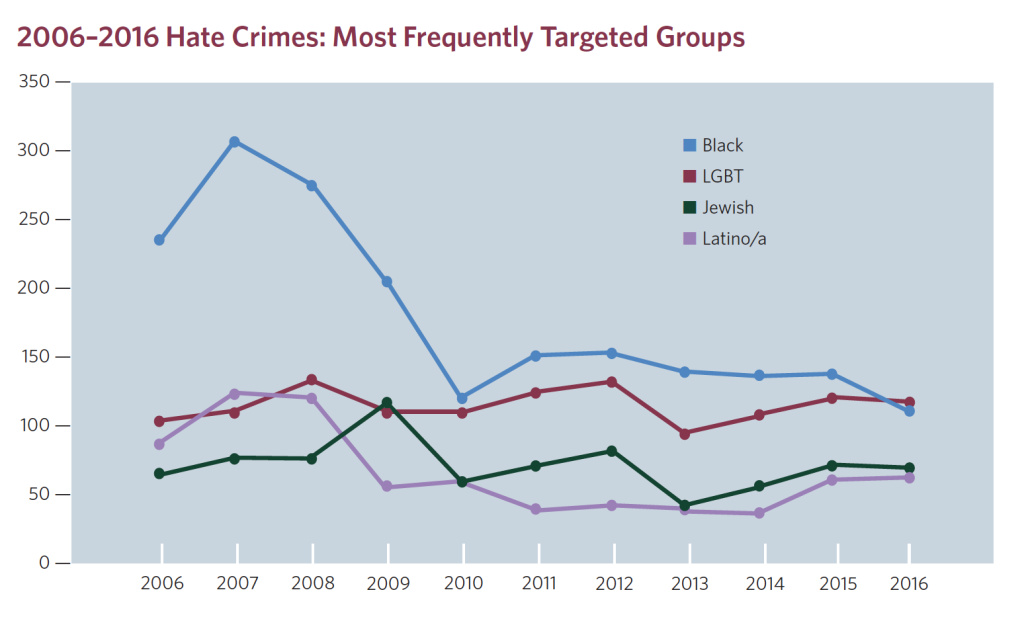 Incidents against gay, lesbian and other LGBT victims made this the largest of the targeted groups last year, slightly overtaking African-Americans in 2016. There were 118 anti-LGBT hate crimes reported  — two fewer than in 2015. 
There was an increase as well in reports involving transgender victims, rising to 31 in 2016 from 18 in the previous year. 
According to the report, almost all hate crimes targeting transgender individuals between 2012 and 2016 in the county involved violence. Violence also characterized more than three-fourths of anti-LGBT hate crimes during the same period.
African-Americans accounted for the second largest targeted group, with 112 cases recorded in 2016, down from 139 incidents in the previous year. However, African-Americans are still disproportionately victimized: they represent only 9 percent of L.A. County residents, but made up 46 percent of the victims of racially-motivated hate crimes.
Hate crimes where there was evidence of white supremacist ideology constituted 22 percent of all hate crimes in 2016 compared to 13 percent in the prior year. 
Criminologist Brian Levin, director of Cal State San Bernardino's Center for the Study of Hate and Extremism, said the current political climate has played a role. 
"There has been a growth in white nationalism and public displays of white nationalism," Levin said. "We have had more mega-rallies in the United States of 100 or more white nationalists in the last two years than we have seen in the previous 10 or 20. So white nationalists are more emboldened."
More than half the white supremacy-related crimes were motivated by religion and more than a third by race. Those most targeted by white nationalists were Jewish, followed by African-Americans and Latinos. 
The report's authors also highlighted several hate crimes occurring after the November 2016 election in which President Trump was cited, including this case:
December 16, Montrose—A family found a swastika, anti-Latino/a graffiti, and the word, "Trump," spray-painted on their home. They also found a note stating, "Mixed race breeding. Keep your spic children off our property or there will be consequences." The letter 'x' in the word "mixed" was a swastika.
Jewish and Latino victims represented the third and fourth most-targeted groups. The bulk of the religion-motivated hate crimes targeted Jewish victims, followed by Muslims and Christians.
After almost doubling in 2015, the number of reports of crimes related to terrorism and the Middle East dropped from 19 to 12 last year. Still, the cases described in the report were striking such as this one:
At an apartment complex, two white suspects told a woman, "You terrorist! Go back to your country!" They pointed a gun at the victim and threatened to kill her.
The report notes that hate crimes are often underreported.
One high-profile case in Santa Monica last December involving a synagogue illustrates the issue. The building's window was smeared with feces during Hanukkah. But it was not deemed a hate crime after authorities investigated, said Assistant Rabbi Dovid Tenenbaum with the Living Torah Center Chabad.
"Because there was no hate message or anything religious, they did not call it a hate crime," said Tenenbaum. He was told it was likely an isolated incident of vandalism, but the community that worships there was rattled all the same, he said.
"People couldn't believe something that despicable would happen, especially to a synagogue," Tenenbaum said.  
Although the numbers are low, there was also a spike in anti-white crimes, from 11 to 27, an increase of 145 percent. Criminologist Levin pointed to growing racial divisions as the likely culprit.
"If you look at the social surveys, race relations are perceived to be at a 25-year low," he said. "I think part of this [increase] might be a backlash against the perception that white nationalism is growing."
FBI data released earlier this week showed a 4.6 percent increase nationwide in hate crimes over the previous year. 
The U.S. lacks a reliable way to track incidents of hate and bias. KPCC, the investigative news outlet ProPublica and other organizations are joining together to create a national hate crime database toward that end. If you have a story, please share it with the project, "Documenting Hate." Go to the ProPublica website and fill in the form.
Correction: A previous version of this story read that there remained no uniform law enforcement standard for identifying a hate crime. California law in fact states that hate crime charges may be filed when there is evidence that bias, hatred, or prejudice based on a victim's real or perceived membership in a protected class is a substantial factor in commission of an offense.