Elinor Otto was part of a surge of women who responded to the call to replace enlisted men in the workforce during WWII. She joined the war effort and started punching rivets at Rohr Aircraft in Chula Vista in 1942.
Like most women in this wave of pioneers, Otto was laid off when the war ended. But she eventually found her way back to the factory floor, and she spent nearly 50 years assembling planes used by the U.S. military.  
On Monday, the 452nd Air Mobility Wing stationed at March Air Reserve Base in Riverside County honored Otto, 98, with a ride on one of the hundreds of C-17s she helped build.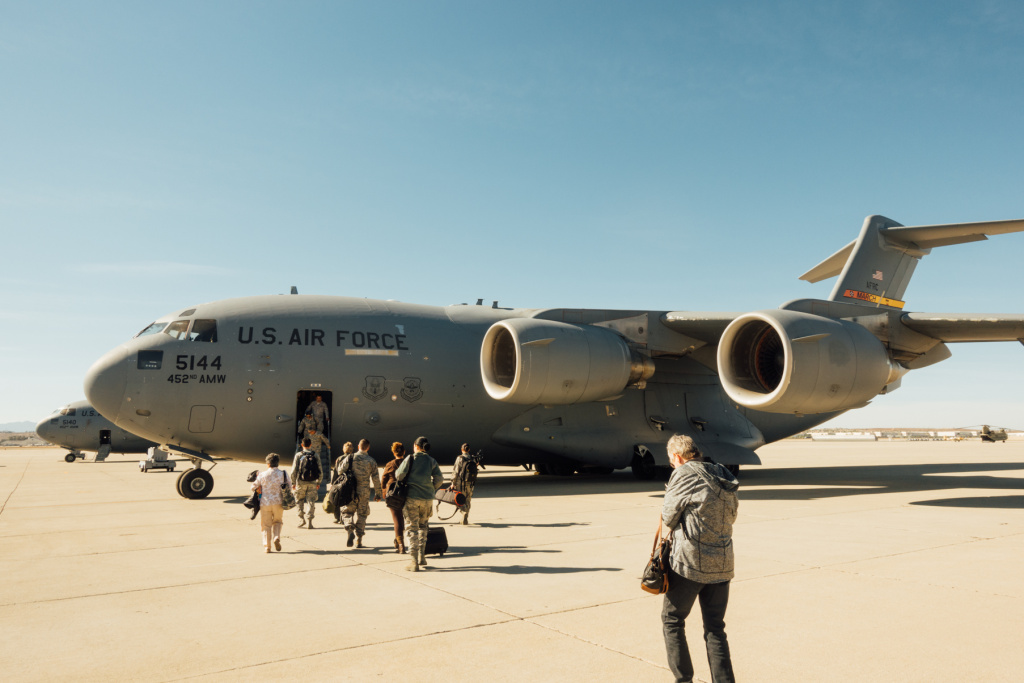 The symbolism of welcoming an original "Rosie the Riveter" onboard their flight was not lost on the mostly female crew. As Otto boarded the plane, crew chief Sade Phonn struck a pose mirroring the iconic "We Can Do It" poster, showing off her bicep in salute. 
"She is very inspiring," Phonn said. "It makes me feel like I can do anything, as a woman. And I think, if it wasn't for Rosie the Riveter, we wouldn't be here.".
Recalling her first days on the job, Otto said when she first stepped into a factory, lunchpail in hand, she and her fellow assembly line workers had no idea they would become enduring symbols of female empowerment. 
"We were just workers. And we knew the war had to be won, so we worked hard. Nobody made anything about us women working," Otto said.
After the postwar layoffs, Otto tried 'car hopping' – waitressing at a drive-in, bringing food on trays to customers in their cars.
"That was fun. Until they put us on skates. And then I quit," she said. "I didn't want to be falling down with the food."
In 1951, Otto got a job at Ryan Aircraft in San Diego, but once again became a victim of layoffs 14 years later.
Not long after, she heard a tip from a friend about the Douglas Aircraft Company in Long Beach: they needed assembly line workers, and she would be welcome to apply.
"They were hiring women for the first time since the war," Otto said. The Douglas job stuck. Over the decades, Douglas became McDonnell Douglas, and then Boeing. Otto went on to help build hundreds of military planes during her nearly 50 years at Boeing.
She only stopped working in 2014, at the age of 95, when the Air Force ended its relationship with the Long Beach plant, and Boeing moved to shut down production.
"But we never thought of ever flying on one ourselves," Otto said. That was, until the invitation from March Air Reserve Base arrived.
"She is unbelievable," said Lt. Gen. Maryanne Miller, the first female commander of the Air Force Reserve, who celebrated Otto during a pre-flight ceremony. Miller said the dedication and stability Otto showed in her half-century at Boeing was a model for young women.
"And for them to see someone who contributed so long to the defense of this nation--that's a good role model. I think that's important," Miller said.
Otto had specific advice for the high school cadets who joined her on the flight: get a degree in a STEM (science, technology, engineering, and math) field.
"Because now they're building airplanes differently. Less workers, but more technology," she said. "So I just tell them: 'you can be the future Rosies of technology. And make history.'
Students who rode along on the C-17 flight said Otto represents the triumph of hard work, regardless of gender.
"We can do it. As females, we can do anything we put our minds to," said Alicia Spencer, 17, an Air Force Junior Reserve Officer Training Corps Cadet from Canyon Springs High School.
Spencer said she wants to pursue a career in forensic science. Meeting Otto bolstered her resolve to reach her goals.
"It inspires me to keep going. To go for it," she said.