Bradie Tennell, Mirai Nagasu and Karen Chen, the top three figure skaters at the national championships, were selected Saturday for the U.S. team for the Pyeongchang Olympics.
Three-time U.S. champ Ashley Wagner, who complained vigorously about the marks after the free skate, was not included. Four years ago, Wagner also finished fourth but was placed on the team ahead of Nagasu. Wagner wound up with a bronze medal in the team event.
"I really took time to remodel myself, because I didn't want to feel that regret," Nagasu said during the announcement on NBC's Today Show. "This has been about my journey and my goal to get here. To accomplish it last night has been a dream come true."
Nagasu, now 24, placed fourth at the 2010 Games. The 19-year-old Tennell and Chen, 18, the 2017 U.S. winner, made their first Olympics. 
Nagasu, U.S. champ 10 years ago and a 2010 Olympian, capped a sensationally sweet comeback with a flowing performance to finish second, assuring a spot in next month's Olympics — a berth she was denied in 2014 by the selection committee. That position for Sochi was given to Wagner, who had a better overall record.
After overpowering the entry and two-footing the triple axel that no other American woman tries, Nagasu hit six triple jumps, including a loop in the final seconds of a stirring program. After the performance, she broke out in tears and covered her face, trying to gain control of the emotions that often had betrayed her in critical moments.
She was still crying when the marks revealed that she had shattered her personal best by nearly 20 points, earning a 213.84.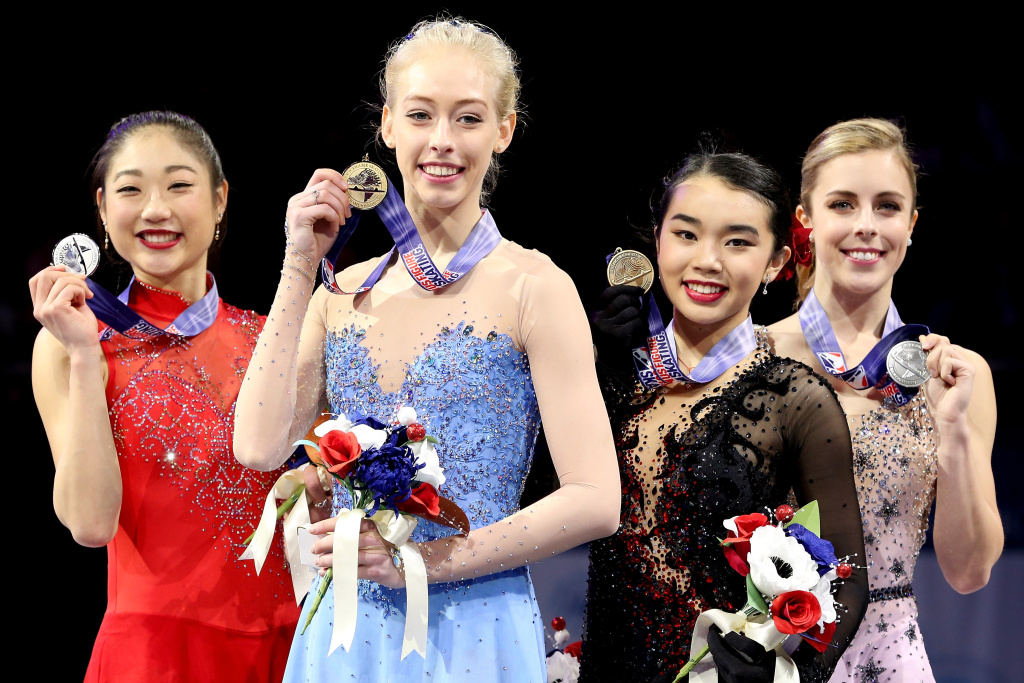 Rising star Tennell's earned her first national crown with a near-perfect free skate. Tennell, a long shot entering the season, was spotless in the short program two days ago. As the final skater in the long program, she didn't miss a trick under tremendous pressure, performing after Nagasu and Chen had already put down superb routines.
"I just had to keep calm and focus on what I knew I could do," Tennell said. "There's the initial butterflies, but I kind of start to lose myself and keep going."
Tennell earned a career best of 219.51.  "I don't think it's sunk in quite yet. I'm still kind of shocked. It's indescribable to me," she said.
Chen, a Northern California native, placed third Friday night. She is the defending champion.
Chen's big season last year had not translated into achievement this campaign but she put those struggles to an icy death with a superb showing that had only one flaw toward the end. She, too, was overcome by tears for a 198.59 score.
Wagner had the crowd rooting for her during most of her energetic routine, but a flawed lutz as her final jump was costly. She responded to the fans with a deep bow when she finished, yet was shaking her head "no" when her marks were posted.
Hours later, after she verbally campaigned to be placed on the Olympic team again, Wagner was named as the first alternate. The other alternates are Mariah Bell (second alternate) and Angela Wang (third alternate). Only Wagner has been to an Olympics among those three.
U.S. Figure Skating uses a committee to decide the squad, and it went with the results of Friday night. Past performances and a variety of other data are included in the decision making.
The remainder of the team — three men, three ice dance couples and one pair — is scheduled to be announced Sunday.