Ten athletes from Southern California competed in the 2018 Winter Olympics in Pyeongchang. Here's how they fared.
*That number doesn't include athletes who were born in Southern California but have made their homes elsewhere, like bobsledder Lauren Gibbs, who was born in Los Angeles but lives in Denver. Gibbs won a silver medal as the brakeman of a sled driven by Elana Meyers Taylor. They finished only .07 seconds behind the German pair that won gold.
---
Chloe Kim
Snowboarding
Hometown: Torrance, CA
Birthplace: Long Beach, CA
Born: April 23, 2000
2018 Olympic Results: Gold - Women's Halfpipe
The Details: At only 17 years old, Kim was one of Team USA's breakout stars — both in performance and media attention. During her gold medal-winning run, Kim became the first woman to land back-to-back 1080s in Olympic competition. It wasn't her first record-breaking feat. In 2016, 15-year-old Kim became the first person under the age of 16 to win back-to-back gold medals at the X Games. Then she made history again, becoming the first woman to land back-to-back 1080 spins in a snowboarding competition. She earned a perfect score for that impressive run. Snowboarding fans expect her to dominate the sport for years to come. MORE DETAILS
---
Shaun White
Snowboarding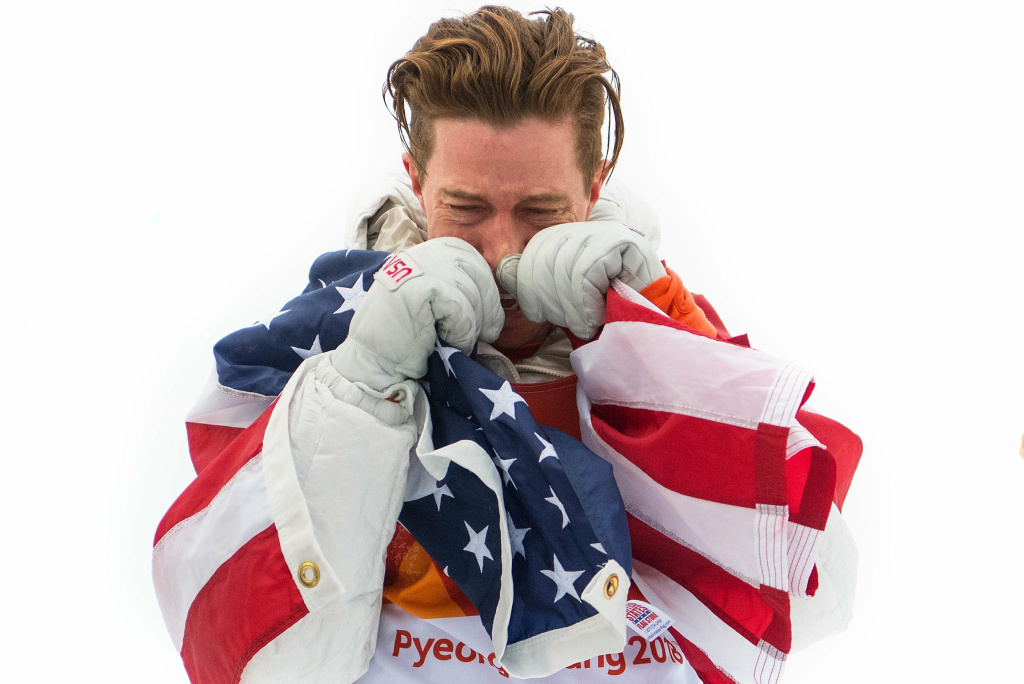 Hometown: Carlsbad, CA
Birthplace: San Diego, CA
Born: September 3, 1986
2018 Olympic Results: Gold - Men's Halfpipe
The Details: On Valentine's Day, White made history, becoming the first snowboarder to win three Olympic gold medals, after he won the halfpipe final. The 31-year-old White won gold in the halfpipe at both the 2006 and 2010 Olympics. At the 2014 Olympics, he placed fourth in the event, so he had something to prove in Pyeongchang — and it was an emotional win. White wrapped himself in an American flag and wept. MORE DETAILS
---
Cayla Barnes
Ice Hockey 
Hometown: Eastvale, CA
Birthplace: Eastvale, CA
Born: January 7, 1999
Olympic History: Gold - Women's Ice Hockey
Fun Facts: They're calling it Miracle on Ice, Part II. The U.S. women's team beat their arch-rival Canada on  the 38th anniversary of the day the U.S. men beat the Soviet Union's ice hockey team in 1980. It was the first time in 20 years the women's ice hockey team has won gold. The game was a grueling, three-hour match. Regulation time ended with a 2-2 tie. A 20-minute overtime period remained scoreless and a penalty shootout ended in a stalemate, which sent the game to a sudden-death shootout. U.S. goalie Maddie Rooney carried the team to victory by blocking a shot from Canada's Meghan Agosta. At age 19, Barnes is the youngest member of the team. She plays ice hockey for Boston College. MORE DETAILS
---
Adam Rippon
Figure Skating 
Hometown: Los Angeles, CA
Birthplace: Scranton, PA
Born: November 11, 1989
2018 Olympic Results: Bronze - Team Competition; 10th - Men's Figure Skating
The Details: Rippon only placed 10th but became a social media star, winning famous admirers such as Reese Witherspoon, Busy Philipps and several others. The openly gay skater also turned down a call from vice president Mike Pence before changing his mind and saying he'd take the call. 
---
Mirai Nagasu
Figure Skating 
Hometown: Arcadia, CA
Birthplace: Montebello, CA
Born: April 16, 1993
2018 Olympic Results: Bronze - Team Competition; 10th - Women's Figure Skating
The Details: At her second Games, Nagasu got off to a brilliant start, becoming the first American woman, and third woman overall, to land a triple axel at the Olympics. She helped lead American skaters to a bronze in the team event. In the individual competition, she fell during her triple axel and ended the women's event in 10th place. She later gave a controversial post-skate interview in which she said her free skate was an audition for "Dancing with the Stars." At the 2010 Vancouver Olympics, Nagasu placed fourth. MORE DETAILS
---
Maddie Mastro
Snowboarding 
Hometown: Wrightwood, CA
Birthplace: Wrightwood, CA
Born: February 22, 2000
2018 Olympic Results: 12th - Women's Halfpipe
The Details: Mastro made it to in the finals but she crashed three times in the women's halfpipe to finish 12th and sat in the snow with her head in her hands. A day later, she tweeted: "The sun will rise and again and I'll try again." MORE DETAILS
---
Chris Knierim
Figure Skating 
Hometown: San Diego, CA
Birthplace: Tuscon, AZ
Born: November 5, 1987
2018 Olympic Results: Bronze - Team Competition; 15th  - Pairs Figure Skating
The Details: Knierim and his wife and skating partner, Alexa Scimeca Knierim, helped the U.S. figure skating team earn a bronze medal. They struggled in the pairs figure skating competition, barely making it to the finals, where they eventually placed 15th. But the couple spent a romantic Valentine's Day together, competing on the ice. MORE DETAILS
---
Hailey Langland
Snowboarding
Hometown: San Clemente, CA
Birthplace: Irvine, CA
Born: August 2, 2000
2018 Olympic Results: 6th - Women's Slopestyle; 14th - Women's Big Air
The Details: In the slopestyle competition, Langland, 17, fell during her first run but had a clean second run that bumped her up to 6th place. She failed to qualify for the finals of the Big Air competition, which only includes the top 12 athletes. MORE DETAILS
---
Jonathon Blum
Ice Hockey 
Hometown: Ladera Ranch, CA
Birthplace: Long Beach, CA
Born: January 30, 1989
2018 Olympic Results: 7th place - Men's Ice Hockey
The Details: The U.S. men's team narrowly lost to the Czech Republic in a tight quarterfinal game that ended in a penalty shootout. The final score was 3-2. No current NHL players are competing the 2018 Winter Games because the league and Olympics officials could not agree on terms. Blum currently plays for Admiral Vladivostok of the Kontinental Hockey League. He previously played with the Nashville Predators and the Minnesota Wild. MORE DETAILS
---
Carlo Valdes
Bobsled
Hometown: Newport Beach, CA
Birthplace: Newport Beach, CA
Born: February 11, 1990
2018 Olympic Results: 21st place - Men's Four-Man Bobsled
The Details: In the four-man bobsled, Valdes pushed a sled piloted by Justin Olsen. They placed 21st, one spot behind the other American four-man team. Valdes, a college football player then a track-and-field athlete, only began competing in bobsled after the 2014 Winter Olympics. MORE DETAILS