Orchestra students at El Cerrito Middle School in Corona gathered early Friday morning to greet a special visitor: Yo-Yo Ma.
"I hugged Yo-Yo Ma, and I almost died because it was so exciting," seventh grader Rilyn Durment said with a huge grin on her face.  
The world-renowned cellist visited the school as part the John F. Kennedy Center for the Performing Arts' pilot program, Arts Across America. The goal of the program is to celebrate "undiscovered, unexpected, or everyday communities" with a strong commitment to the arts.
When Yo-Yo Ma and Vijay Gupta, a violinist with the LA Philharmonic, got to Durment's middle school, they asked her if they could play with her and her fellow students in the orchestra.
"You want to play with us? Really?" she asked, shocked. "I'm pretty sure we'd love that."
Durment said the world-renowned cellist is one of the reasons she started playing the instrument, but she couldn't have learned it without the opportunities offered at her school.
"I wouldn't have been able to learn it before, because my parents wouldn't have paid for lessons or anything," she said.
Arts programs like the orchestra are exactly why the Kennedy Center chose to kick off its Arts Across America initiative in Corona, instead of somewhere like Los Angeles or New York.
"Whether it's a community-based orchestra, or schools incorporating arts programming in their school day, or a senior center that is singing on a regular basis, or community-based programs for youth and adults participating in the arts, there's a lot of really great stuff going on here," said Kennedy Center president Deborah Rutter.
Christian Arts Theater artistic director Cyndi Monroe served as a local ambassador to the Kennedy Center visitors.
"While I am 100 percent passionate about what I do with the kids in the arts here in Corona, we aren't used to being on a national stage by any means," Monroe explained.
Gupta said Corona deserved that attention because of the number of opportunities available there.
"This is a community that seems to be held together because of a collective buy-in from various different levels of administrative, educational, and cultural support, that the arts are integrated into this community at every stage," he said.  
"That's rare," he added.
After performing at the middle school, the artists also performed in other unexpected places, including a senior living facility and the Corona Women's Institution of California.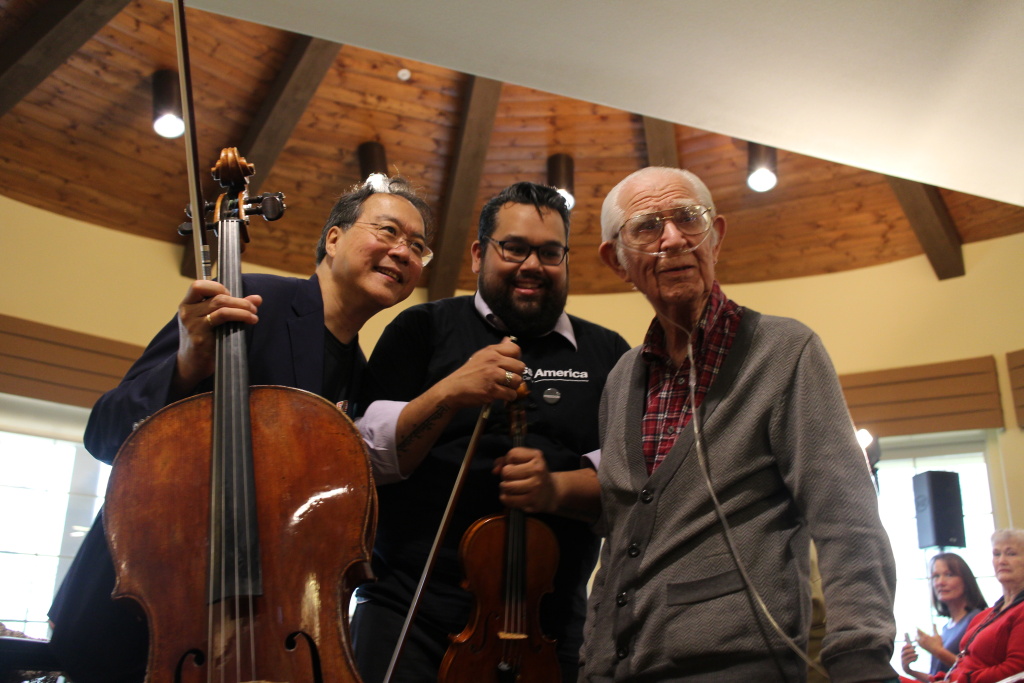 Durment said she will never forget this experience.
"Out of all the other schools [Yo-Yo Ma] could've gone to, he came here," she said. "Just because we have an orchestra, and I just think that's really nice. It's a nice change from what usually happens."