Two years ago, Edie Salisbury hadn't heard of the Adelanto Detention Center. Now, the retired psychologist leads members of her faith community on monthly trips into California's largest immigrant lock-up, 80 miles northeast of LA.
Salisbury is a Quaker––part of the Christian group formally known as the Religious Society of Friends who faced historical persecution in England and the colonial U.S. 
"Quakers have a long history of visiting people who are in prison," said Salisbury, as she drove with a group of volunteers recently to Adelanto. "In fact, they were imprisoned themselves to begin with. That's pretty clear, and the work we do is supported by the Quaker community."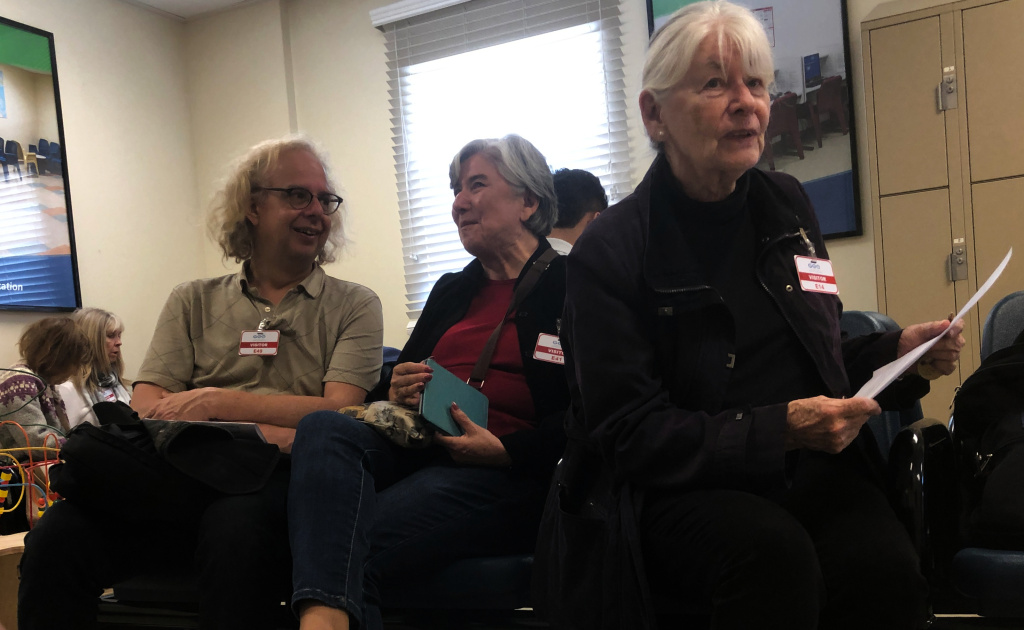 Members of her Pasadena Quaker meeting joined a visitation network for immigrant detainees after hearing a presentation by Freedom For Immigrants. The California-based advocacy group sends more than 4,000 volunteers to 55 large detention centers across the country, to offer support and monitor conditions.
"Many of our volunteers and visitation groups are also part of faith-based groups," said Liz Martinez, director of advocacy and strategic communications at the non-profit. "When you look at the immigration issue as a whole, whether it's providing sanctuary or doing other advocacy work, faith-based groups are really at the core of this movement."
In recent weeks, public outrage over what's happening inside Immigration and Customs Enforcement detention centers has been growing following reports of inhumane conditions at a facility in Texas where children are detained. 
Since it opened in 2011, California's Adelanto facility has similarly been under scrutiny, facing accusations of inadequate medical care and substandard conditions for its 1,700 adult detainees. 
Watchdog groups have issued scathing reports citing violations like spoiled food, dirty bathrooms, minimal contact with family and friends, inadequate mental health care, and sexual abuse. Last year, the Department of Homeland Security's office of inspector general reported finding 15 nooses made of braided bedsheets created by desperate detainees. 
It's stories like these that motivate Salisbury to spend time with immigrants in confinement. 
"We tell them that we do not believe they should be there, because we think it's really important for them to know there at least some people who believe that they are being treated unjustly," Salisbury said. 
Adelanto is run by Geo Group, a private prison company that contracts with ICE. The facility detains asylum seekers and undocumented immigrants, some recently released from prison after serving time for various crimes. They're all waiting for decisions from immigration courts. 
Quaker teachings encourage Salisbury's group of progressive Christians to see value in every human, no matter who they are. 
"There is a belief that there is the light of the spirit in everyone. The same in every immigrant who comes for asylum," said Arthur Kegerreis, another Pasadena Quaker in the visitation group. " You go to visit people, hear their stories. There's points of empathy to reach."
Aaron Schrank covers religion, international affairs and the Southern California diaspora under a grant from the Luce Foundation.