Gary Leonard, the ubiquitous freelance photographer who's been covering LA for decades, is bracing for his milestone 60th birthday. He doesn't mind turning 60, he says, but he hates parties. However, his family and friends prevailed on him to throw a big party and sale at his downtown LA gallery. CLICK THROUGH for all the details of the April 22d event. And listen to our interview, done a couple years ago, when he opened his downtown LA gallery, "Take My Picture Gary Leonard," on Broadway at 9th.
Typically, when I ran into him this morning outside his gallery - Take My Picture Gary Leonard - Gary was off to cover something. A groundbreaking. Who covers groundbreakings, and ribbon cuttings, and topping-off ceremonies (below) anymore? Gary does.
(Image: John Rabe)
I maintain that in the next century, Gary will be recognized as the most city's important photographer, because he documented everything from the Dodgers to the Punk scene to the riots to the raising of the LA Live tower (above).  You only need browse the LA Public Library's online photo archive, searching under "Gary Leonard," to see how much he's done.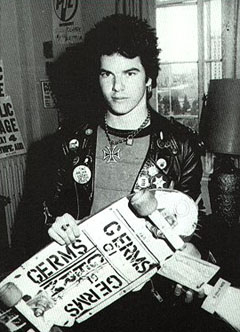 To celebrate his 60th birthday, on April 22 from 7-11pm, Gary is throwing what he calls his "Selling Out at Sixty" sale. Every thing at Take My Picture Gary Leonard, in downtown LA at the corner of Broadway and Ninth, will be 50% off. And for the first fifty people with cash, he'll be selling the big stuff - Crash, Warhol, etc. - for crazy cheap.
There will be cake. And possibly edible insects, if his daughter has her way.