Overshadowed by his predecessor, Augustus, Tiberius has long been thought of as an isolated and rather unpleasant character. He was often uncomfortable in the role of ruler, and famously fled from Rome to the island of Capri where his cruelty and sexual excesses reportedly reached their peak.  -- "Tiberius: Portrait of an Emperor," Getty Villa, on view until March 3, 2014.
Tiberius was a famous Roman general who ruled as Rome's second emperor from 14-37 AD. He did okay for a while, according to Tacitus, then "erupted into an orgy of crime and ignominy alike, when, with all shame and fear removed, he simply followed his own inclinations."
A new exhibit at the Getty Villa tries to show a more nuanced view of Tiberius. I spoke with Erik Risser, assistant conservator of antiquities, and David Saunders, assistant curator in the Department of Antiquities, both stationed at the Villa. I learned that Tiberius probably got somewhat of a bum rap.
As Saunders writes in a blog post:
"The tales of Tiberius's outrageous and criminal behavior (are) ancient tittle-tattle, gossip, besmirching Tiberius's reputation. One can see how they arose, however. The emperor famously retreated from Rome to the island of Capri midway through his reign ... which no doubt set the Roman rumor-mills in motion ... And yet, when he died, Rome was secure and solvent, no small achievement ... There's more to him than the monstrous figure that emerges from Tacitus and Suetonius."
The 8-foot statue at the center of the exhibit gets more interesting the more you know about it. First of all, it's made of a thousand pounds of bronze.
"This was ubiquitous material in antiquity," Risser says, which "has a tendency to corrode, but more importantly, as today, recycling was a big part of what happened to metals throughout history. So almost all of the bronzes that come down to us today come from extreme circumstances."
Many survivors were underwater, but others were buried by volcanic eruptions. This statue suffered when Vesuvius erupted in 79 AD and wasn't uncovered for about 1,650 years. But it was, Risser says, 80 percent intact, which is remarkable. You can read all about the restoration work here.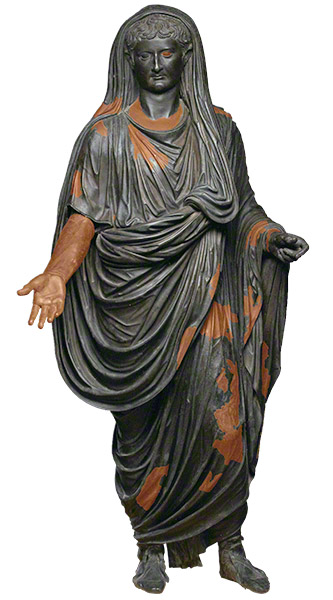 (Statue of Tiberius, Roman, A.D. 37, showing areas restored in the 1700s. Soprintendenza Speciale per i Beni Archeologici di Napoli e Pompei – Museo Archeologico Nazionale di Napoli, Laboratorio di Conservazione e Restauro)