Veteran's Day is Tuesday, when we thanks vets for their service, and this year, I'd like to bring back three pieces from the Off-Ramp archive that tell very different stories of service in the armed forces.
RELATED: We ask four veterans what they're doing this Veterans Day
The first piece of audio on the left (click "Listen Now") is something I filed for the late lamented public radio show Savvy Traveler that recounts my trip to Germany in 1999.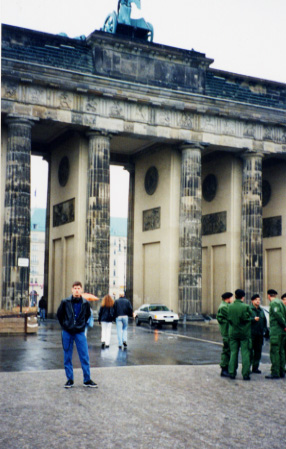 (Rabe at the Brandenberg Gate, Berlin, 1999)
My cousin Ulf and I traced my late father and mother's footsteps in Germany circa 1952. My dad served in World War II, and during the Korean War he was stationed in Germany to fight the Cold War.
SEE more photos from John's archives that tell this story
The next piece features Off-Ramp producer Kevin Ferguson's late grandma, whose husband was the chief engineer on the USS Indianapolis. When the ship went down — one of the last to be sunk during WWII — she gave him up for dead. But then he reappeared, which is how we have Kevin.
(Former Hmong general Vang Pao. Luke Frazza/AFP/Getty Images)
Lastly, an Off-Ramp piece about the late Vang Pao, a former Laotian general who assisted American troops during the Vietnam War and is considered a hero by Hmong refugees living in the U.S. The piece is special because it was filed by his great niece, then-KPCC reporter Doualy Xaykaothao.
This piece is part of KPCC's ongoing coverage of issues affecting veterans for Veteran's Day 2014. See more of our coverage at KPCC.org/vets.