Most of the late Chris Burden's violent or physical early 1970s performance pieces were aimed at himself, sometimes literally: he locked himself in a locker, crucified himself on a VW, had someone shoot him. But in 1972, he went on his friend's weekly cable TV talk show in Irvine and threatened her with a knife for a performance piece he called "TV Hi-Jack."
It shocked many people, but that friend, Phyllis Lutjeans, now 85 and still living in Irvine, says she wasn't mad at Burden then and isn't mad at him now. She says she knew it was art, and that it fit in the context of Burden's work.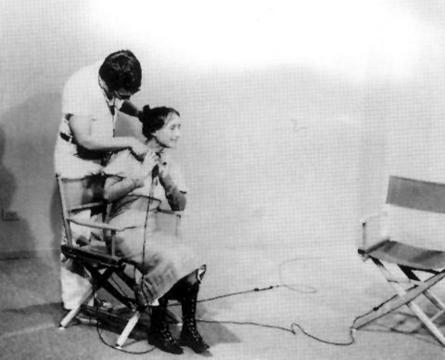 (Chris Burden holding a knife to Phyllis Lutjean in 1972 on TV. Credit: Chris Burden)
Lutjeans has been an integral part of the art scene since the 1960s. (Art critic Mat Gleason calls her a "legend.") At the time, at what was then called the Newport Harbor Art Museum (now OCMA), she was a curator of performance art and was friends with the young artist.
"Chris was at UCI," she recalls, "And he used to work at the museum, and Chris and his (then-) wife Barbara were really good friends of my husband, Alfred Lutjeans, who actually photographed the Shoot piece, and I had been doing that All About Art program for a while and had interviewed Chris one time before."
Lutjeans admits to feeling "edgy" when Burden accepted her invitation to perform a piece on her show on Irvine cable Channel 3. But she says she had no idea what he would do. Burden actually phoned her several times, she says, to confirm that she really wanted him to perform, but without specifying what he'd do.
When they all assembled on the set, "I noticed in his belt there was tucked that knife. And I said, 'Oh, Chris, are we going to have a little bloodletting today?'" He didn't answer.
"We each sat down, and I started to do a very straight interview, and all of a sudden he quietly got up, came around, and put that knife to my neck. My first thought was, 'Has he lost it?'" 
"After several proposals were censored by the station or by Phyllis, I agreed to an interview situation." — Chris Burden, "Beyond the Limits," 1996
Is this claim true? Lutjeans says she knew of no such proposals, and that they don't make sense. "What would be the point of doing a performance piece to surprise people [if they were to] tell people what they're going to do?!"
And she also contradicts another of Burden's assertions — that when he was holding the knife to her neck, "I told her that I planned to make her perform obscene acts." But what Lutjeans remembers him saying is much more in character with the "gentle soul" she knew. "I remember him saying, 'Phyl, don't worry.'"
(Phyllis Lutjeans today, at 85, in her garden in Irvine. Credit: John Rabe)
So what was Burden trying to say in TV Hi-Jack? "I think that Chris maybe had an idea about freedom, and who controls the media, and the press."
"And I cannot tell you," Lutjeans says, more than 40 years after the incident. "To this day, my friends who are not in the art world say, 'Oh, Phyl! How can you be friends with him!?' And I didn't view that at all like that. I viewed it as an art work — now as a piece of his history — but at that time it was another of his quite eccentric pieces."
Listen to our bonus audio, in which I go to LACMA to talk with just a few of the hundreds of people who enjoy Burden's "Urban Light" every day, including two young dancers featured on Lifetime's Dance Moms - Candy Apples, Haley Huelsman and Ashtin Roth, along with photographer David Hoffman.