The artwork of Claire Falkenstein (1908-1997) is featured in two Los Angeles exhibits that run until early September: a retrospective at the Pasadena Museum of California Art called "Beyond Sculpture," and as part of Hauser Wirth & Schimmel's "Revolution in the Making."
Nearly 50 years ago, after he had a good look at the madly assorted jungles of stained glass that artist Claire Falkenstein proposed to put in the walls of St. Basil's Catholic Church, ultraconservative Los Angeles Cardinal James Francis McIntyre asked her, "Are you religious?" Falkenstein said she assured the Cardinal, "'Oh yes. I'm very religious.' But he didn't ask me what religion. If he had, I would have said nature."
By nature, she meant something eternal and infinite. McIntyre accepted her assurance, and her radical plans for his new Mid-Wilshire church, designed by AC Martin, went forth. At the time, The New York Times called St. Basil's — now heavily used by Anglo, Korean, Hispanic and Filipino Catholic congregations — Falkenstein's "most important commission in the United States." Though other Falkensteins are strewn throughout the Southland, St Basil's is also her most visible work.
Of the thousands who pass St. Basil's daily, many probably marvel at the 3-D towers of joined colored-glass triangles and trapezoids that soar up its eight stories toward heaven in their glassed-in wall slots; the huge, abstract south window; and the front doors latticed to suggest the bare skeletons of joined autumn leaves. Very few realize that they are experiencing a masterpiece of one of the most remarkable and protean artists ever to have labored in Los Angeles.
Now there are, amazingly enough, two generous shows of Falkenstein's work going on in Los Angeles County, about 10 miles from each other.
A portion of the vast Hauser, Wirth & Schimmel Arts District gallery's "Revolution in the Making" show is devoted to Falkenstein's sculpture. And there is a show at the Pasadena Museum of California Art, called "Claire Falkenstein: Beyond Sculpture."
The show at Hauser, Wirth & Schimmel mostly deals with the sculpture that made Falkenstein famous — archetypal works showing her utter mastery of fine welding and intricate metal-forming techniques with steel wire and copper tubing.  Here we see several of her noted "Suns," dense cages trapping darkly colored glass shapes, suggesting some form of Ordovician sea fauna, staring balefully, over a half billion years, into the present.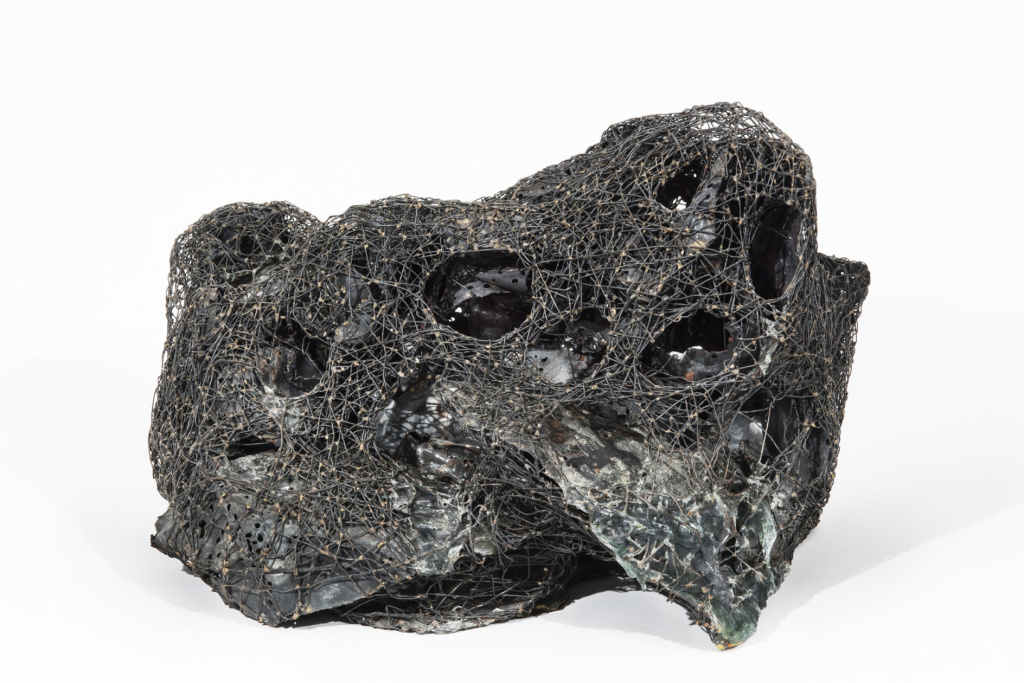 The Pasadena show, her first comprehensive L.A.-area show since before her death in 1997, offers us a retrospective that includes her earliest drawing, ceramics, paintings, and even her jewelry, which, at least according to the appraisers on Antiques Roadshow, is now quite valuable.
Falkenstein's various media were all adjacent, in her view; they somehow harmonize here. She called certain of her wire sculptures "drawings in space." She riffs on scientific concepts, and refers to the "Einsteinian" aspects of her work in her bids to evoke interconnected infinity and eternity. Another sculpture represents DNA's double-helix structure. Indeed, she likes to call her sculptures — and even her paintings and drawings — "structures"; and her work called "Glass Painting" is exactly that — a flattened 8-inch-thick quadrilateral of dark copper tubing and indigo glass. Her later paintings, drawings and gouaches suggest a retracing of her earliest path as an artist, combining abstract and figurative forms of the 1920s.
Early in her career, Falkenstein's instructor Michel Tapie told her: "Look within." This simple admonition authorized her creative path. In a 1995 Smithsonian interview, she said: "I build a vocabulary for myself, and it's not a matter of copying a style, but rather having words, not words, but forms and shapes and ideas that can relate to feeling and expression rather than copying objects or using objects…''
Sometimes the shapes stymie logic itself, venturing into the geometrical paradox called topology, in which the exterior surface becomes the interior. But perhaps her deepest love is the lattice, "where you have visibility at all time" and the form can extend to infinity.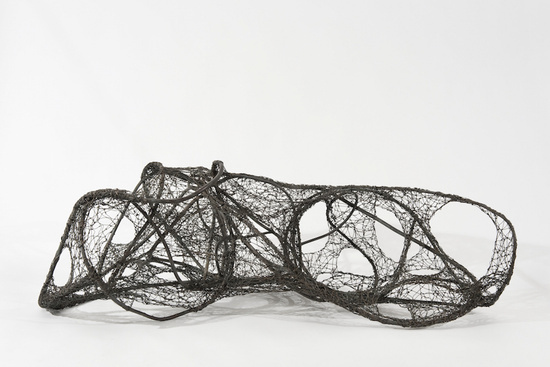 In 1963, after decades in Europe, Falkenstein abandoned Venice, Italy, for Venice, California. Her public work is now all around us — at South Coast Plaza, Cal-State Fullerton, USC, Cal-State Long Beach, the Los Angeles County Museum of Art, and the Long Beach Museum of Art. 
But to really get the measure of her accomplishments, you should see them assembled together. So come see all you can, at both of these two fine shows or at St Basil's on Wilshire, where you can best appreciate the infinity of her creations.