Leah Tejada was at work when she got the news: a massive hurricane had just hit near her family's hometown on the island of Leyte in the Philippines and the emerging reports were grim.
"I was scared," she said. "They said there's no food, so I sent money to Manila and looked for somebody who will go by land to bring food, [like] dried fish."
Like many Filipinos in L.A., Tejada scrambled to reach her family and send aid after Typhoon Haiyan struck the Philippines in November 2013.  When she finally got word from her three brothers – more than a week after the storm first hit – the news was mixed: they had survived, but their home was demolished. And all of them had to flee to the capital, Manila.
Haiyan turned out to be the strongest hurricane ever recorded to make landfall, with winds of nearly 200 mph. It left a path of destruction in the Philippines: over 6,000 dead, tens of thousands more missing.
In the end, more than four million people were driven from their homes, including Tejada's family.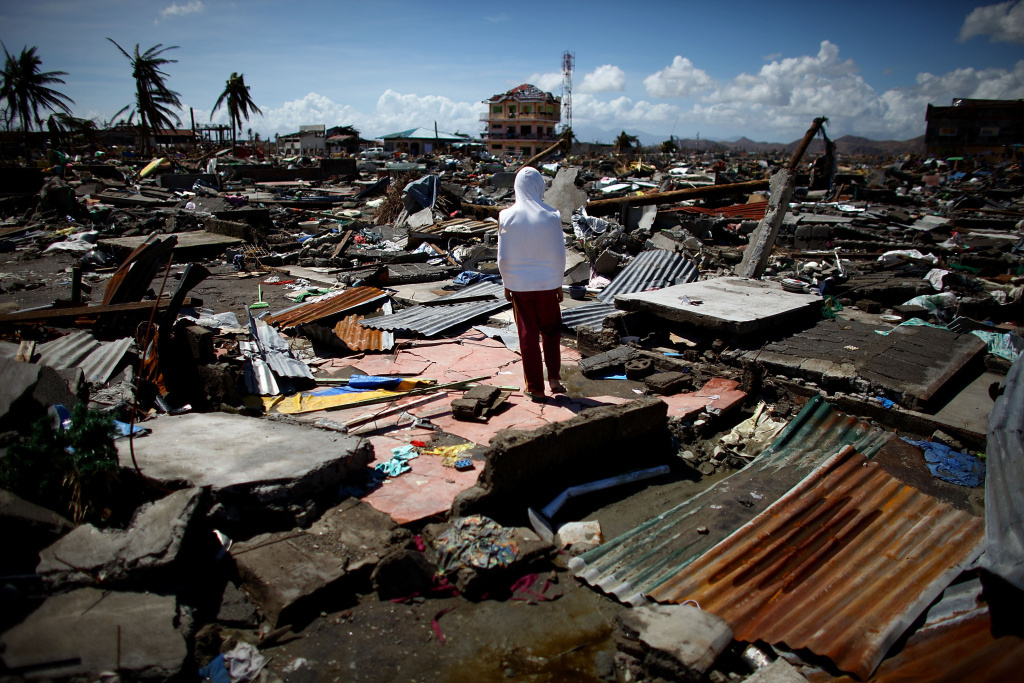 Climate migrants or refugees?
"We're going to have this flood of people moving as a consequence of climate change," said Megan Herzog, a fellow at UCLA's Emmett Institute on Climate Change and the Environment. "Perhaps tens or hundreds of millions of people by the middle of this century, but we really don't have a clear framework in place for those folks."
There's debate over how many could be displaced and how much of it will be permanent. The UN has projected anywhere from 20 to 250 million by 2050, and those figures have been much discussed and examined. But one thing is clear, say experts: climate change poses a bigger risk to poorer countries, places already vulnerable to social upheaval.
"Climate change can act as that threat multiplier or that tipping point, increasing a community's risk and vulnerability to situations that they're already experiencing," said Julie Maldonado, an anthropologist and a lead author with the U.S. National Climate Assessment. 
And it's not just the big headline-grabbing storms that could drive people from their homes. It's ongoing, sustained changes like sea-level rise, flooding and drought.
"All of these types of events and disorder and the risk and the loss of economic opportunities can contribute to people's decision to leave their homes," said Herzog.
The complexity of that decision, though, makes it hard to clearly define what a climate migrant is. There aren't clear global rules on what to do with a family that is forced to flee national borders by a hurricane or prolonged drought. Nations put together a set of guidelines, known as the Nansen Principles, as early as 2011, but they aren't legally-binding.
"The system of laws that we have for refugees was built after World War II and we were thinking of really different problems," said Herzog.
'Where will they go?"
Omar Huda, 65, describes his family's ancestral home in the Bay of Bengal in fond terms: a lush delta that's home to the famed Bengal tiger, large pythons and rich seafood.
The abundance of crab, shrimp and frog prompted his cousins to build up a fishing business. Huda, who as a Banglaedshi is part of the fastest-growing Asian group in L.A., returned to visit his cousins over the years. He watched as the business thrived, allowing his family to buy nice homes and boats and creating jobs for other villagers, he said.
But that all changed in 2007. A strong cyclone destroyed the fishery and forced more than a million people on the coast to evacuate. Storms along the coast were nothing new, but there was an added risk this time: a strong tidal surge crashed into villages and fields.
"After the cyclone, what should happen is [the tide] should recede, but this time it didn't recede," he said. "And so that area simply became Bay of Bengal. And all of the shrimp just flew to their freedom, if you will, into the ocean."
That meant the end of the family business.
His cousins moved to the capital, Dhaka. They found apartments and started working in the garment industry. City planners there say such events are already shaping the city of over 17 million, where more than one in five people living in slums moved from villages near the Bay of Bengal.
What is happening in Bangladesh is alarming, experts say. High tides are rising as much as ten times faster than the global average. And with a low-lying delta that's home to millions, families like Huda's face big risks. Recently, the country's ambassador said as many as 50 million Bangladeshis could flee the country by 2050 if sea levels rise as expected.
"Where are these people going to go?"  asked Huda, of the country that's surrounded by ocean or a land border with India. "There is no sea to go to. Where are they going to go?"
Whether nations currently meeting at the UN climate summit in Paris seriously address that question remains to be seen. A draft agreement released after the first week of talks called for a new "coordination facility" to oversee migration and relocation due to climate change. But many details – including how that facility will operate on the ground and who will fund its operations – weren't spelled out.
Rebuilding after the storm
The year after Typhoon Haiyan in the Philippines, the International Organization of Migration tried to find out how many people were still displaced from their homes. Out of the 4 million, they said about half still could not go home. Either the area was too unsafe or houses were still destroyed. But that number came with a big caveat: those who were able to find temporary shelter with friends or family in the big cities weren't counted.
Leah Tejada's family did make it back to Leyte and rebuilt their home.
Then, the following year, 2014, another typhoon came. This one called Ruby. It wasn't as strong as Haiyan and didn't get as many international headlines, but the Tejada home was again destroyed. And again, they rebuilt.
"It's very hot over there, extreme," said Tejada. Frequent storms are part of life for Tejada's family, and places like the Philippines, but Tejada says her family has noticed a difference in recent years.
"If it rains, it's flooding and now it's almost every two months or monthly, there's a storm," she said.
After Haiyan, she watched as some of her friends in L.A. brought family members to the U.S. They're called the Yolanda survivors, after the Philippine name for the storm. But her family has stayed put in the Philippines – at least for now. 
"That's the only land they have," she said. "If they go somewhere else, they will become squatters. That's the only land they have."