Throughout our summer food series, "The Dish," we've gone inside some of the hidden and not-so-hidden culinary gems here in Southern California, from the fried plantains of Mofongos to the cereal-sprinkled treats at Rad Coffee in Upland. 
But for many foodies, a meal isn't complete without a little something to wash it down. Maybe even something organic and locally distilled. 
Enter Greenbar Distillery in Downtown LA; they specialize in craft spirits with a twist. Like a whiskey flavored with six different kinds of wood or a liqueur made from the California Poppy. 
Take Two recently toured the distillery with husband and wife founders Litty Mathew and Melkon Khosrovian.
Let's Start a Distillery
Greenbar co-founder Melkon Khosrovian says necessity led them to begin blending spirits. 
"We got engaged ten years after we met and started to visit each other's relatives," said Khosrovian. "My side, coming from Armenia, we'd host these elaborate dinner parties where everyone toasts with some straight shot of alcohol, whether it's vodka or fruit brandy. It [was] always extremely harsh to [Litty's] palate, so when everyone was toasting us she would pick up her glass and put it down because she couldn't stomach drinking it."
To remedy the "awkward" social situation, he set about mixing different fruits with vodka to create smoother spirits. 
"It turns out my cousins were of the same mind," he said. "They would  sample and then steal the bottles and then come back and ask us to make them some more."
Soon, friends of his cousins began requesting bottles of their own. 
"It kind of took on a life of its own," Khosrovian said. 
Bottling California
Inspired by the aperitives of Europe, Khosrovian, and Mathew put California spin on a liqueur by mixing in the state flower, the poppy. 
Pointing to large barrels, Litty Mathew explained the process. 
"We'll fill this tank with alcohol and slowly start adding in the ingredients that go into Grand Poppy," Mathew said. "So think of things like, of course, the California Poppy, California bay leaves, pink peppercorns, bearberries, and over time that becomes California Grand Poppy Liqueur."
More Wood Can Be Good
"All whiskeys get their flavor, color and aroma from wood," said spirit man Khosrovian. "[All] whiskeys and almost all aged spirits get their flavor from white oak because that's the perfect tree to bend into a barrel, but that's not the only tree in the forest that has great flavors. About five years ago, we played around with about 30 trees and found six that work well together including White Oak, Mulberry, Hickory, Grape, Red Oak and Maple; we're bringing new flavors that are different and exciting to whiskey lovers who have never had those flavors in their whiskeys before."
Much Ado about Bottling
Bottling Greenbar's Grand Poppy Liqueur:
Becoming a Mix Master 
"On Friday evenings, we have cocktail classes where anyone who's interested in making drinks can come, we give them some quick instructions, and in the process, they learn how easy it is to make cocktails that are balanced, that are delicious and rely on seasonal produce that a lot of guests can pick from their own yard."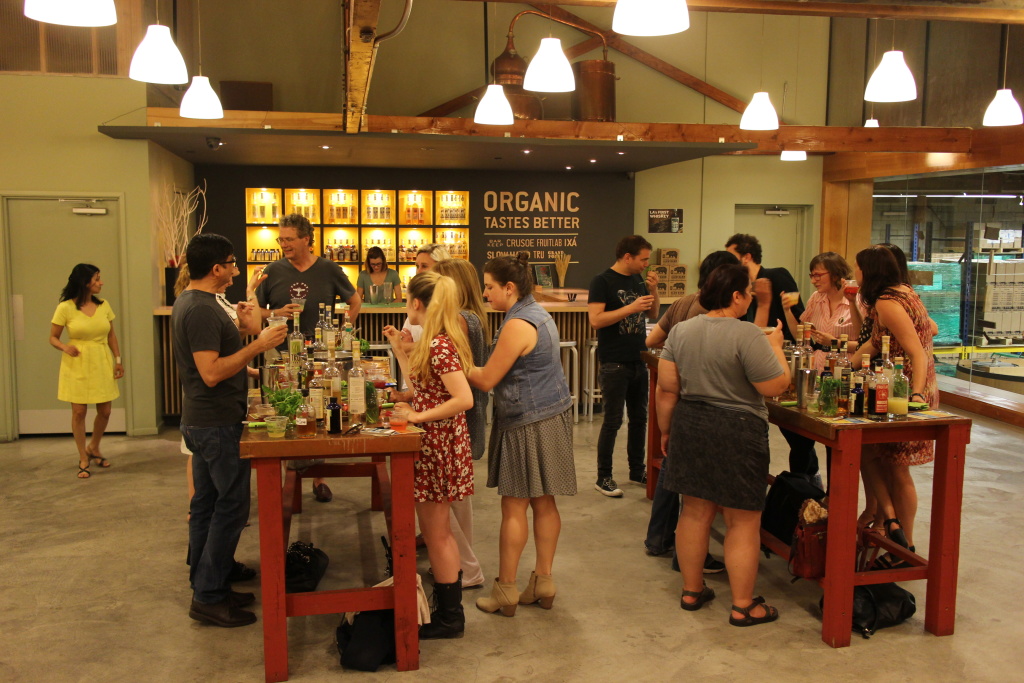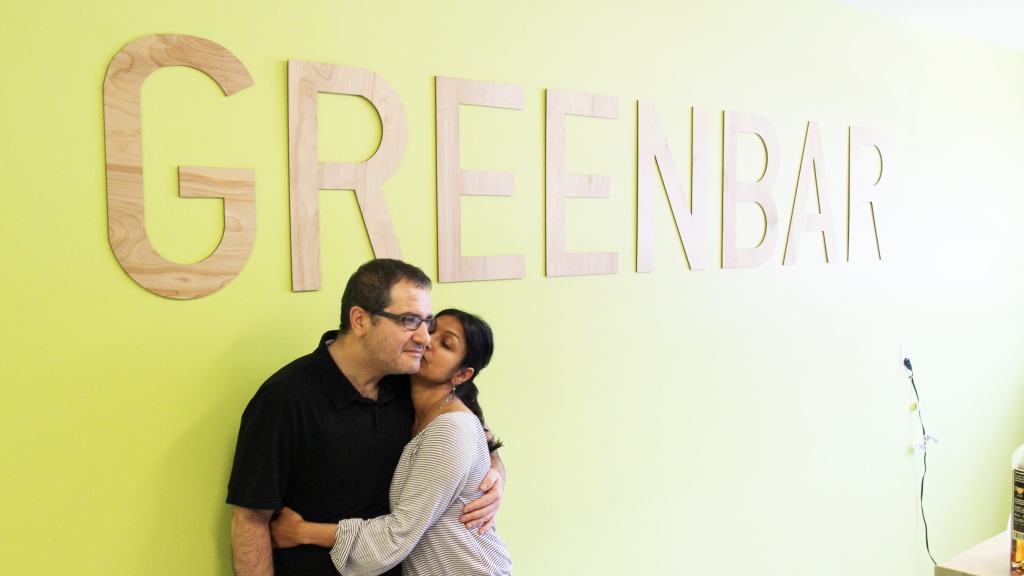 Press the blue play button above to hear the tour. 
(Answers have been edited for clarity.)